The characters in this session were: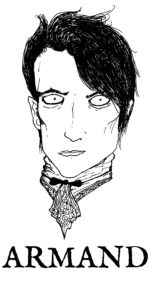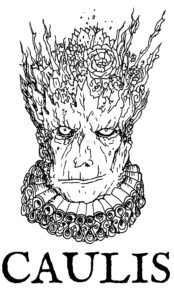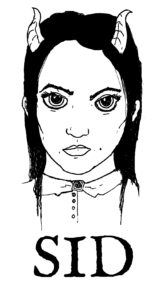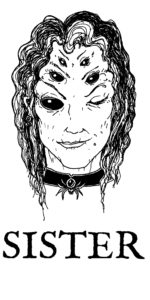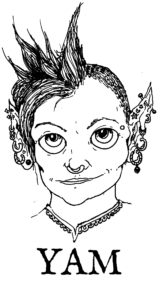 Armand Percival Reginald Francois Eustace de la Marche III, a suspiciously pale, apparently human noble and sorcerer, and certainly not a ghoul (how dare such a thing be suggested).
Caulis, a homunculus warlock liberated from its master; has made a pact with certain Faerie Powers.
Insidia "Sid" Thorn, a cambion graduate student and illusionist at Umbral University. Yam's office-mate.
An ancient and enigmatic Lengian cleric of the Mother of Spiders, name unknown. She wears bulky ecclesiastical garments covering an uncertain number of limbs and goes by "Sister."
Yam, an eccentric gnome illusionist and local graduate student at Umbral University. Yam cares little for money. Yam is curious. Yam is Yam.
XP Awarded: 600 XP
Note: Much of this session was guest-DMed by Yam's player, with the normal DM taking the role of Insidia Thorn.
With the dread winter ended, the party prepared to return to Hex. But as Sister scrawled a portal onto the bark of a newly-grown tree nearby, they glimpsed something overhead – a raven, a message tied to its foot, speeding through the air. Caulis directed Eleyin to sting the bird, while Armand sent a spell scorching skywards; the firebolt missed, but Eleyin's aim was true. The fairy pseudodragon descended with the note:
J
All goes according to plan here in the City. The people clamour for bread, for fuel, for heat. Soon they will die by the thousands and our forces will take what remains of Hex. Our agents still search the Catacombs for the Pneuomanomicon, but even if they fail in their search, necromancers shall raise those fallen from famine and overrun the gates. It will be your job to direct the Harrowgast to take down the Citadel of the Perpetual Storm. Should your timing be compromised, contact me using the usual channels.

S
"J for Jarna?" Sister suggested.
"Could be," Caulis agreed. "Conspiring with someone… from Hex?"
"Well, we've at least thwarted them for now. The Harrowgast can't operate without the hearg rituals, and we've taken the runestones they'd need for those."
Still disturbed by this intelligence, the party returned to Hex, Vanessa making quickly for the Citadel to report to her mother.
In the aftermath of the Harrowgeist's dispersal, Hex returned if not to normality then at least to stability, though the transition was not without its difficulties – roving gangs and protestors trying to raid storehouses combed the streets, while the city Watch and even the elite Warders did their best to restore a semblance of order, jailing hundreds. In an incident that became known as the Fanghill Fracas, a squad of Warders polymorphed a dozen criminals attempting to break into a wealthy merchant's home, turning them into tree sloths. The gang had reputedly been installed in the yard at Eyehall till their trial could commence.
Once it became clear that the winter was at last ending, however, things improved greatly in Hex, if hectically. The frozen river thawed, and boats carrying grain and other foodstuffs were at last able to unload their wares in the Swelter. Dagonians, stirred from their torpor by the warm spring breeze which quickly turned to hot midsummer sun, hastened back to work in the docklands, even while the waspkin ventured forth from their Hives, restoring the city's messenger service. The fungoids emerged from their underground holes, to nobody's delight, though of course the city would not be quite the same without their shambolic, mouldering presence. Shops long-closed re-opened, their wares replenished, as the snow melted, flooding many of the sewers and drains of the city. One particularly vicious flood reputedly killed a family of ghouls dwelling in one of the tunnels; doubtless there were other victims. The Radula swelled and darkened, its lazy coils surging out to sea.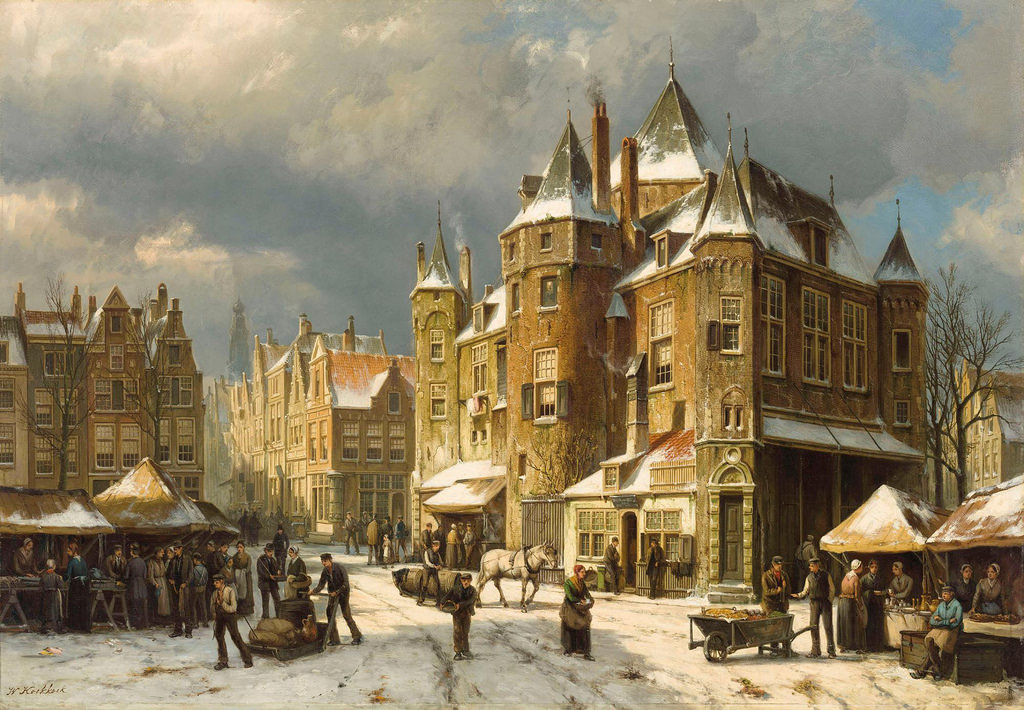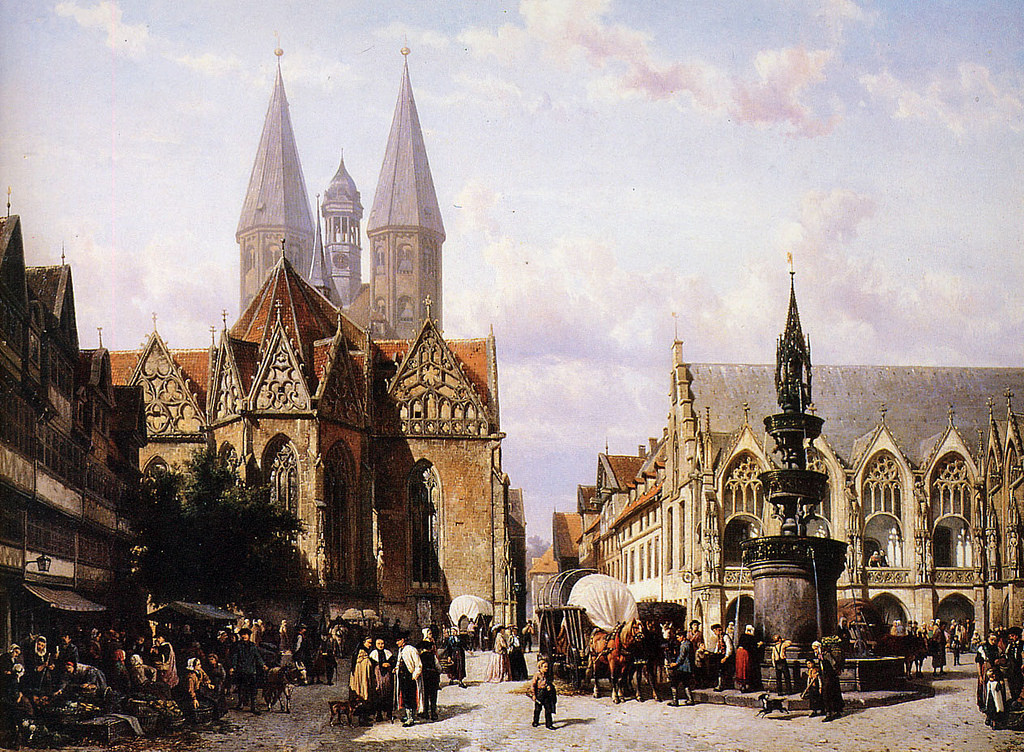 As for the city's authorities, they breathed a sigh of relief. The adventurers' part in the restoration of the city's seasons had become a matter of record due to their close contact with Master Melchior and the Citadel of the Perpetual Storm. A formal debriefing was scheduled to be held in the Hall of the Hexad Council, but not for some time, given the myriad tasks now facing the government as they scramble to restore order.
Sister, meanwhile, was working as best she could to aid the city's disadvantaged, running soup kitchens and distributing clothes to those still recovering from the vicious winter. Reluctantly, she had switched back to her previous form, while the troll remained in Hex, still magically enamoured with Yam. A waspkin messenger approached her, holding a small note:
COULDN'T WAIT ANY LONGER. WENT IN ON MY OWN.
XOXO
YAM
On the back it said: "13 Whisper Walk, SE CORNER BOOTH!"
Hastily, Sister managed to get in contact with Caulis and Armand. Together, they hastened to Gloomway, location of the hidden Umbral University.
"This must be that favour Yam was always asking about," Caulis said.
"I feel terrible. We promised to help them… Yam should have reminded us."
"They did, I think, a few times. Oh dear…"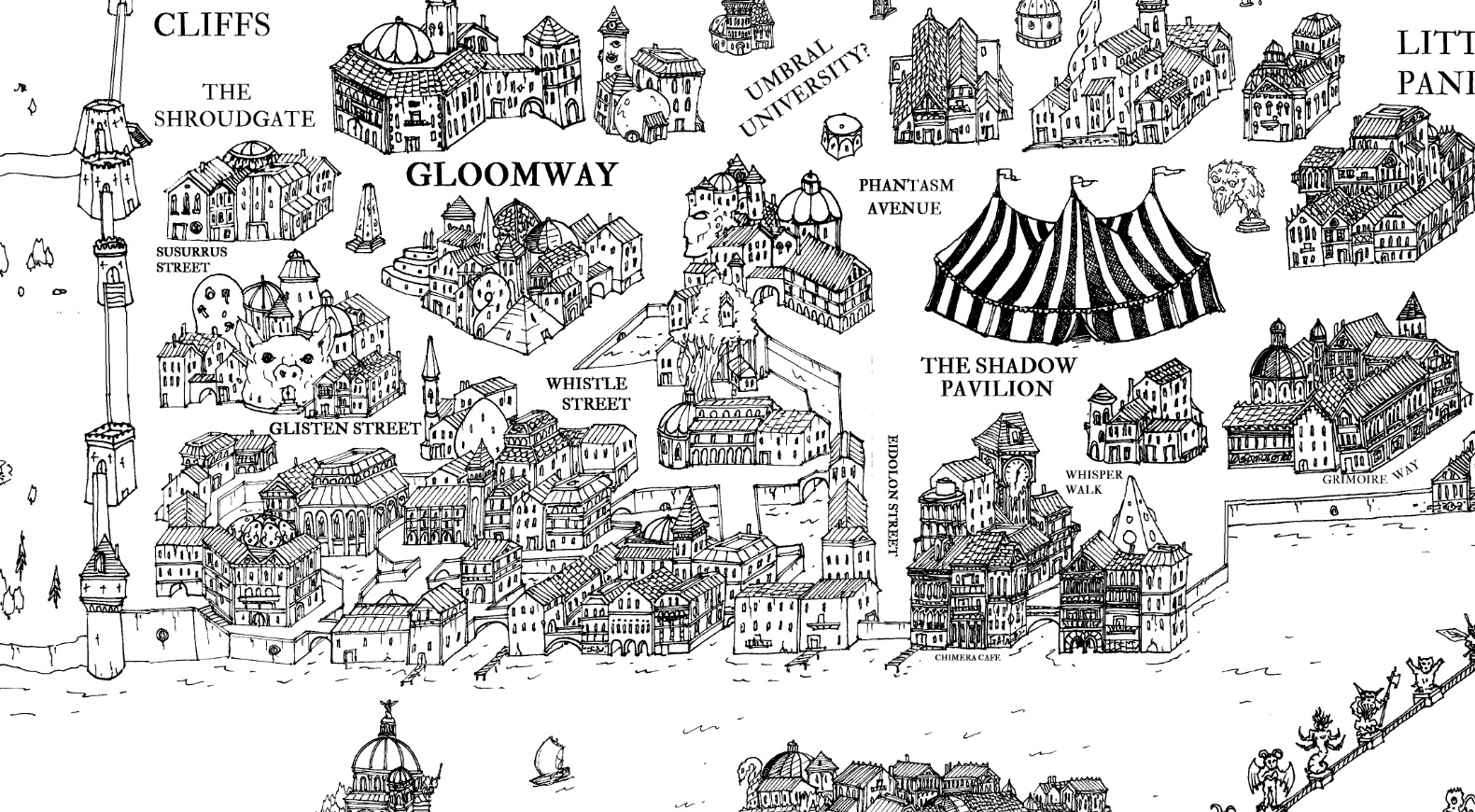 Though the snow had melted, the eternal fog cloud of Gloomway had not lifted; most believe the mist is magically maintained, secreted by the buildings or conjured by the faculty of Umbral Univeristy, the district's hidden illusionist's school. The place had an eerie beauty, its facades shifting and changing, buildings of Murkstone flowing from style to style. Canals down by the riverside twisted and turned through a labyrinth of streets lined with tattoo parlours, art galleries, tailors, and dozens of coffeehouses and shadetea dens, places where poets and painters sipped hallucinogenic drinks and argued about politics and aesthetics.
Navigating the district was frustrating. A map only helped so much, as the streets seem to shift, or come to sudden dead ends. Some streets turned out to be extremely vivid paintings, glamered to give them the appearance of depth until the party tried to step into them and found a solid wall of bricks. Others looked like massive thoroughfares but were actually narrow alleys made to seem gigantic through optical illusions.
Somewhere in the middle of it all stood the Shadow Pavilion, a huge, swirling tent whose pattern changed and fluctuated. Entry into the Pavilion was ill-advised.
After a few false starts the three found Whisper Walk, a street a short distance from the Pavilion which wound down to the river. There was a mask shop, an ink-seller, a parchment-maker, and two cafés – the huge Chimera Café, and a smaller one called the Invisible Imp. 13 Whisper Walk was the address of the latter.
The Invisible Imp was a small, dim coffeehouse crowded with chairs and tables. There was a large selection of pastries and drinks available, but the staff appeared to consist entirely of unseen servants, or perhaps air elementals – or, possibly, the cups and plates and cutlery had simply been bewitched to fly about, cleaning themselves or filling themselves. There were three booths, in the northeast, southeast, and southwest corners. Following the directions of the note, the party seated themselves in the southeast corner booth, a little nook tucked round a corner, just out of view of the rest of the café. Sitting down in the booth was disorienting; the room seemed to spin, the walls shifting, the floor elongating, and suddenly everyone seated was looking down a long corridor of offices, students in shifting robes walking the hall, gossiping about exams and practicing minor disguise spells. A sign on the wall proclaimed this the Office for the Department of Figments & Phantasmagoria.
"I guess we're in Umbral University…" Caulis said, shaking its head.
"Let's look for Yam's office," Sister suggested.
They found the door in question quickly; on it were two signs. The first was a clean piece of parchment, reading:
Insidia Thorn, BI, MI, Teaching Assistant
Introduction to Illusory Scents
Illusion Solidity 101
Office Hours: Goatday, Skullday, 3:00-5:00 pm
The second sign was nothing but a tattered piece of scrap. On it was simply scrawled:
YAM
Armand tried the door; it proved unlocked.
The office looked as if there was an invisible line drawn down the middle (and there very well might have been one). In the right side of the room, there was a cheap wooden desk and chair, neatly stacked scrolls, and a well-used but well-preserved writing kit. On the other, an identical desk was not perceivable under the stacks of ungraded exams, plates with scraps of food, and a precarious tower of cups, mugs, and tankards. At the back of the room, a bookshelf, again divided in two, had neat rows of books to the right and a mess of oddly stacked tomes and scrolls on the left. On a similar scrap of paper to the one on the door, messy writing proclaimed "DO NOT TOUCH. I HAVE A SYSTEM."
"I wonder which side is Yam's?" Sister joked.
Armand looked to the bookshelf with interest. Yam's half held old books, stacks of paper, and a number of weird objects. There was a broken compass, a plush waspkin figure, several runestones with unfamiliar carvings on them, and a small wooden box, the lid slightly ajar. Inside the box was a small, tarnished silver object – a six-inch silver tube. On one end, there was a small peephole. On the other, a slit was cut in the tube. A crystal disk sat in the tube.
"Hmm. A spyglass perhaps, or kaleidoscope." He handed the device to Sister.
Meanwhile, Caulis investigated the desk. In addition to the papers and dishes, Yam's side of the office was scattered with various objects: stones and spell elements. As the homunculus shifted a few leaves of parchment, it perceived a number of small, crystal disks inside metal rings slide out and tumble toward the floor. It caught them nimbly.
"Interesting. Do they go in the tube?"
"I'm not sure." Sister looked into the tube. Quite suddenly, she shimmered, and, with a flash of magic, seemed to disappear. The tube fell to the floor.
"What the?" Caulis said. It picked up the kaleidoscope, and, glancing within, likewise disappeared.
Extremely alarmed, Armand picked the tube up, but very carefully avoided looking within. He pocketed the object and began making his way from the office. Quickly, however, he was detained by two wizards of Umbral University, stepping from the shadows.
"You there. You are neither student nor faculty here," they declared. "Come with us."
"I have no time for this nonsense!" Armand declared, and prepared to cast a spell. Before the incantation could leave his lips, one of the wizards had already sprung a spell of magical slumber. The sorcerer slipped into unconsciousness.
When he awoke, he found himself in a featureless white cell, without door or window. Vainly, Armand sought for an exit or other means of escape. None presented itself.
"Damn that gnome…" Armand grumbled. "Well, perhaps Yam can get me out of this place. This is foolish, but… I have little choice." He, too, peered into the kaleidoscope and, instantly, vanished.
Armand appeared on top of a cloud, next to Caulis and Sister. Above them, the sky was a perfect blue and below their feet, the cloud was soft. As they looked around at each other, they realized that they looked a little strange. The colours of their clothing were brighter, but lacking detail. Their faces were clear and while they could tell each other apart, there was something eerily comforting about the way they looked. They looked as if they were drawn – like caricatures or cartoons in a news-rag or pamphlet.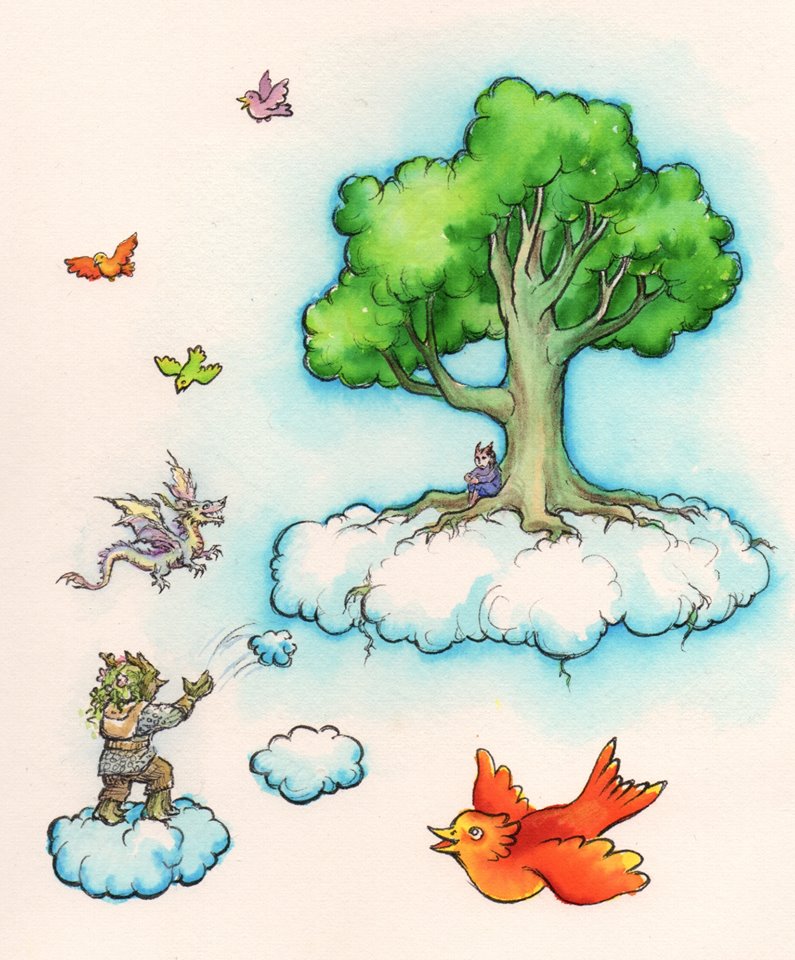 Cloud islands. Illustration by Caulis' player, Bronwyn McIvor.
The party was standing on a single cloud. Looking over the edge, they couldn't see the ground below; the sky just got progressively darker, above, progressively brighter. In the far distance, they could make out the edge of another cloud and the shadowy outline of what looked like a large tree.
"Hmm," Caulis mused. "I get the feeling the rules here might be a bit different." It began sculpting a kind of cloud bridge, crafting "stepping stones" out of clouds that could be jumped to.
"This could be useful, I suppose," Armand said, stuffing his pockets full of the cloud stuff.
As the group got closer to the next cloud island, they could see the tree more clearly. From it, they begin to hear what sounded like a giant aviary: tweets, squacks, warbles, and trills filled the air. It was filled with innumerable birds of all different species, sizes, and shapes. They sang a cacophonous song in welcome.
Seated at the bottom of the tree was a young cambion woman, perhaps twenty-five years old. Short and dark-haired, her small horns betrayed her fiendish heritage. She wore the garments of an Umbral University scholar, and got up with a start as the party jumped to the bird-island.
"Finally, someone else got sucked into that thing," she proclaimed. "I've been here for days."
"Who are you?" Sister asked.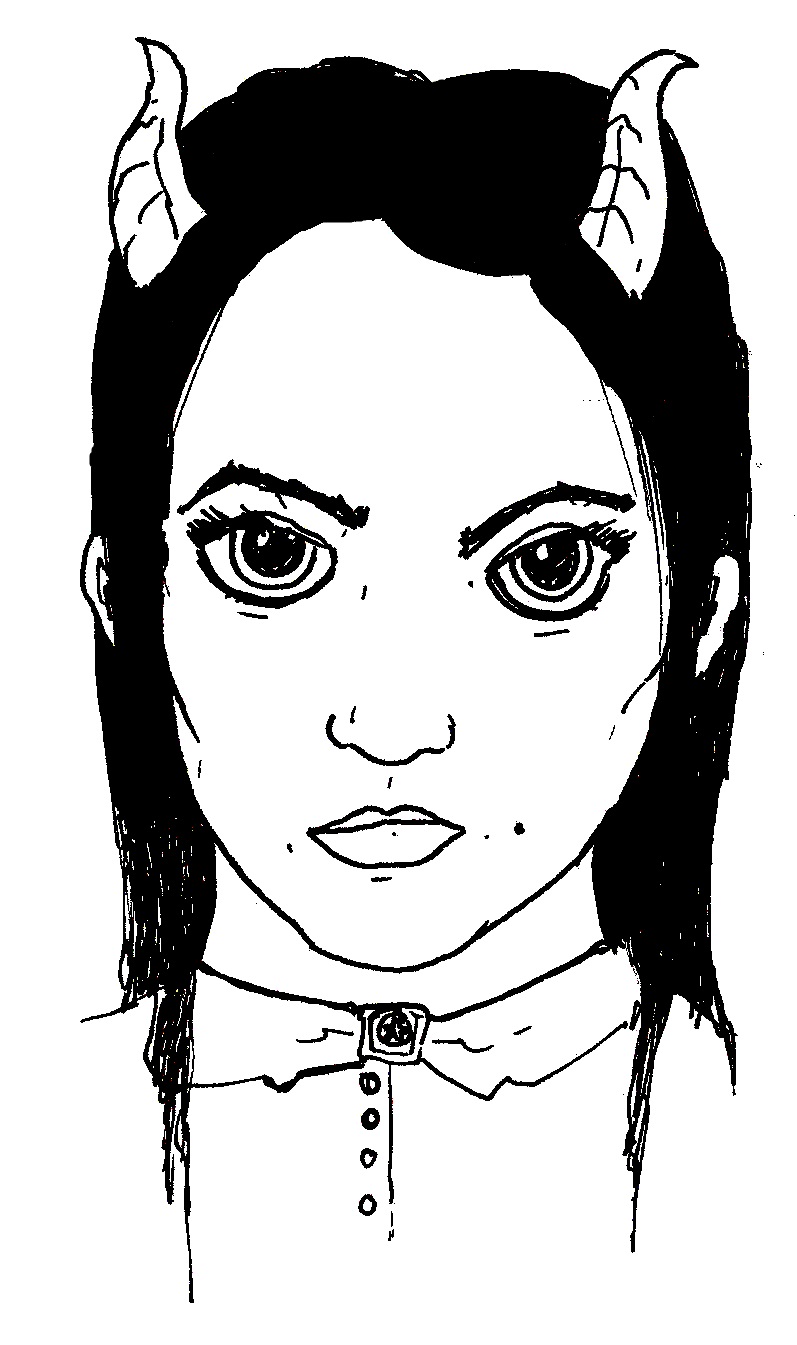 "Insidia Thorn," she replied. "Yam's office-mate. You can call me Sid."
The other party members introduced themselves.
"So… you looked in that kaleidoscope thing?" Caulis asked.
"I think it's some sort of Librarian artefact," she said, glaring at the birds. "And I've been stuck here, with nothing to do, for ages and ages. I was just cleaning up after Yam – as usual – when it activated. It's some sort of virtual dimension or illusory-realm or something like that."
"Any idea how to leave here?"
"None at all. I've tried a lot of spells. And I really, really need to get back. I've got a lecture to prepare and an article to write and papers to grade and… and…" Insidia began turning crimson. Her horns elongated, her head began spinning round and round on her neck, and fire burst from her mouth. The party backed off a few feet. "Ah… sorry," she said. "When I get angry my, ah, abyssal heritage shows a bit."
"Hmm." Sister looked at the birds. "They seem to like singing." She whistled a few bars of a Lengian song. Immediately, the birds began whirring around, repeating the tune and singing along.
Caulis now tried, raising its strange voice to sing a note. The birds responded again, whirring even more excitedly.
"What if we all sung at once?" Armand asked. "A round, perhaps?"
After a few moments, the group agreed on an old nursery rhyme:
"Oh, the Grand High Mage of Hex,
He had six thousand spells;
He cast them all from dawn to dusk,
Or so the old book tells.
"Oh the Grand High Mage of Hex,
He lived up in a tower;
He won't come out from his redoubt,
And takes tea at any hour!"
Delighted, the birds began swooping and singing and riffing off the song. The birdsong surrounded them, and became almost soporific, as a nursery rhyme lulls a child to sleep. One by one the adventurers dropped off…
"Wake up…" They heard a distant whisper and began to stir. "Wake up!" came the yell again. All of them felt a curious kick.
"Oh, hey," the voice was much sweeter. "You're up!" Opening their eyes, the party found themselves in the back of a covered wagon, comfortable and well-equipped for travel, lying back on squishy cushions. They could hear the soft crunching of wheels against road as the wagon moved along.
Seated nearby was a small gnome child rendered in the same cartoonish way that the party were. She had wild hair and huge green eyes, and looked extremely familiar – a bit like Yam. As they looked around at each other, the adventurers noticed that they had been shrunk to by a comfortable size in this modest wagon  – that they were also children.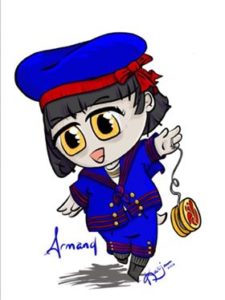 "I'm bored," complained the young gnome. "Aren't you booooored?"
"Generally, yes," Armand drawled.
"Let's play a game!"
"First, who are you?" Sister asked, eyeing the gnome with a glimmer of suspicion.
"Are you stupid? It's me. You've only known me, like, all your life.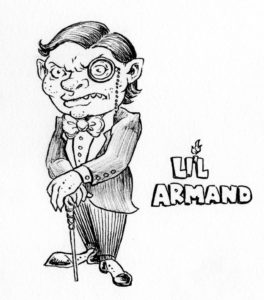 Did you get into Papa's no-no juice again?"
"You're Yam's sister?" Caulis guessed.
"Ordira," Sid confirmed. "Yam talked about her."
"So, wait, are you in here too?" Sister asked, frowning.
"In where? In the wagon?" Ordira seemed confused.
"She's an illusion," Sid said, squinting at the gnome girl. "A… a simulation. The kaleidoscope must be reading Yam's mind somehow… or maybe Yam somehow intended it to function this way? Like an artificer putting a program card into a difference engine."
"Hmm…" Armand said. He pushed his head outside the caravan. They were moving through forested hills, though the trees looked a bit crude, as if sketched in. In the distance, the lights of a city glimmered.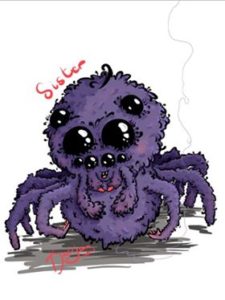 "Where are we heading?" Caulis asked.
"Hex," Ordira said. "Of course."
"It must be a memory of Yam's," Sister said. "It's been recreated."
"You're boooooring," Ordira said again. "Let's play a game!"
"Perhaps we need to do as it says to progress with this charade," Armand said, scowling.
"You might be right," Caulis said.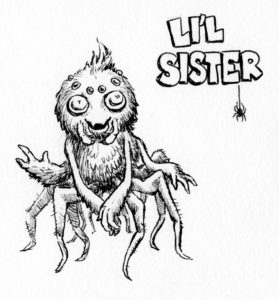 "How about Beggar-My-Neighbor?" Insidia asked, with a sly gleam.
"Alright…" Ordira said.
They played a few rounds of the game. Insidia slyly wove an illusion into the cards, so that they appeared differently than those she received. She won the game convincingly.
"Drat!" Ordira said. "I always win at that one…"
"I think… I think we're going through a series of challenges," Caulis reasoned. "Last time we all had to sing. This time we all have to play."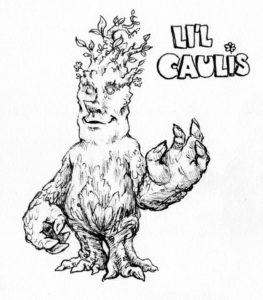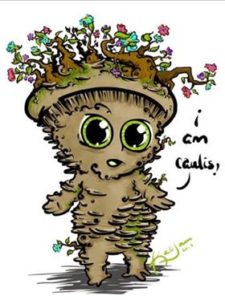 The adventurers proceeded to play a series of games with the young Ordira, including the Hexian classic "Boulder, Vellum, Blade" and similar children's games. After several attempts, each defeated the illusion of Yam's sister.
As they celebrated their victory, the wagon comes to a slow and careful stop. "Kids, we're here!"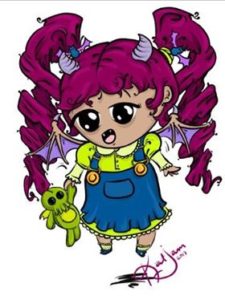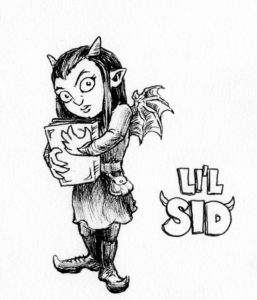 Child-sized adventurers. Illustration by Caulis' player, Bronwyn McIvor, and Armand's player, at KatJamIllustration.
They stepped off the caravan and walked into a bright, white room. There was nothing there – only endless, blank whiteness.
Suddenly, a giant, celestial fountain pen descended from the ceiling and drew a simple line cliff right in front of the party's path. The cliff was about fifty feet high. The wall was sheer – there were no hand holds or ways to climb it as it is.
Sid began looking around. The caravan had disappeared, replaced by a plain wooden desk.
On the desk were four quills of different colours, each sitting in a pot of ink. In front of those, a stack of leaves of parchment. On each, there was a line drawn that mirrored the cliff.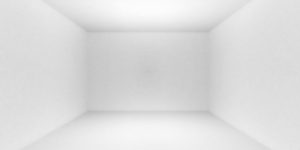 Tentatively, Caulis took a quill and began to draw, sketching a beanstalk that stretched up the cliff. Instantly, a stalk sprouted from the ground and sprung up the cliff.
"Huh. Well, that's interesting."
"Some sort of… test area?" Sid mused. She tried sketching a series of stairs up the cliff.
"Boring!" a voice boomed, sounding suspiciously like Yam.
"Yam?!" Sister said. "Is that you?"
There was no answer.
"It's probably another illusion," Sid said. "Like a… sort of shadow of Yam."
"Hmm…" Caulis said. She sketched a gigantic red dragon; it swooped down out of the sky and picked her up, then deposited her at the top of the cliff. "Wow! That worked pretty well!" she proclaimed, even as Caulis shimmied up the beanstalk.
Siister tried to grasp the beanstalk, but it proved as insubstantial as air.
"Hmm." She drew a pair of shoes, with attached propellers. She stepped into them, and they began to whir, flying her up to the clifftop.
Armand, sighing, sketched a majestic, baroque pirate ship, flying. A gangplank lowered; the nobleman-sorcerer boarded, and the vessel conveyed him, too, to the top of the cliff.
At the top, an ocean spread out below. Behind  the cliff stretched far into the distance. There was nothing really there.
A short distance from the cliff, they could see two ships – one with coral-coloured sails, the other seafoam green. They could hear shouts and jeers coming from each ship. As they looked at each other, they realized that their outfits were now adorned with patches and handkerchiefs – like they were wearing pirate costumes. Caulis and Sister wore seafoam green; Armand and Sid, coral.
The group descended to the water, and it lapped at them, the current pulling them toward their respective boats. Crews of pirates in the boats pulled them aboard.
In each ship, the pirate crews teemed about their new members. Each opened great chests, each containing a giant pirate hat – one with green accents, one with coral. Armand took one hat, while Sister took the other.
"So, you be Captain Coral!" the pinkish pirates said to Armand.
"So you be Captain Foam!" the green pirates said to Sister.
"It's another, like, game thing," Sid said to Armand. "Yam must have programmed these illusions to obey the commands of whoever is wearing the hat…"
In synchronicity, the illusory pirates on both spoke:
"Those scurvy dogs reckon they be gettin' the treasure before we do! What say ye, captain? Flee for the treasure or fight for the treasure!" They pointed to a small island in the distance that wasn't there before. It looked like a classic pirate treasure island from a children's picture-book – rock formation like a skull, lots of coconut trees.
"Um…" Sister said. "Avast?"
"I think we're racing," Sid said to Armand. "Ah, Captain."
"Ah, very well," Armand said. "We shall play Yam's little game."
What followed was an intense, furious naval race, replete with every manner of maritime calamity. The two ships traded places repeatedly, fickle winds pushing and pulling them two and fro. At times, friendly dolphins from the deep chatteringly emerged from the depths, and were convinced to pull one of the ships further with ropes flung from the decks. At other times, sudden doldrums caused one or both ships to stop. Gigantic seagulls harassed them, and once a friendly whale surfaced, the wake pushing their ships ahead.
"It's like a boardgame," Sid said. "The laws of physics make no sense here."
Gigantic crabs pulled themselves on deck of Sister and Caulis' ship. The pair repelled them with spells, until Caulis, using one of the runestones gleaned from Troll Country, summoned an air elemental to help blow the crabs aside and fill the sails with wind. Their vessel hurried forwards, even while a gigantic octopus snared Armand and Sid's vessel in its tentacles. Armand froze several of its tentacles and ordered the pirate crew to break them off brutally, while Sid, frustrated, reverted to her demonic form once again, her head twisting round and round, her eyes flashing red; fire spewed from her mouth, and the octopus was repelled. Incensed with a competitive spirit, Armand conjured a fire elemental using his own runestone, setting the other ship alight. Despite these efforts, Sister and Caulis still pulled ahead.
The Seafoam Ship sent out rowboats to collect the buried treasure from the island: a chest, cartoonishly overflowing with doubloons and glittering fist-sized jewels.
"It's been a pleasure serving with you, captain!" the pirates recited – before shoving Caulis and Sister overboard!
They floundered in the water, only to realize that Sid and Armand had likewise been forced to walk the plank for failing to reach the island first.
Stormclouds brewed and fierce winds whipped the waves to a frenzy. The party was dragged underwater, but found they could breathe. A cave was evident somewhere below, near the ocean floor. Seaweed growing next to it spelled out "TO HEX!"
The party made for this cave and swam through a short tunnel, towards a light. As they got loser, they could see a sheen that looked like the top of the water – and, through it, Yam and Sid's office.
"Hmm. They must have put it back in your office," Armand said to Sid, quite capable of speech even underwater.
A strong current suddenly caught all four, and drew them rapidly towards a tiny aperture in the side of the cavern. They were sucked towards it, their bodies shrunk and forced through a tiny pinhole…
…and through to the other side, deposited in a gush of seawater in another cave.
As they looked around, they noticed that the way they looked had changed again. The cartoon sheen that was in all the other levels was no longer here. They looked like themselves again – realistically rendered, so to speak. So was the world around them. You had fallen through a small crack in the roof of a cave, dank and grim, and could hear dripping around them. The rocks were damp and they could smell earth and brine and something strange, unidentifiable. There was no entrance to the cave, nor exit.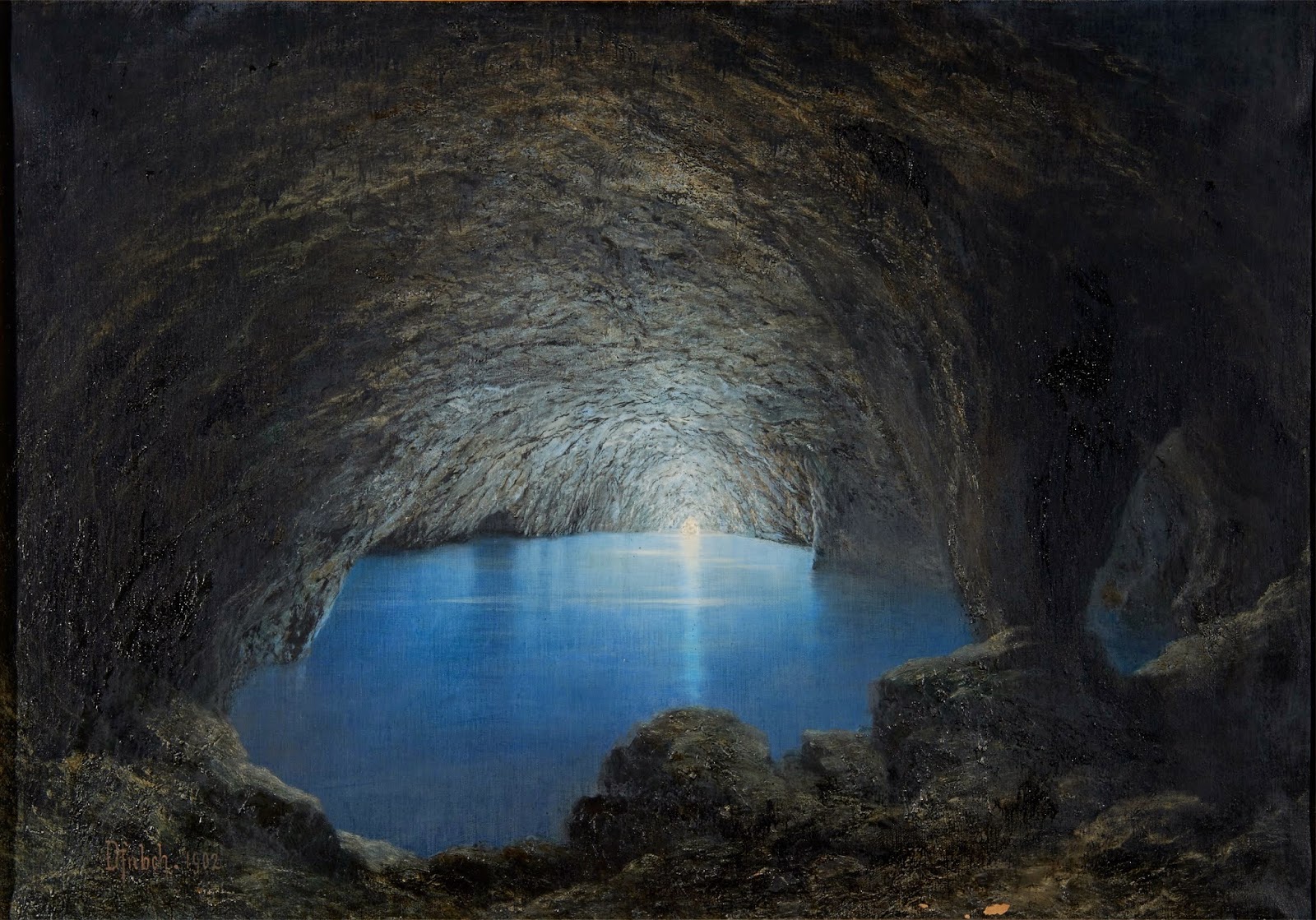 Huddled in a corner of the cave, they could see some familiar figures: two gnomes and a human. The gnomes were nearly identical, though one had several more piercings in their giant ears. The human was a tall, imposing figure that Sid recognized as Sebastian Eldridge – Yam's supervisor. The gnomes, of course, were Yam and "Yam Beta," the version of Yam from Arcady. Near the wall of the cave, there was a dark pond with brackish, stagnant water.
Yam sat, curled over with his head on his knees, shivering. Yam Beta tried to comfort him. Sebastian looked deeply uncomfortable.
"Yam!" Sister exclaimed, happily.
"YAM!" Sid added, somewhat less so.
Yam burst into tears.
"Oh no!" Yam said. "It got you too! It's all my fault…"
"What happened?" Caulis asked.
"We've been here for some time," Sebastian said, looking supremely annoyed. "We've tied to find a way out, but to no avail."
The party all tried to console Yam, but they were too distraught. Every entreaty only seemed to make things worse. Sebastian snapped at Yam, until Sid threatened to report him to the University for verbally abusing one of his students.
Sister, tentatively, tried to use the Portal Chalk to get away, but it did not work.
"It probably doesn't have anything to actually hold onto," Sister speculated. "If none of this is real…"
"What is this place, anyway?" Sid asked, looking around. "You didn't make this cave, Yam…"
"I would surmise it is part of the original Librarian device," Armand said, rapping a wall with his sword-cane. "It's as if we've slipped from Yam's 'cells' in the Kaleidoscope and into one of the original cells…"
"Cells is the right word," Yam Beta said. "I think this might be some sort of prison device. They looked over to Sister. "Don't!" they yelled – but it was too late.
Sister had looked in the pool, and her reflection shimmering and changed, becoming that of a stern Lengian in the robes of a high priestess of the Mother of Spiders – her old Reverend Mother.
"I'm not terribly surprised you ended up here," she spat. "You always were useless." With a lurch, the reflection pulled itself from the water, becoming corporeal and leaping towards Sister with a snarl, moving with far more speed and agility than an old Lengian woman should be capable. She ranted furiously about Sister's inadequacies.
"It's some sort of doppelganger!" Yam Beta proclaimed. "It becomes whoever you feel doubts you most!"
The creature leapt atop Sister and began viciously raking at her face with claw-like fingers. The party leapt to defend her, firing spells at the monstrosity. It leapt aside, jumping around the chamber and avoiding spells, until a ray of frost caught it, temporarily slowing it and partially freezing it, as if it were made from the same liquid of the pool. A shatter spell from Caulis broke it into many pieces, which promptly melted and ran back into the pool.
"Ugh," Sister said, healing herself with a quick prayer to the Mother of Spiders. "How are we supposed to get out of here?"
"Maybe we all have to fight our own doubts?" Sid muttered. "That's not going to be good… I have a feeling mine might be… well, my great-grandfather. Who is, well, fairly important in the hierarchy of Hell…"
"Hmm. I've an idea," Armand exclaimed. "I've frankly had quite enough of being imprisoned for one day, and I really haven't time for whatever inscrutable puzzle the Librarians intended." He began repeatedly casting firebolt into the water until the pool was entirely turned to steam. "There. At least that's taken care of. But it didn't seem to reveal any kind of way out."
"This is so stupid!" Sid said, her features flushing, eyes turning red. "It's just a dumb illusion!"
And with that – quite literally by magic – the spell was broken. All seven of them suddenly tumbled from the Kaleidoscope out into Yam and Sid's office, sending books and papers flying.
"Oh." Yam said, wiping their eyes and looking around in relief.
"I guess once we destroyed the pool, we just needed to say it was an illusion, or something," Sister said.
"MY PAPERS!" Sid said, looking around at the reams of parchment, her eyes bulging out of her head.
Sebastian stormed out of the office in a huff.
"Well," Yam said, rather anticlimactically dusting themselves off. "Um. Thanks!"