The characters in this session were: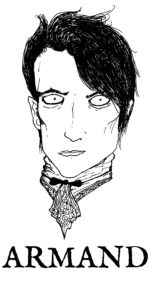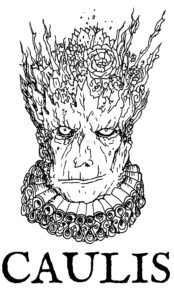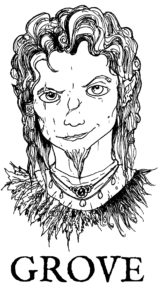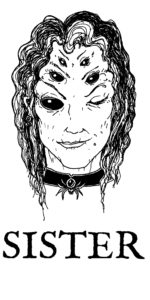 Armand Percival Reginald Francois Eustace de la Marche III, a suspiciously pale, apparently human noble and sorcerer, and certainly not a ghoul (how dare such a thing be suggested).
Caulis, a homunculus warlock liberated from its master; has made a pact with Queen Titania of the Faerie.
Viridian "Grove" Greengrove, changeling druid, exile from his former druidic circle for unknown transgressions.
An ancient and enigmatic Lengian cleric of the Mother of Spiders, name unknown. She wears bulky ecclesiastical garments covering an uncertain number of limbs and goes by "Sister."
XP Awarded: 400 XP
The long winter gave way to a quick spring and a quicker summer. The season seemed to burn itself out in furious intensity, as if compensating for the long chill. Now the Month of Owls waned, leaves falling from the trees. Rain and heavy fog had replaced the oppressive sunshine with their own damp claustrophobia, a blanket of heavy grey covering Hex and its hinterlands.
Armand Percival Reginald Francois Eustace de la Marche III sat in his study, perusing The Book of the Void, when one of his servants knocked on the door and approached with a letter, freshly delivered by waspkin courier. The letter was marked with the seal of his family on your mother's side – the de l'Abespine coat of arms. Usually this marked a letter from his mother. The sorcerer opened the letter and read carefully.
Grandson,
I hope I do not trouble your studies in Hex unduly, but I am sad to inform you that your presence is required here at Château de la Marche. Your mother's condition seems to be worsening. Since your father's passing, as you know, she has been delicate of constitution, both physical and mental, and recently she has taken a turn for the worse. She spends long hours shut up in her menagerie of glass figures, refusing meals, even locking the doors; I am afraid we have been forced to confiscate her keys, and, at times, treat her almost as a prisoner in her own home.
It pains me greatly to see my daughter so diminished. Despite our attempts to keep her pacified and restricted to her rooms, she has taken to wandering parts of the house which are no longer safe – including the burned southeast wing, and even the disused northeast wing where, we suspect, the air has gone terribly bad. She continually foils all attempts to keep her from such midnight ramblings, at one point even overpowering a servant come to change her linens, and there has been a string of other, similar incidents. She has spoken of seeing your father's shade, of horned figures, of beasts prowling "the endless dark" – and of other things which I will not commit to writing. She has taken to scrawling strange signs on the walls, abusing her belongings, and vandalizing the estate. The staff, I am afraid, are quite alarmed.
To be blunt – I fear she may hurt herself, or lose what reason she still possesses.
I can't say whether your presence will do her any good – perhaps the sight of her son will restore her, or relieve her condition. At the very least I am sure you would be a comfort to her.
I would strongly advise that you travel accompanied, as the roads have become terribly perilous of late; unseasonable cold weather has left many washed-out and nigh-unusable, and driven men to banditry. They resent us at the estate, of course, and more than once the servants have driven them off with shots from the old arquebuses. There are wolves as well, in greater numbers than normal, and other wild creatures roaming the countryside; the memory of the terrible incident that befell your parents shortly before your birth still haunts me. Best, then, to bring with you companions suitably skilled in arms, in case you encounter anything dangerous on the journey.
Your grandfather,
Percival de l'Aubespine, Baron de Beresford
Fuming with rage at the ill-treatment of his mother, Armand leapt from his chair and, without ado, began preparations to leave the city. Gathering several companions along with horses and a small band of mercenaries, he set out for his ancestral estate as soon as possible.
To the south and west of Hex, the land became progressively hillier, dotted with pastures and thick oak forests, some remnants of the Tangle, cut off from that sprawling mother-wood. Towards the further south the hills eventually climbed into mountains known as the Dames Blanches, the White Ladies, for their snowy caps. The thick smog of Hex dissipated into an autumnal mist in this region, a subtle, silvery haze from which the reddening trees emerged like russet spectres.
Though the Old City of Hex was built millions of years ago during ancient prehistory, the city built atop it felt almost new compared to the venerable towns and ruins of this region. Though Hex exerted a degree of control over these lands, the folk here maintained a sense of rugged independence, more loyal to the noble bloodlines who have ruled the realm for centuries than to the distant city with its strange technologies and sinister wizards.
Away from the libertine confines of Hex, worship of the city's strange gods declines rapidly. There were still a handful of roadside shrines to the Magistra for the first few miles from Hex, but these were soon supplanted by fanes and churches dedicated to the Lady of the Mists, a local goddess.
The population also noticeably shifted. At first gnomes, dagonians, and others could be seen in fair numbers, but these quickly dwindled, replaced by humans.
The party stopped for the evening at the White Wyvern inn, a three-storey inn at the edge of a small oak forest. Within, a fire flickered in the hearth, warming a common room crowded with travelers – the Wyvern was the only inn for some distance. Most of these wee merchants and farmers, folk heading north to Hex to peddle their wares. The innkeepers were identical twins, two men with the same thin, clever face and the same close-cut greying curls, distinguished only by the ugly scar that marked the face of one of them.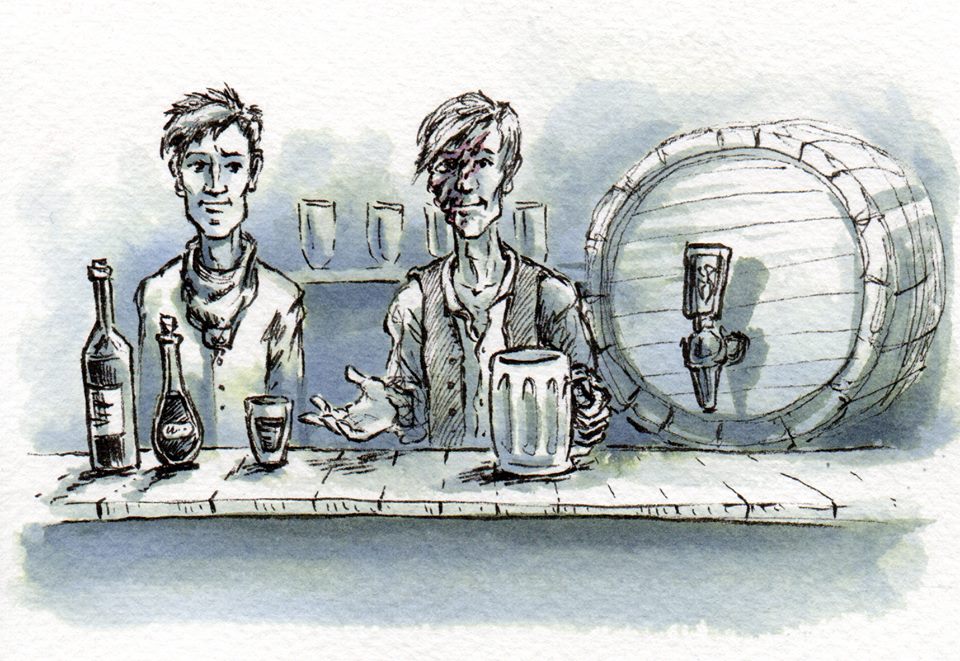 Charles and Bertrand. Illustration by Caulis' player, Bronwyn McIvor.
Caulis and Armand spoke with the brothers, Caulis now in illusory human guise, and learned that wolf attacks had been on the increase of recent.
"Mark me words, the Beast of Vaorigne has returned," Bertrand, the scarred brother, declared. "I should know. I'll remember that thing's howls till my dying day."
"The Beast of Varogine?" Caulis asked, curious. Viridian likewise perked up at the mention of an exotic creature.
"Aye, the Beast that gave me this scar," Bertrand said, gesturing to his face. "A monstrous werewolf, that roamed these parts with its pack some twenty years past. But young Master Eustace de la Marche here can tell you all about that."
The other looked to Armand, surprised.
"The Beast wounded my father, left him lame and weakened," Armand said, gazing into his glass of wine. "And left mama… changed. It attacked them, late one night, on the road not far from here."
"Could this Beast be related to revent events at your home?" Viridian asked.
"I see not how," Armand said. "But I find this topic displeasing. I think I shall retire for the evening."
The sorcerer drained his glass and departed for his chambers.
That night, Armand's sleep was troubled. He awoke in the early hours of the morning, sweat soaking through his nightclothes, the memory of a disturbing dream still fresh in his mind. It was a vision of his father, Armand II, trapped in some tenebrous chamber, some twisted parody of his family home. Something was restraining him – long, writhing forms, lashing tendrils or serpents – binding his limbs. As Armand watched, powerless, wounds blossomed across his father's body, long claw-marks blooming crimson. Some invisible force devoured his right leg, the limb he had amputated in life, and a festering, gangrenous rot began to spread up his body, consuming him, creeping across his skin until he was a grotesque shell of his former self, a diseased husk. His eyes glowed with some vile effulgence as he struggled against the gruesome organic bonds that held him, and his gaze fixed upon Armand, his eyes piercing into your mind.
"Son! Help me, please!" the elder Armand pleaded – before Armand III awoke.
Descending from breakfast on the morrow, Armand did not speak of his vision, but insisted the horses be readied immediately. Once again the party set out, riding hard for Armand's ancestral home. Soon mist clouded the path, and mid-morningv loping shapes emerged from the fog – a pack of a dozen hungry wolves, thin and ferocious. They howled and leapt towards the horses, but Sister conjured a phantom scent, deterring them from the chase.
Shortly later, another shape materialized from the mist. The broken remnants of a carriage lay by the roadside, a dead horse rotting slowly in the mist, savaged by some wild beast. The ornate carriage appeared to have been thoroughly looted; there were no signs of any occupants, though bloodstains and vicious claw-marks on the wood suggested a violent abduction.
Viridian inspected the claw marks and footprints carefully, and deduced that the assailants had been bipedal.
As the day drew to a close, the party entered Lutin, a small village of Lutin along the road to the de la Marche estate. An old stone wall, crumbling and moss-eaten, served as meagre protection for the tiny hamlet. There was an alehouse – the Goat's Head – along with a handful of homes and craftsman's workshops, as well as an old church dedicated to the Lady of the Mists, her sorrowful stone visage looking out across the town.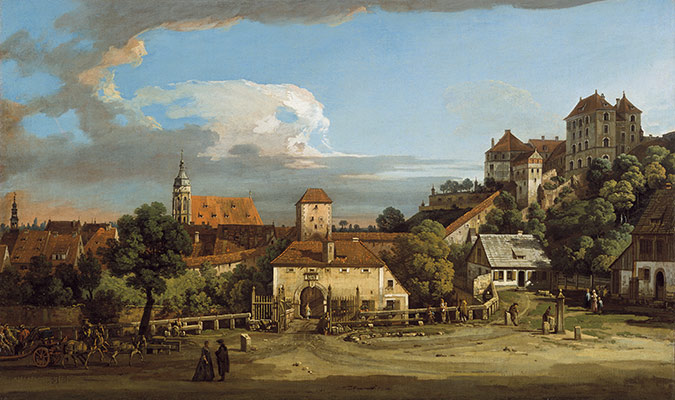 The group rested here briefly, though Armand was determined to press on to his estate. He paid a brief visit to the town's magistrate, informing him of the broken carriage, before ducking into the Goat's Head – rather quiet, with only a few locals drinking the black brew of this region, or cups of the greyish wines made in the hills. The tavern-owner and barkeep was Rosy Maude – a stout, handsome woman with long red hair now streaked heavily with white. She greeted Armand warmly, but when he pressed her for word of his home, her expression grew dark.
"We haven't seen anyone from Château de la Marche for a fortnight, which is strange," she said. "Normally at least some of the servants, Old Hugh and Thibault, usually, come down to Lutin once a week at least, for food, drink, and other sundries. There's been… well, I hate to speak ill of your family, sir, but there's been some queer rumours of late."
"No offense is taken, Maude," Armand assured her. "What have you heard?"
"Well, there's been tell of some sort of sickness among the staff. When Thibault was last down here, he was coughing terribly, and poor Hugh couldn't make it out of bed. Said something about mould and bad air. There's been word your mother ain't full herself.
"And there've been… queer sounds in the night. Distant, mind you, but… strange. Voices heard in the hills, echoing. Whispers in the mist, which ain't cleared for days and days. Once, a high squealing sound the like of which I've never heard made by man nor beast – woke the whole village. And sometimes a rumbling through the earth, like a tremor."
"And then there's Ankou," an old man by the bar declared.
"Quiet, Reynard," Maud chides.
"Ankou?" Caulis asked, curious.
"I seen him, up in the hills. Ankou, the soul-collector. Death's henchman. A thin man, all in black, with a broad-brimmed hat. His voice is the scream of the damned. That's what's been wailing in the night. I saw him when I was driving my cart. He was up on a little hill, his back to me, but then his head turned round on his neck till he faced backwards. Gave me quite a fright he did!"
"Superstitious nonsense," Maude declared.
Meanwhile, Sister and Viridian visited the local church. Though the Lengian was regarded with alarm and even terror by some of the locals, her careful questions soon put the local priestess at ease. They learned that the Lady of the Mists was a goddess protecting the region of Varoigne from harm from the outside world – though the region had more than its fair share of troubles, and the faith seemed to be dwindling, the church ill-attended. They also noted that some of the graves in the cemetary behind the church had been disturbed. Viridian examined them carefully, concluding that the same creatures that had attacked the carriage were likely responsible for the body-snatchings.
Troubled by these signs of dark doings, the party set out once more, hastening for the de la Marche estate. The sun sank low as they followed the path upwards into a series of misty hills. They glimpsed horned figures amongst the crags – alpine goats. They watched the party's ascent with their horizontal-pupiled hircine gaze, unperturbed by their presence, but they made for an eerie welcoming party to this mist-shrouded place.
Then, briefly, another figure could be seen among the goats. At first they thought it was a goatherd, but then they saw its billowing black cloak, its masses of white, stringy hair, its eerie, broad hat shadowing a face that looks skeletal. White eyes roved in the bony visage's sockets. The being carried a rusted scythe. No sooner had they glimpsed this macabre being than a bank of fog rolled in, obscuring it from sight.
"The Ankou…" Caulis muttered, as, at last, Château de la Marche came into view.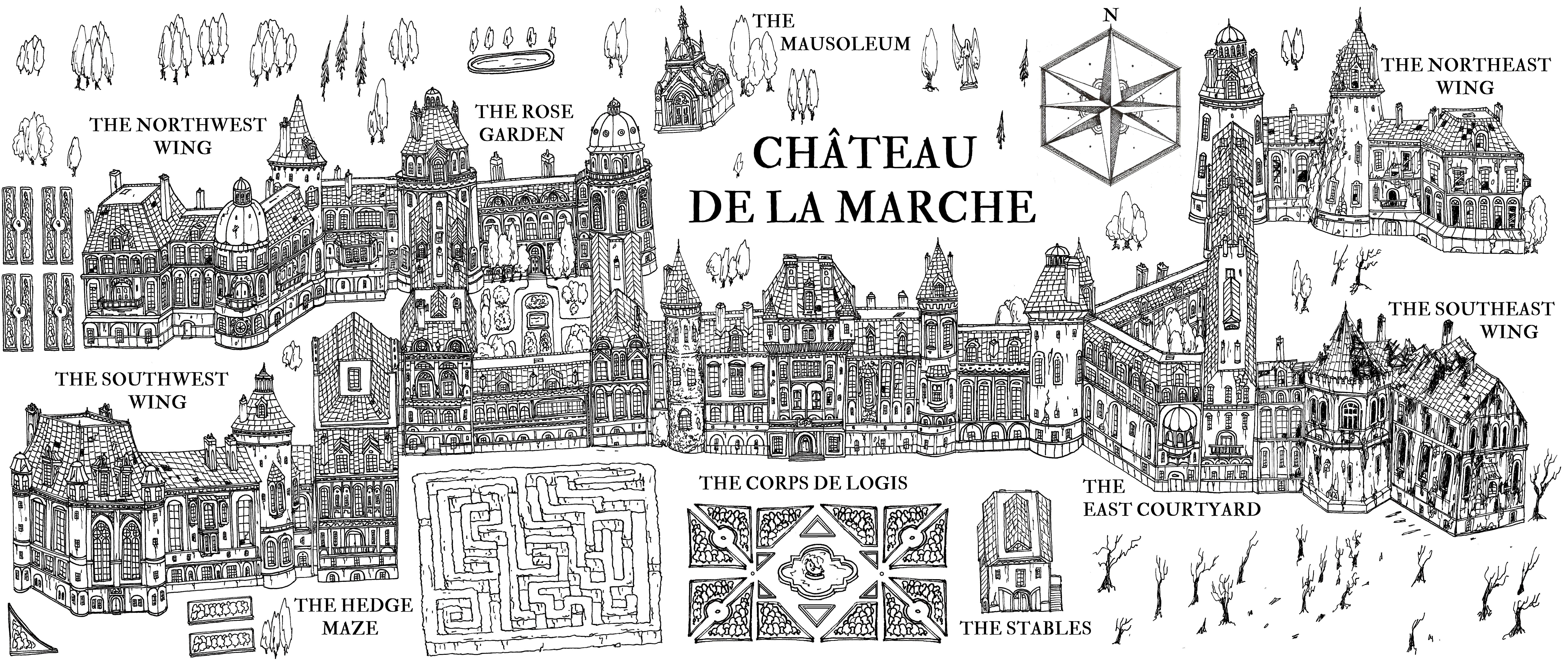 The estate looked decrepit – far worse than Armand remembered. The roof was missing tiles, and some of the windows were broken and boarded up. Attempts to repair the burned southeast wing were clearly abandoned, as it remained a charred shell. The lawn needed a cut and the gardens looked sickly, some of the bushes dead, others succumbing to blight.
In short, the house looked… dead. There weren't any lights visible, nor any smoke from the chimneys… except, that is, for a ghastly red light in the chapel in the southwest wing.
"Something is very wrong," Armand growled. "There should be servants here, to take our horses. Come, let's stable them."
Nothing awaited them in the stables – a conspicuous nothing. There were no horses here; all of the pens lay open.
Further investigation did reveal a number of hoof-marks and claw-marks on the wooden walls and doors, as well as some bloodstained hay. Something had snatched the horses.
"More troubling still," Viridian said, touching the marks carefully. "The same creatures that disturbed the graves, and attacked the carriage, I'd say."
Armand, now furious and intent, marched up to the door of his familial home.
On the steps leading up to the front doors, he saw a rock, weighing down what looked like a piece of parchment.
On the parchment was written:
Dearest Armand Percival Reginald Francois Eustace de la Marche III,
Since you paid my home a visit, I thought it only proper that I paid a visit to yours.
I shan't do anything so gauche as to break your beautiful possessions, as only an uncouth brute might.
Nor would I ever be so ungallant as to roast your mother alive, as only a murderous wretch would.
Nor even would I exhibit such atrocious manners as to burn your estate to the ground, as only a mad and cretinous arsonist would dare!
I am, after all, still a gentleman of good breeding. Unlike some I could name.
No, no – I have a different fate in mind for the de la Marche estate and its denizens.
I may have plucked my own eyes from my sockets to please She Who Writhes in the Outer Darkness, but I have been watching you and your little friends all the same, and learning much of your doings, and of what you have done to my home and my family.. The Charnel Goddess has many servants – worms and rats and creeping insects– and those of us in Her favour know their secret speech, can see even see through their eyes when it pleases us. I know much about you, dear Armand. More, perhaps, than you know about yourself.
I was so charmed by the little gifts you have been sending to your mother – your dear, sweet mother.  It was a simple enough matter to provide her with one of my own, disguised as one of yours.
I do hope this little visit meets with your approval. I'm quite sure we're going to have the most delicious fun!
Yours most sincerely,
Jasper Van Lurken
The letter was accompanied by a lock of hair that Armand recognized as his mother.
Armand carefully put the hair into a handkerchief and placed it in his pocket, then crumpled the note in his fist. He turned to the party, seething with a cold fury.
"He got away," Armand snarled. "Jasper Van Lurken."
"Who?" Viridian asked.
"A nobleman, although unworthy of that distinction. He corrupted his family, transformed them into vampiric monsters, servants of the Charnel Goddess. I thought I had burnt his filth from the city, but it seems he escaped."
"The front door will be guarded," Caulis reasoned. "Where should we enter?"
"We need to find my mother. Her safety is our priority. Come." Armand led the way west, towards the Rose Garden. As a child, this was where he had spent most of his hours – the east wings of the house had mouldered, abandoned, after his father's death and the family's slow decline.
The party approached a servant's door, leading into the block of rooms surrounding the Graden. A demonic visage had been scrawled on the door, crude but menacing – some sort of ward.
"Hmm, let me try something," Sister said, and with a whispered prayer to the Mother of Spiders, she blinked to the other side of the door.
This antechamber beyond was filled with pictures of the de la Marche family, including a very prominent painting of Armand II fencing with an ornate duelling sabre. Crouching in one corner with its back to the door, hunched over the decaying remnants of what might once have been a person, was what remained of a woman in a maid's uniform, her body weirdly elongated, her neck stretching with horrific flexion. She twisted round, staring with bulging eyes, sensing Sister's presence, but the cleric had concealed herself in the shadows, her goddess weaving darkness like a web about her.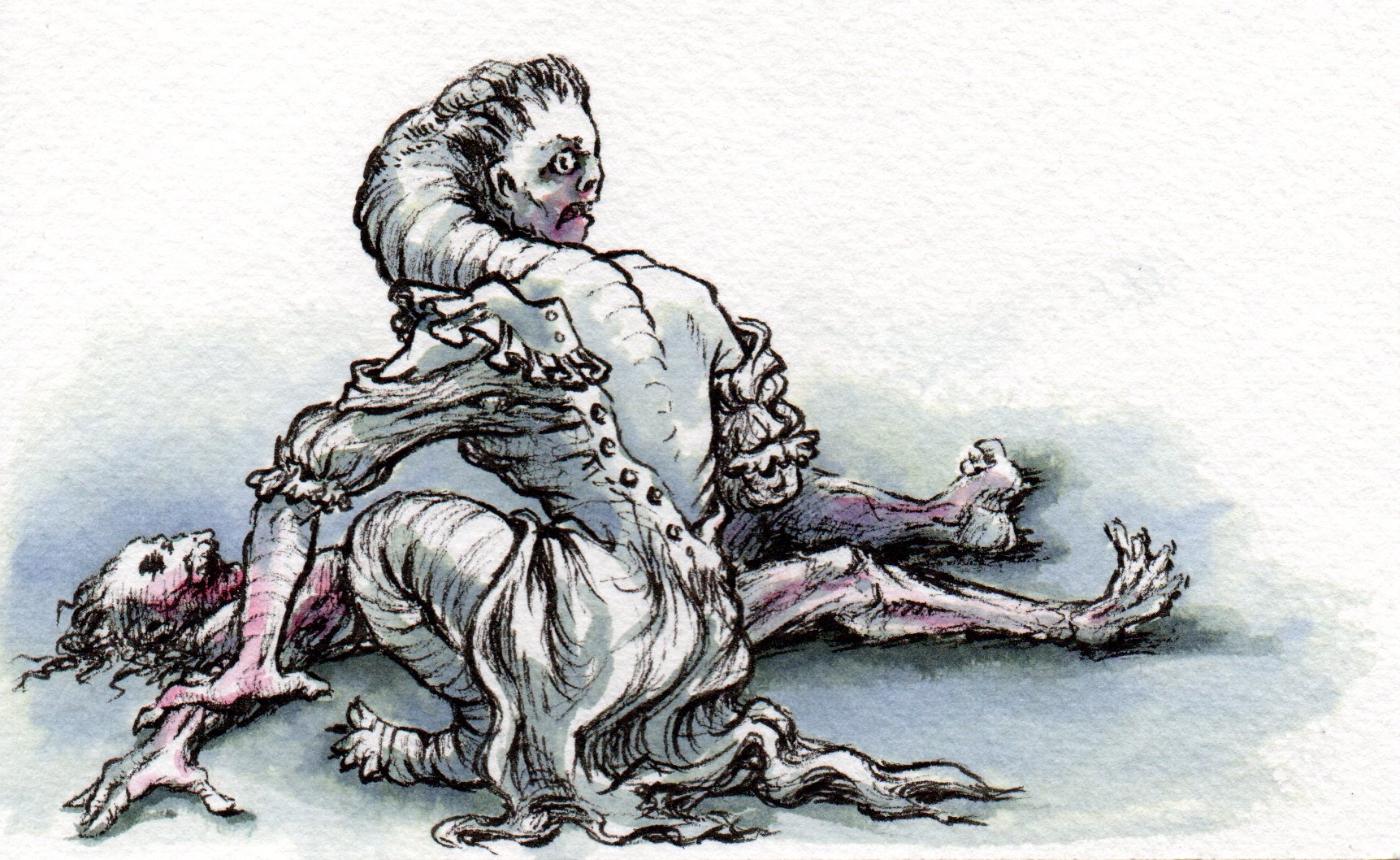 The Maid. Illustration by Caulis' player, Bronwyn McIvor.
Sister carefully opened the door to the outside. The worm-thing twisted round and fled through an open door as the party stormed in. Armand led them through, fingers twitching, a spell hovering on his lips.
Beyond, a simple chamber once served as the servant's common room. Its current use was far more macabre. Bodies were laid out on the long tables where servants once sat. They were clearly being prepared for some sort of necromantic ritual, as they had been stripped naked and mutilated, with sigils carved into their flesh.
"This way," Armand said, pointing to a stairway leading upwards.
In this room, two paintings looked down upon them. One was a family portrait of Armand II, Helena, and the infant Armand III, all dressed in historical finery as a chivalric knight, a virtuous lady, and their child. The young Armand had a face which seems wiser than his chubby cheeks and infant curls might suggest. The second painting, however, looked newly hung – a picture of the Van Lurkens.
Annette Van Lurken was shown as a beautiful dark-haired girl of sixteen or seventeen, pale of complexion and dark-eyed, wearing a green dress and holding a small, three-headed pug dog, one of the cerberi bred by the alchemists of Caulchurch, next to her brother Jasper – a sallow, handsome but rather gaunt man of about nineteen, clad in a black doublet, a sly look in his eyes. He posed with a memento mori. Their parents, Leopold and Nicolet, sat to one side; Leopold a well-fed man with a cunning look, perhaps because of his neat, pointed beard and clever eyes, wearing colourful garments of purple and green and has short, greying curls; Nicolet, a stern-looking grey-haired woman whose once-great beauty had only been somewhat diminished by a lifetime of disapproving frowns and exasperated grimaces, wearing a luxurious burgundy dress.
From this portrait gallery, windows faced out upon the Rose Garden below, which filled the courtyard in the heart of the western half of the house. Beautiful in spring and summer, the roses were now dying, their decline facilitated by some sort of blight which had taken hold of the blooms. However, some new breed of roses appeared to be supplanting the old, still seeming healthy despite dropping temperatures. Grotesque black roses veined with red, their stems not green but vivid crimson, teemed amidst their etiolated cousins. At the innermost whorl of each flower, a tiny mouth cou;d be glimpsed, dilating hungrily.
Tending to these horrible vampiric blooms was a man Armand dimly recognized as the former gardener of the estate, Maynard – or, rather, what Maynard had become. A vast, swollen shape, inflated like an obscene balloon, Maynard was bloated with blood, his body transformed into a sac-like, vermiform shape. In place of his fingers were slender proboscises, mosquito-like, from which he periodically squirted blood, feeding the vampiric blooms. As they were fed the hematophagic flowers sighed contentedly; others, sensing an imminent feeding, moaned and muttered in ravenous anticipation. Maynard also carried a heavy sack, bloodstained and filled with human and animal body parts – limbs, organs, and other gore. He periodically removed some morsel from this bag and tossed it into the flower-patch, at which point the blood-drinking roses all converged, swivelling on eerily muscular stems to gorge themselves on the feast.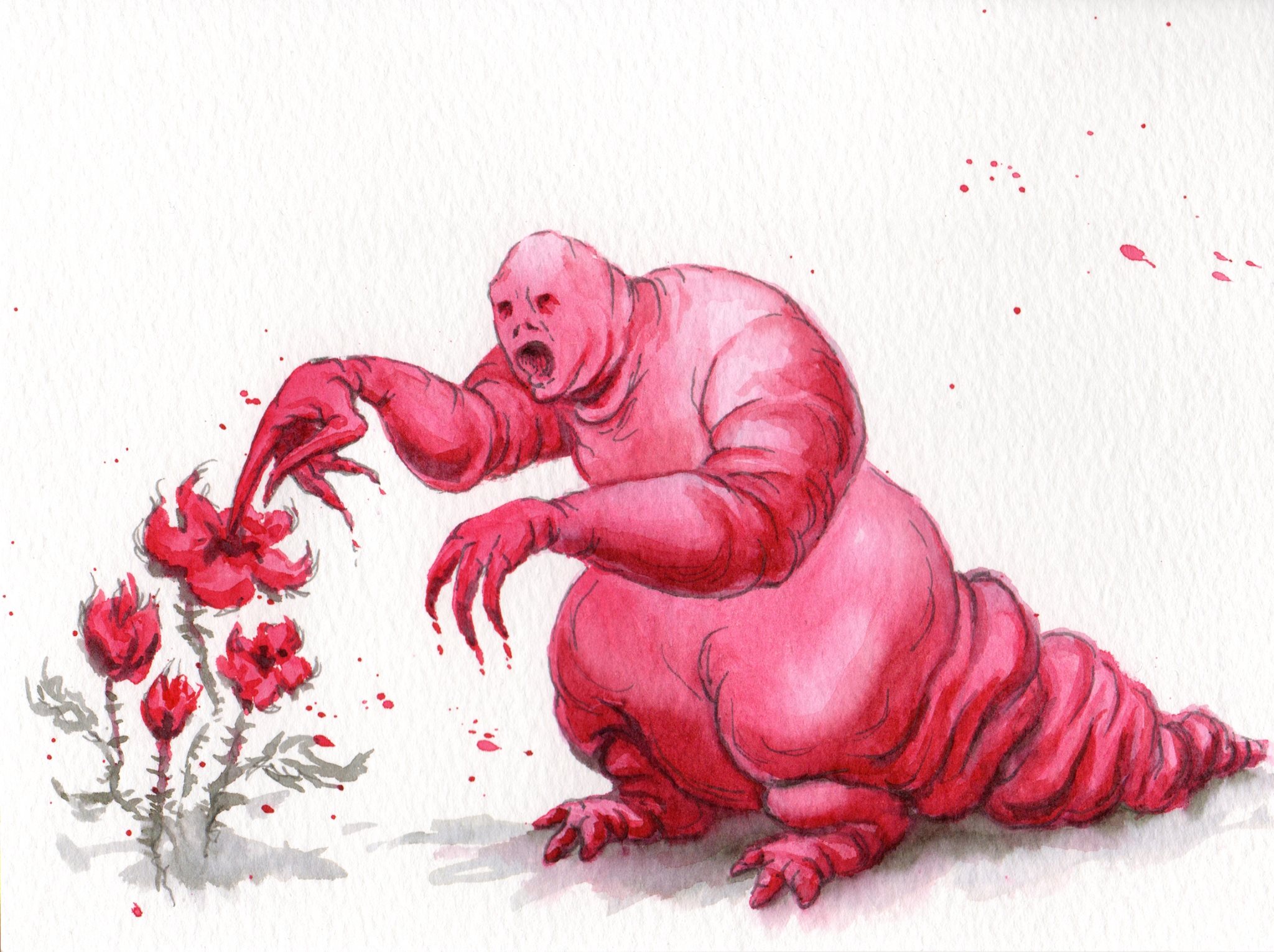 The Gardener. Illustration by Caulis' player, Bronwyn McIvor.
"Mother of Spiders, was that a person?" Sister said, horrified.
"We will deal with such abominations later," Armand said. "Come, this way." He led them deeper into the house, through another anteroom and a series of galleries, all luxurious but decayed, until they reached his mother's apartments.
Helena's sumptuous room had a massive four-posted bed and a side-table; it was in terrible disarray, as something had thoroughly ransacked the chamber.
A large armoire stood against one wall, adorned with images of armoured knights. The armoire had been locked and seemed to have been barricaded crudely, a halberd pushed through its handles. Something bumped loudly from within the armoire, as if straining to get out.
"Help me," a strange, double-voice said from within the armoire. "I'm locked in here, help!" Armand raised an eyebrow.
"Who are you?"
"Jerome," one voice said.
"Blaise," said another.
"Damn," the two voices said together.
"Aha…" Armand said, stepping back. "I think we'll be leaving them be…"
A note lay on the floor, carefully folded, the precision of its placement belied by the panicked words scrawled upon it: "FIND YOUR FATHER."