The characters in this session were: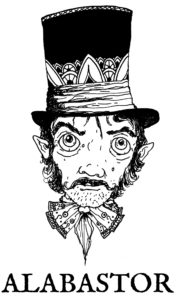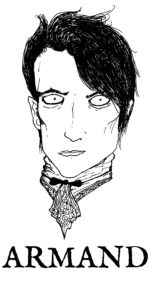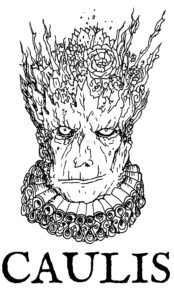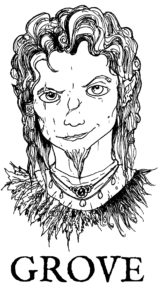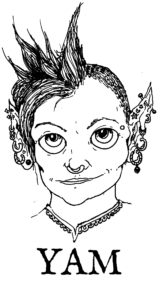 Alabastor Quan, a gnome rogue-turned-illusionist and failed circus ringmaster; wielder of a cursed dagger and member of the Ravenswing Thieves' Guild.
Armand Percival Reginald Francois Eustace de la Marche III, a suspiciously pale, apparently human noble and sorcerer, and certainly not a ghoul (how dare such a thing be suggested).
Caulis, a homunculus warlock liberated from its master; has made a pact with certain Faerie Powers.
Viridian "Grove" Greengrove, changeling druid, exile from his former druidic circle for unknown transgressions.
Yam, an eccentric gnome illusionist and local graduate student at Umbral University. Yam cares little for money. Yam is curious. Yam is Yam.
XP Awarded: 1000 XP
The party stood in the chambers of Helena de la Marche, mother of Armand de la Marche III, in his familial estate, infested by the minions of Jasper Van Lurken, priest of the Charnel Goddess. Sister, the Lengian cleric, drew a portal using the Portal Chalk, one leading back to its twin in Hex.
"I'm going to go find Yam and Alabastor," she said. "We might need more firepower."
"Fine," Armand said. "But don't be long."
The Lengian returned swiftly with the two gnomes to find Armand pacing the room. As she slipped through the portal, it quavered and closed, the marks on the wall fading.
"That hasn't happened before…" she said, concerned. "Hmm. Jasper worships the Charnel Goddess, right?"
"Correct," Armand said, fist clenched.
"It would be that he's somehow consecrated this place in her name. If the Portal Chalk is the creation of the Antinomian, it's possible it won't function properly in the temple of another deity."
"My house is no temple," Armand growled. "But let's return to the stables. You can establish a portal there. Set up camp and wait with the horses; if we do find her mother, I'd like to get her to safety as swiftly as possible."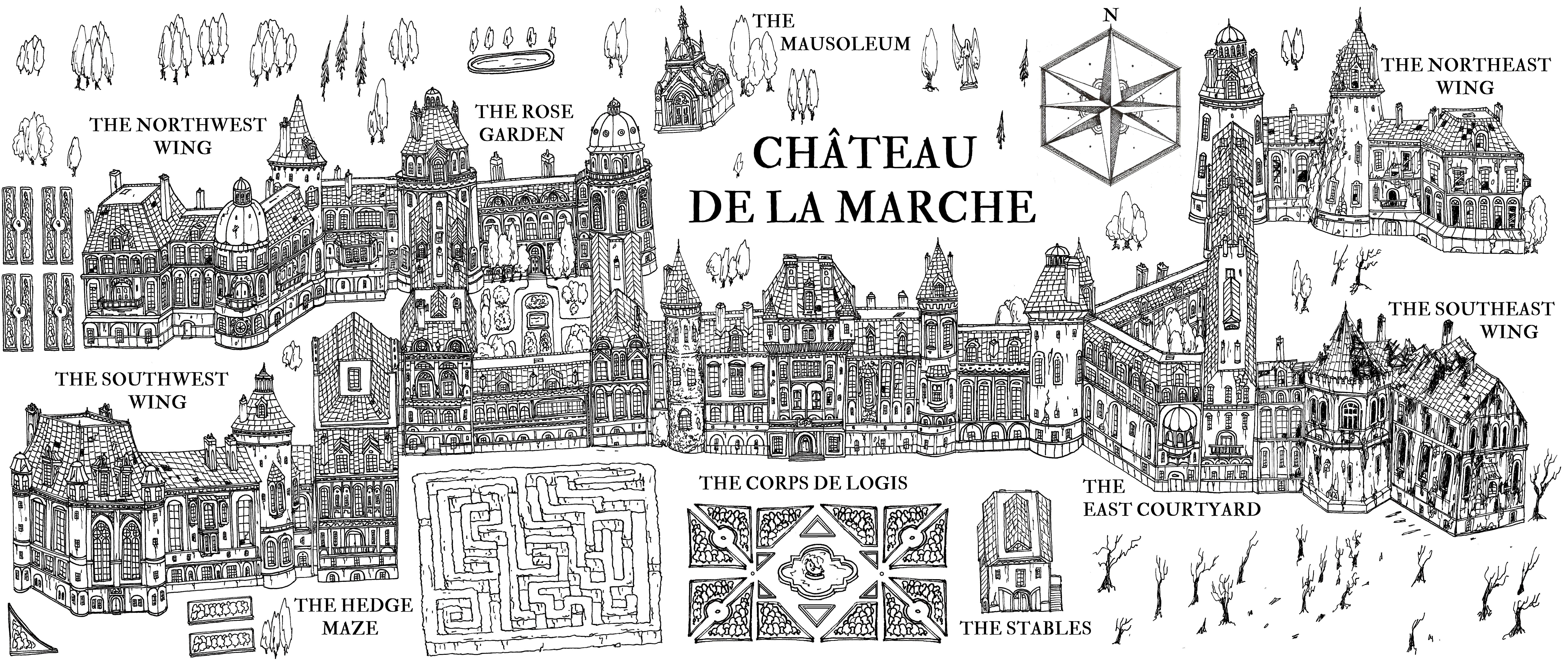 The party beat a hasty retreat back through the mansion and outside, where Sister drew a new portal in the stables, hoping that this one wouldn't disappear. While the old Lengian guarded their retreat the rest of the party prepared to return to the house, while Viridian and Caulis filled Alabastor and Yam in on what had occured.
"So… we're going to find your dad?" Yam asked.
"Perhaps," Armand said. "But my duty is first to the living, not the dead. If mama is alive, we must rescue her. But we must also destroy the poisonous idol the Van Lurken filth has polluted my estate with. We will find it in the Glass Menagerie in the northwest wing."
"Um, Armand?" Alabastor said. "There's a light on up there." He pointed to a high tower attached to the corps de logis.
"I'll send Eleyin to see what it is," Caulis said, the fey pseudodragon alighting from its shoulder. Eleyin flitted to the window, and saw within a pale, handsome man – the very image Armand II, recognizable from the portrait seen earlier – looking through a telescope. The dragon blinked, and the figure disappeared.
"It sounds like we found your father," Caulis said, as Eleyin conveyed this information. "At least, in a sense, anyway."
"Indeed," Armand replied. "But let us make haste. Come, I know the way."
Hurring, Armand led the party back into the mansion, first returning to his mother's chambers. All was as it was – save the armoire, where Jerome and Blaise seemed to have escaped, breaking the door.
"Oh great, those two got out," Viridian said. "Hmm. Let me see if I can get your mother's scent. With an incantation to certain elder powers, the changeling druid transformed himself into a kind of monstrous bloodhound-like creature, though somewhat more squamous and unnerving than a normal dog. He sniffed around the room carefully, then at the lock of hair left by the stairs by Jasper, and the note Armand's mother left, in order to get her scent. Once he had picked it up, he set off deeper into the house.
The party now made their way through a series of halls and chambers, slowly making their way north and west. Presently, they came to a low-ceilinged hall containing several long tables. A thick, old rug lay on the floor, looking mouldy. The walls were lined with cabinets containing various items of silverware and fine china. A series of bells ere also affixed to the walls, labelled with various rooms in the house – servant's bells. They hurried through into an old guard room, still  containing some arms and armour – all of them more for display than true use. Several suits of armour stood sentinel. Yam, perhaps made paranoid by the gloom of the house, knocked one over with a loud clatter, alarming everyone else in the group and drawing a hissed series of remonstrations from their companions. Something elsewhere in the house groaned distantly, clearly hearing the cacaphony.
Yam's hijinx. Illustration by Caulis' player, Bronwyn McIvor.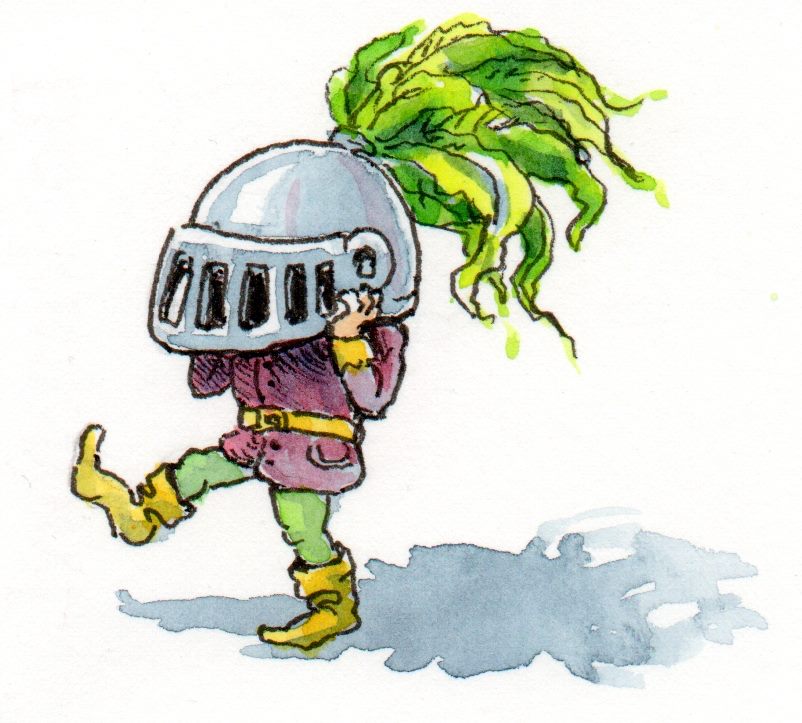 "I'll see if I can disguise our scent," Caulis said, using a spell to try and make the room smell like rats. Yam, meanwhile, ignoring their companions, placed a helmet upon their head, far too large for the gnome. Armand assiduously ignored the illusionist's antics.
The party continued on, now coming to the house's music room. The door was ajar; looking in, they could see various instruments, including a flute, oboe, barrel drums, lute, hurdy-gurdy, and viola. The centerpiece of the music room was an incredibly ornate harpsicord and a beautiful, elaborately decorated organ. There was something decidedly sinister about both instruments however; the painting on the lid of the harpsicord seemed to be a depiction of a mass grave, some huge, coiled shape emerging from within the charnel pit, strewing bodies in its wake, and the wood of the organ was all in black and ghastly green with blood-red symbols recently applied. A shape flickered within, pallid and slithering. Armand called a halt.
"It hasn't seen us yet, whatever it is," he said. "Let's see if we can't go around."
The party headed down a level, avoiding the music room, and into a drawing room with large windows facing out onto a balcony with a view of the grounds, where once beautiful gardens would have greeted the eye with flowers and fountains. Now the grounds were withered and dead, the fountains dry and overgrown. Like most rooms in the house intended for entertaining guests, this one was sumptuous and ornate, with elaborate carvings of flowers and trees, and a painting of a tranquil woodland scene where a knight and his lady gaze romantically into one another's eyes by a secluded pool. The idyllic picture was somewhat marred by a disturbing blotch of darkness beneath the water; it looked like some mould has got into the canvas, but it had the effect of appearing like some monster dwells in the pool, preparing to creep onto land.
Armand examined the mould closely, and deduced that it was Gravemould, a fungus usually found in crypts and used as a reagent in certain alchemical concotions. He took a sample.
Viridian led them on, still following the scent, and the party entered the ballroom of Château de la Marche. A great pit had been dug in the floor, as if something erupted forth from the ground – a black, gaping pit. A mezzanine encircled the ballroom, stairs rising along the walls of the tower. They could hear something wet and heavy thumping slowly up a flight somewhere above. The party stood, waiting carefully, until the sound diminished, then climbed the stairs back up a level, towards the Glass Menagerie.
Before the doors of the collection, the group was confronted by a ragged, thin figure, covered in blood and clad in the tattered remnants of a dress. Matted hair framed a gaunt, feral face caked in blood, large, almost luminous eyes roving in their sockets. A large, blood-stained knife was clutched in one white-knuckled hand.
"My poppet!" the woman cried, dropping the knife and leaping towards Armand. "I knew you'd come eventually."
"Mama!" the sorcerer said, relief washing over him as he clasped his mother, Helena, close. "Thank goodness we found you."
"What happened here?" Yam asked, curious as ever.
Helena broke the embrace with her son.
"These are my, ah, associates, mama," Armand explained. "Trustworthy enough, I suppose."
"How generous," Alabastor muttered under his breath.
"Oh poppet, it's a proper mess," Helena said, laying her head on Armand's shoulder. "It all happened after that little glass worm was added to the collection. It started whispering to me, telling me things I must do, and I found I couldn't ignore it. Sometimes I'd black out for hours on end, wake up in strange parts of the house, sometimes with dirt or blood on my hands. Father was quite upset by the whole thing. The worm… it had me do some sort of ritual, in the burned wing. I killed a goat… drew symbols with its blood. Said words I don't understand. And then he came here, the wicked boy, and started… doing things to the servants. I managed to get away, but only just. But I can't seem to leave the grounds. Every time I try, something pulls me back."
"I see," Armand said, gritting his teeth. "An grandfather? Where is he?"
"I don't know. I've been searching for him for some time. They must have him tied up somewhere – perhaps in the cellars."
"We need to destroy that glass worm," Alabastor whispered to Yam. "But it's got some sort of spell on her. I don't think she's going to let us just break it."
"Got it," Yam said, as if they had formulated a full plan. Once again the gnome put on the ridiculous helmet, and began staggering around like a fool. Helena guffawed with laughter at the spectacle; meanwhile, Alabastor slipped inside the Glass Menagerie.
Within, the gnome found a vast collection of glass figures of every colour and size, arrayed in display cabinets and on plinths throughout a museum-like space. Whereas much of the rest of the house had been sullied or destroyed, this room was wholly undisturbed. Frogs, birds, gods, demons, knights, ladies, satyrs, fairies, dragons, dogs, cats, mice, owlbears, and a thousand other creatures watched him with glassy eyes, amidst a glittering collection of towers, castles, churches, pagodas, ziggurats, planets, trees, flowers, and similar objects.
Alabstor searched carefully for a glass figure resembling a worm. It didn't take him long to discover, for Helena had given it a place of honour. Its body was a nightmarish mass of segmented coils, writhing tentacles, and chitin plates.  Its many-fanged maw gaped with horrific hunger; there were no visible eyes at all.  While the worm was nothing more than glass, there was still something deeply disturbing, something shuddersome and nauseating, about its undulating form.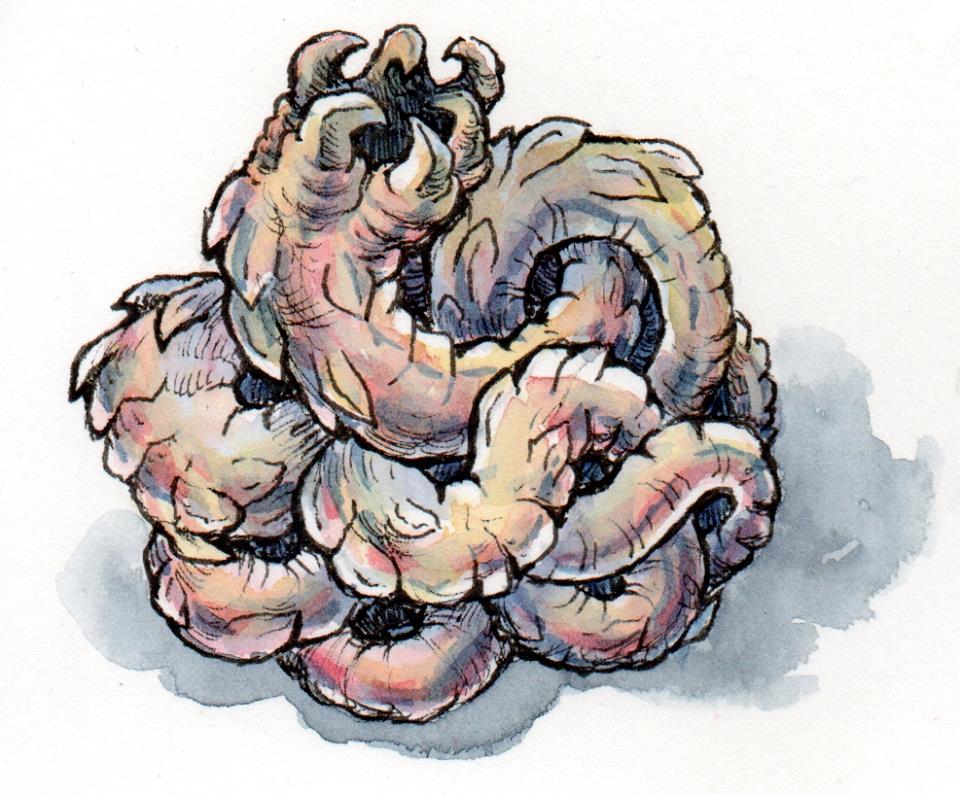 The Idol of Mordiggia. Illustration by Caulis' player, Bronwyn McIvor.
Reluctant to touch the glass figure, Alabastor used mage hand to procure it. The moment his spell touched the figure, however, it immediately made a guttural, whining growl, and vomited forth a seething mass of insects and worms, which swarmed towards Alabastor and began crawling up his body, biting at his exposed flesh.
Alabastor attacked by a swarm. Illustration by Caulis' player, Bronwyn McIvor.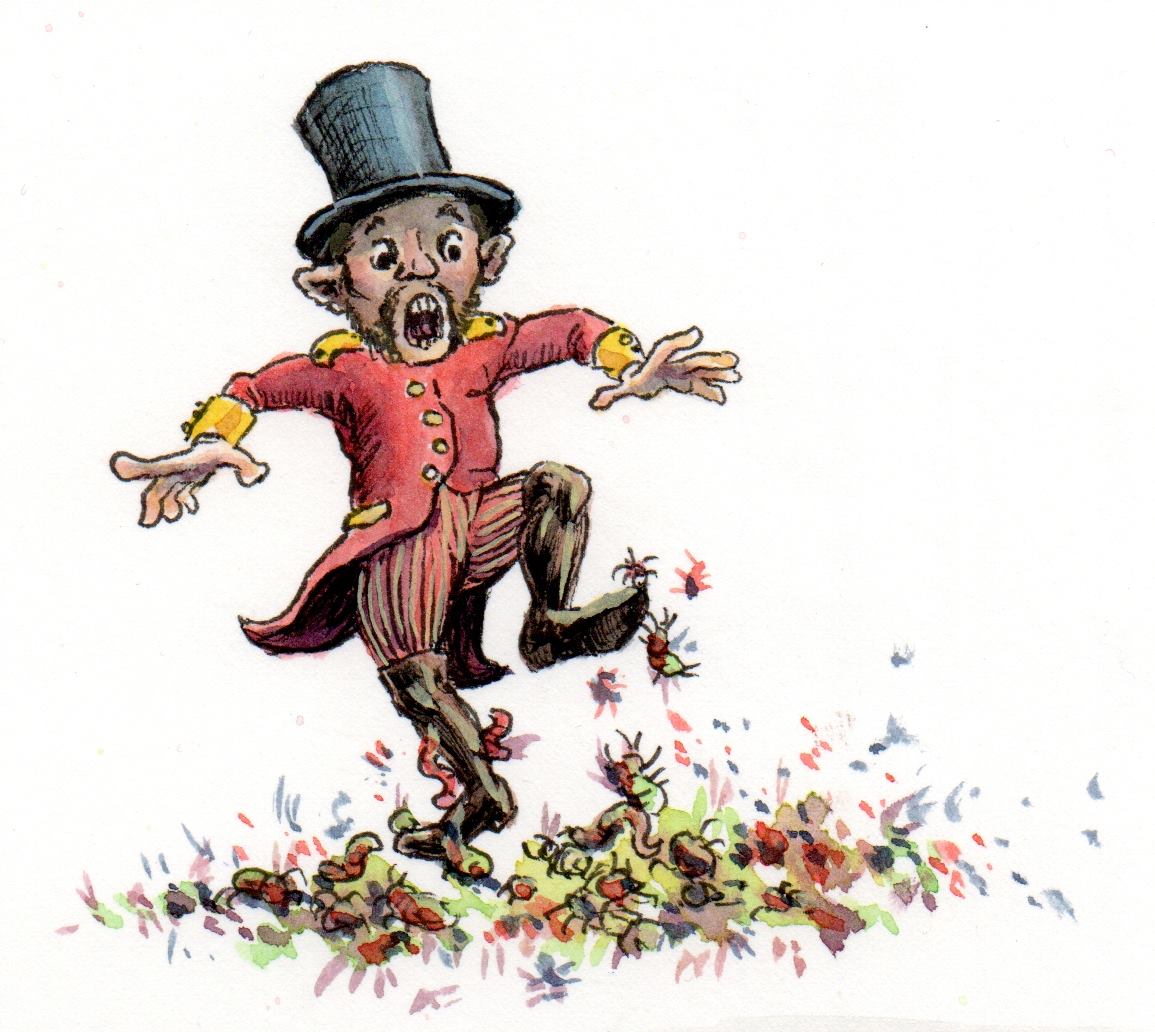 The rest of the party rushed within, Helena suddenly frantic. Thinking quickly, Caulis smashed a lantern at Alabastor's feet, the burning oil killing many of the insects, and only slightly scorching the agitated gnome. Frantically, Alabastor grabbed the worm-idol and stuffed it into the sackg of the Snatcher, a kind of carceral Bag of Holding acquired in the Egregor Vaults. Once the idol was in the bag, Helena seemed to calm, falling into a kind of swoon. Armand tended to her.
"How do we destroy it?" Yam asked quietly.
"I have an idea," Caulis said. Flexing its twig-like fingers, it cast shatter into the depths of the Snatcher's sack. There was a sound of breaking glass, following by a monstrous wailing, ghastly and inhuman and agonized.
"Shit, shit, it's not dead yet!" Alabastor swore.
Meanwhile, Armand rushed over, an explosive crystal gleaned from the tunnels beneath Mainspring in hand. This he dropped into the bag. There was a second sound of breaking glass; smoke poured forth from the sack, but the idol's wails were no more.
"That takes care of that," the sorcerer said. "Now, let us get mama to safety at once.
The party hurried back the way they had come. When they once again reached the guard room, two suits of armour stood before them, filled with swarms of creeping vermin. The party attacked, firing a barrage of spells at the two sentinels; the armoured warriors fell and the worms within were variously melted and incinerated, but the arcane assault left a hole smouldering in the floor. Aware that the noise would attract attention, the group hastened back outside to the stables. Sister greeted them at the portal, stitching shut their wounds with magical spidersilk.
"I'll get your mother to safety," she promised Armand. "We'll go to your townhouse in the Dreamer's Quarter."
"Thank you" Armand said. "She's quite exhausted – make sure she gets some rest." He turned, looking back to the house. "I'm going to find Van Lurken, and end this."
After a brief rest, the party returned to the mansion, prepared for battle. They made their way towards the chapel, but discovered a barricaded door. Yam, shrugging, knocked.
"Who's there?" a voice said from within.
"Uh, Yam," Yam responded.
"Who?"
"It's Master Eustace," Armand answered. "Is that Claude?"
"Master Eustace! Yes, it's me… one moment." There were sounds of furniture being moved, and the door opened. A thin, frightened-looking man let them into a dusty back hall.
"Claude, I am aware of some of the circumstances plaguing the house, but the more you can tell us, the better," Armand said. It took Claude a moment to respond.
"Sir… I am loathe to speak ill of Lady Helena, but… well, it was her who let this evil into our midst. She started obsessing over this one statuette in her glass menagerie, in the northwest wing – and when she wasn't locked up in there brooding over it and touching it, she wandered the house, continually slipping from room to room, vandalizing the walls and windows, scrawling strange symbols."
"We've taken care of that. What else?"
"She did some sort of ritual in the southeast wing, among the cinders and the ashes, that brought it here – that thing in the chapel, and its servants. We found her covered in blood – she'd lured a goat into the house, slaughtered it to cast some sort of summoning spell. It brought that creature here. It spoke with the voice of a man, but it's not human! It said terrible words, words of pain, and the guards and servants all fell screaming, writhing, and it laughed and raised those thin arms, and rats and worms and all manner of vermin started pouring in from every direction.
"Some of us ran, managed to stay together for a time, but that creature and its servants started picking us off one by one. Walking corpses and goat-headed things and a thing made of worms and all manner of horrors… I managed to barricade myself in here. I think they've forgot about me, don't realize I'm here, otherwise I'd be dead."
"I see. Thank you, Claude. If you head outside, find your way to the stables. There's a magical door there that will take you to safety."
Bewildered but grateful, Claude did as his master bid.
The group passed through the back hall and into the chapel's library, filled with shelves stuffed with books. The texts look totally untouched, coated with dust, and all seemed to be religiously themed – works of theology and metaphysics.
"If I recall correctly…" Armand said, and pulled a book – in fact, a lever, activating a secret door somewhere above. They ascended a flight of stairs into an ornate gallery containing numerous portraits and other paintings, most of them religious scenes of some variety. These included several paintings of scenes from the life of Saint Monstrum, one of Hex's foremost patrons, as well as numerous paintings of the Lady of the Mists.
Three paintings, however, seemed rather wildly out of place.
One painting was a rural scene, almost idyllically pastoral, in which goatherds watch over their charges… while something else watches over them. A grim, black-clad figure with the face of a skeletal and masses of white hair fondles a scythe while regarding the goatherds, huge black wings like those of a monstrous raven spreading behind it.
A second painting depicted the estate – Château de la Marche itself. However, the painting seemed to be of the house and grounds as they currently existed – dilapidated and rotting, one wing burnt, windows broken, gardens withering. It was as if someone painted it only recently.
The third strange painting depicted Mount Shudder, the huge mountain not far from the city of Hex. Oozing from a cavern halfway along the slope was a hideous white worm of colossal size. It seemed poised to devour the city, which was depicted near the base of the mountain. This third painting had swiveled open on a hinge, revealing a passage beyond. Here they found a small shrine to the Lady of Mists, including one of her holy symbols and a book detailing her rites.
They continued on their way to the chapel, eventually entering a small antechamber. Dangling from dusty chandelier was a severed human head, badly rotted, its cheeks carved with sigils. The head's eyes rolled in its sockets as it slowly twisted and untwisted itself on its ropy hair. Spotting the party, the head let out a hideous wail. Slithering sounds indicated that some of Jasper's minions were on their way. Hastening, the party made their way into the basement of the house, beneath the chapel.
"I remember playing down here once, as a child…" Armand mused. "I frightened myself, in one of the old chambers… a shadow seemed to move of its own accord, to speak to me from out of the dark and cobwebs."
They pressed on, entering a small secondary shrine dedicated not to the Lady of the Mists but to a more inscrutable figure – some angel of death, raven-winged and long-haired, with a skull for a face, a scythe clutched in its hands. The semblance of this being was carved in bas-relief on one wall of this chamber, which looked truly primeval – the stone-work considerably older than any of the surrounding tunnels. An altar stone was set before the carving.
Ankou. Illustration by Caulis' player, Bronwyn McIvor.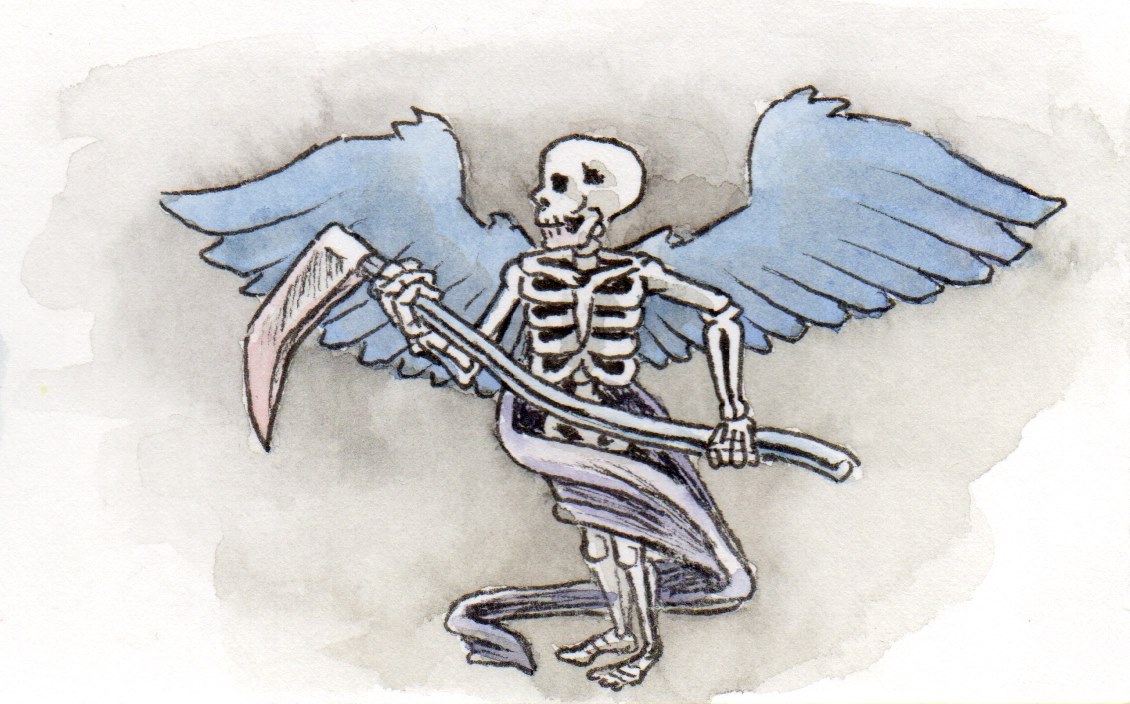 "The Ankou," Caulis said. "It's supposed to send souls to their rightful resting place. I can't imagine it'd be fond of undead."
"Indeed." Viridian had returned to his normal shape. "I wonder…" he leafed through the pages of the book they'd found. "Yes, here it is… a prayer to the spirit." He handed the book to Armand.
Armand cocked an eyebrow, but accepted the tome and recited the words. "Shepherd of souls, hear my prayer. Graveyard-watcher, King of the Dead, bearer of the Sacred Wheelbarrow, First of the Slain, we beseech you to appear."
A shape stepped from the darkness, skull-faced and raven-haired, vast wings filling the chamber. It spoke with a voice like sand running through an hourglass and the wind moaning through a graveyard at dusk.
"I am the Ankou of this land. It is my duty to shepherd the dead to their destination. It is a duty I have carried out for many thousands of years. What need have you of my services?"
"There is a necromancer here, one who perverts the laws of life and death," Armand replied. "We ask your aid in destroying him."
"Indeed, this house is an abomination," the Ankou intoned. "I cannot allow this to continue. Previously, this house was protected by some more powerful being… but I sense that those wards have been lifted."
"The idol," Alabastor reasoned. "When we destroyed it, it must have lifted the wards."
"I will aid you," the spirit assented. "Come. We must cleanse this place of the vileness that pollutes it."
"This way," Armand indicated, noting a spiral staircase. "This will take us to a vantage point above the chapel." Dodging through a vestry infested with rats, the group ascended the stair and entered the chapel.
The chapel of Château de la Marche was dedicated to the Lady of th Mists – or, rather, it used to be. The ornate stone statue in the image of the Protectress of Varoigne had been magically defaced, the usually benevolent expression of the goddess twisted into a demonic leer, her hair – usually long and luxurious – transformed into a gorgon-like mass of writhing worms, her mouth warped into a fanged pout. Scrawled in blood upon the walls and stained glass windows of the chapel were unnerving symbols, many featuring a coiled worm. The whole chapel was lit with crimson candles which fill the room with a hellish glow. An awful carrion stink to this place perfumed the air like rotten incense.
Sitting in the pews, mouthing a constant prayer in a diabolic tongue, were thirteen reanimated corpses. Some were clearly long-dead, exhumed from recent graves. Others seemed recently killed – local villagers or goatherds, to judge by their garb. Several, however, were clothed in the livery of de la Marche servants. Armand clenched his fists in fury.
A corpse-pale shape presided over the cadaverous congregation. Black, empty sockets stared sightlessly from a head that had lost hair, ears, and nose. Only the mouth remained, cruel and twisted. The figure's body was strangely elongated, and moved with a twisted boneless fluidity. Thin, withered arms – almost vestigial – hung from the thing's crooked torso, which was covered in strange scars. Though unclothed, the creature was smooth and sexless.
"Ah, Armand!" the horror cooed, the voice issuing forth from the ruinous face genteel and smooth, mismatched quite horridly with its monstrous form. "So glad you made it home! You must forgive me the familiarity; I know we have not formally met yet. I am, as you might have guessed, Jasper Van Lurken. And may I say, your family's house is quite as lovely as I imagined!"
"You'll pay for what you've done, Van Lurken filth," Armand spat. "How did you survive the fire?"
"Stone burns less easily than wood, and the tunnels below my family's house were quite extensive by the time you so rudely burnt it down, along with my relations. It was easy enough to escape. I have been gathering followers ever since, plotting my little revenge."
"Enough!" Armand snarled, hurling a lightning bolt at the creature. It struck Jasper, scorching his flesh, and the cleric squealed, returning the incantation with an agonizing blast that made every nerve in Armand's body scream.
Yam, meanwhile, had their own ideas. Taking out the Hands of the Marionettist – bewitched, glyph-engraved crosses – Yam concentrated on the undead worshippers. With a twitch of the puppeteer's control bars, Yam seized control of three shambolic undead. A grin widened on the gnome's face as they directed the walking corpses to attack Jasper. Viridian ensnared the cultist with summoned vines while Alabastor sent a bolt of crackling black puissance at the warlock. Even as Jasper was set upon by his own zombic servitors, he spat a terrible curse, one that seared Caulis's bark-like skin with blight. The homunculus, weakened and faded, branches suddenly wintry and dying, summoned forth a cloud of daggers, shredding Jasper's worm like body in a frenzy of magical steel.
Meanwhile, the Ankou emerged from the darkness. Its scythe swept wide, cutting into the bodies of the chanting zombies, slaying them left and right.
Jasper's withing form collapsed, eviscerated by spells and his own servants. Yam directed the zombies to rip him open, to tear his flesh from his bones. But as they did so, something wet and dark burst forth from his ruinous chest and, with a squeal, burrowed down into the floor.
"Don't let it escape!" Armand shouted, and the party descended, following the worm-thing to a lower level. They rushed into an ancient-looking crypt of old stone, substantially predating the house above it. The bodies buried here were not in coffins but in three stone sarcophagi, and bore the semblances of ancient knights. One had a hole within it, bored in its surface; the lid stirred, and a mouldering skeleton emerged, the worm-thing pulsing in its ribcage, twisted round its bones. A sword gleamed, hacking madly.
"You won't kill my that easily!" Jasper snarled, his voice utterly inhuman now. He sliced at Viridian, wounding the druid. Armand conjured a web to ensnare the revenant, while Yam spoke an invocation, sending an acid arrow hurtling at the monster and knocking it back into the magical snare. The thing thrashed as Alabastor and Viridian assailed it with hexes and a whip of thorns. Jasper spat another spell but Armand dodged aside and spoke a word of power, manifesting a blaze of eldritch flame that spread through the webs and over the undead horror's body. It thrashed, its bones blackening, the worm-thing within its chest shriveling. At last, it lay still.
The Ankou descended, passing through the ceiling to float before them. "The house has been cleansed," the spirit said, its scythe dripping with blood and ectoplasm. "But I must tell you – I found your forebear, slain by the abominations that defiled your halls."
An inscrutable expression flickered across Armand's face. The Ankou spoke on.
"Dawn comes. I must return to beyond the veil."
"My thanks, Ankou," Armand said. Though encrusted with blood, his usually immaculate clothes torn and filthy, the ghost of a smile flitted across the sorcerer's lips. Once more, he was lord and master of Château de la Marche.