The characters in this session were: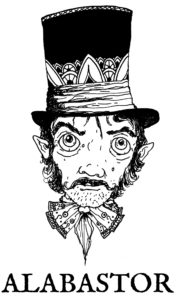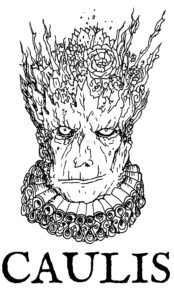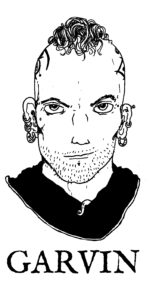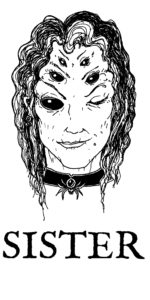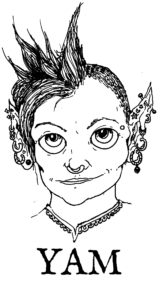 Alabastor Quan, a gnome rogue-turned-illusionist and failed circus ringmaster; wielder of a cursed dagger and member of the Ravenswing Thieves' Guild.
Caulis, a homunculus warlock liberated from its master; has made a pact with certain Faerie Powers.
Garvin Otherwise, a human rogue and burglar of the Ravenswing Thieves' Guild, with a very, very peculiar past and a zoog pet, Lenore.
An ancient and enigmatic Lengian cleric of the Mother of Spiders, name unknown. She wears bulky ecclesiastical garments covering an uncertain number of limbs and goes by "Sister."
Yam, an eccentric gnome illusionist and local graduate student at Umbral University. Yam cares little for money. Yam is curious. Yam is Yam
XP Awarded: 350 XP
The party relaxed in the fragrant recesses of the Green Star, planning their next move. To construct the spacecraft they would need to voyage among the Outer Spheres, they had learned from Gideon Bottlescrew, they would need two things: an Aetheric Engine, a piece of Librarian technology, one of which was said to be locked in the depths of the Citadel of the Perpetual Storm, and approximately 50,000 guineas.
The group debated which goal to pursue first, when something fluttered into the tavern and landed on their table: an imp, wearing a sigil-graved collar and clutching a scroll bearing the seal of the Hexad Council, the executive branch of Hex's government, consisting of six officials elected by the magic-wielding populace of the city.
"Council summons!" the imp declared, depositing the scroll on the table before disappearing in a puff of brimstone.
Garvin eyed the scroll suspiciously, but Sister broke the seal and unfurled the message, reading carefully.
"Sounds like the Council wants to talk to us. Tonight," she said. "In connection with our activities in Troll Country."
"Is that a good idea?" Caulis said, a little nervous.
"Disobeying Council summons seems like a bad idea," Alabastor said, mopping his forehead with a handkerchief.
"We might as well go," Garvin said, looking pale. "It'll be trouble if we don't."
As they talked, another newcomer burst into the tavern – a sailor, by the look of him, reeling a bit, his cheeks ruddy and his eyes flashing.
"Genial Jack!" he proclaimed. "Genial Jack is coming!"
Hex is a city benumbed to miracles and magic, jaded after so many marvels. The citizens daily see the dead walk, hear machines speak, smell the winds of Faerie blowing in from the Tangle. But the prospect of seeing Genial Jack thaws the cold and cynical hearts of even the most deeply disenchanted.
Genial Jack: Jack the Generous, Jack the Gentle, Jack the Gigantic. A living wonder of the world, a creature who many believe to be the oldest living organism on the planet, who may remember the Librarians themselves. He is a whale, a whale the size of a mountain, who for centuries now has been the host to the teeming town of Jackburg, a place of swallowed ships and lost sailors from countless different lands. The first, they say, he ate by accident, but they survived on the fish that daily poured into his belly, and made new homes in his forestomach, a ramshackle village made from the detritus of broken boats. It was years later that they realized they were not the first to do so, finding older structures deeper in Jack's endless innards, ruins of some primeval predecessor Jackburg from aeons ago. In time, Jackburg expanded, colonizing his mouth, his skin, his other three stomachs. Mansions dangle from the roof of his maw, ironclad watchtowers bristle from round his blowhole, a temple tops his head, while in his belly, built to withstand the peristaltic forces of the muscular forestomach, thrives a small city, formed from the scavenged hulks of ships from every corner of the ocean.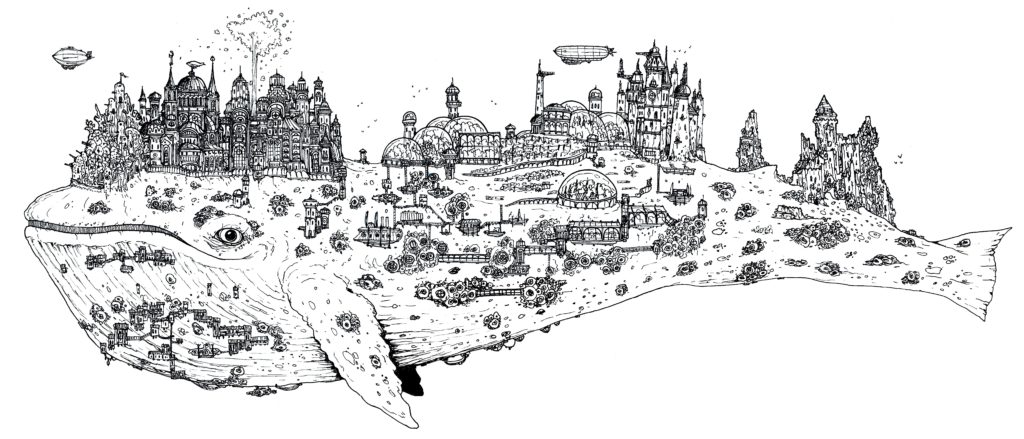 Jackburg is a city of traders and priests, for the Navigators – mystics descended from ancient captains – commune with the beast, using their prayers and sacrifices to direct Jack from city to city. A fleet of trading ships and naval vessels now accompany him everywhere, and fortresses cling to his barnacled flanks, cannons swiveling alongside his fins. Their travels take them around the planet, and they bring with them the treasures and stories and languages and knowledge of distant places, from realms across the Blushing Sea and past the Frontiers of Chaos, and even from the frozen expanse of the Inscrutable Lands in the far south of the world. And wherever they land, Genial Jack opens his great jaws, and the folk of Jackburg pour forth to trade and revel with all those they meet.
The sailor spoke on, telling of the sighting. Jack would be in the city in a month's time. Sister smiled, remembering her previous experiences with the generous whale; Yam, filled with excitement, lamented that they would have to wait a month to visit Genial Jack's metropolitan innards.
Excited about Genial Jack's approach but burdened by their pressing obligation at the Hexad Council, the party paid their bill and set out for Enigma Heap.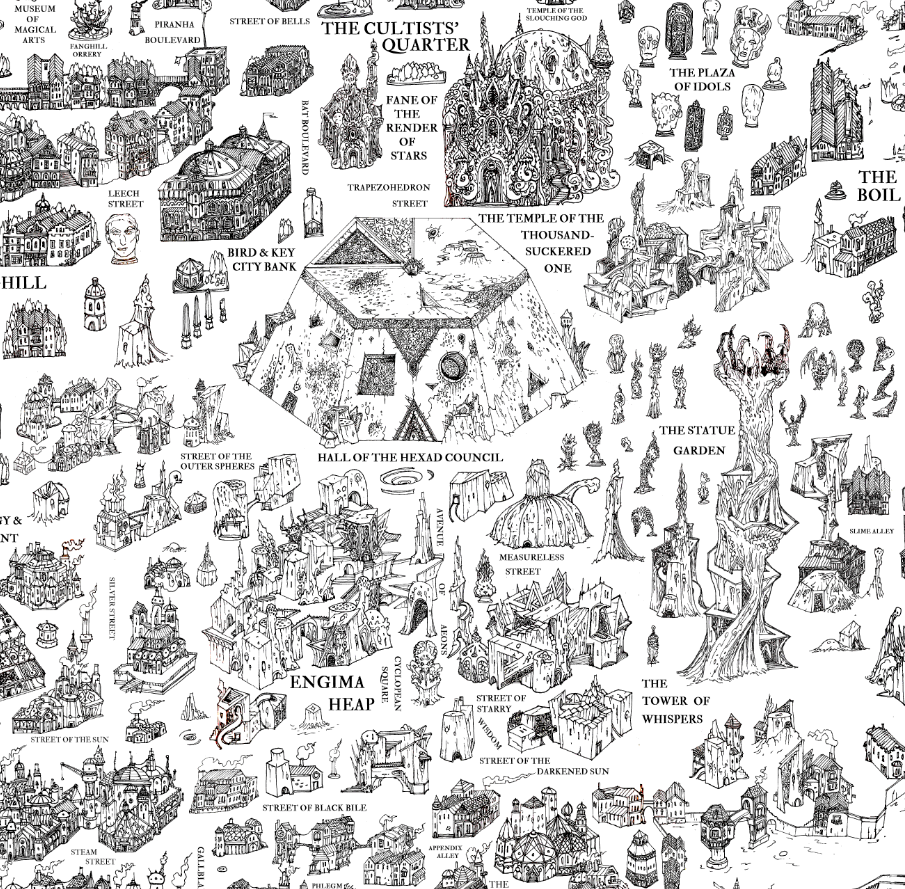 Of all the myriad districts of Hex, none is stranger than Enigma Heap, the ruinous heart of the city, a place where the Old City of the Librarians bursts forth from the earth to claw at the sky with impossible spires. The architecture here is in fact a mixture of the ancient stonework and iridescent metal of the Old City and newer constructions mimicking this style, along with churches and government buildings in the Tentacular Baroque style, gilded monstrosities of marble resembling masses of cephalopod flesh.
The people here were dwarfed by the primeval alien immensities surrounding them. Most were civic functionaries of priests of the Unspeakable Ones: agents of power both secular and sacred. Though they had become desensitized to the disorienting qualities of the architecture, the party had not: the buildings here caused a series of almost-instant nosebleeds, and indeed, several enterprising street-urchins sold tissues and nose-plugs at the border of the Heap for a silver piece, which the adventurers quickly availed themselves of. The structures were impossible, disobedient of every principle of design and physics. Corridors and walls collapsed into one another in dizzying snarls of complexity; gravity was, in places, reversed, inverted, subverted, perverted; prismatic slabs of cyclopean masonry unfolded themselves like intricate paper sculptures, spreading into dimensions that made the head ache and eyes blur.
The most impressive of these buildings were, of course, the Tower of Whispers – a vast, many-levelled spire, treacherous and legendary, whose long shadow serves cross Hex like that of some gigantic sundial – the Temple of the Thousand-Suckered One – rivalled only by the Infernal Basilica and the Cathedral of the Magistra as Hex's biggest church – and the Hall of the Hexad Council itself, whose six-sided bulk inspired the shape of the city walls. It was a tremendous slab of unknown material which even the most rigorous scientific and arcane analysis founders upon, a substance which at times seemed to act as a metal, at other times like organic tissue. Strange growths somewhere between tumours and turrets erupted from its scarred, ambiguous sides, while great openings like wounds revealed masses of intermeshing machinery.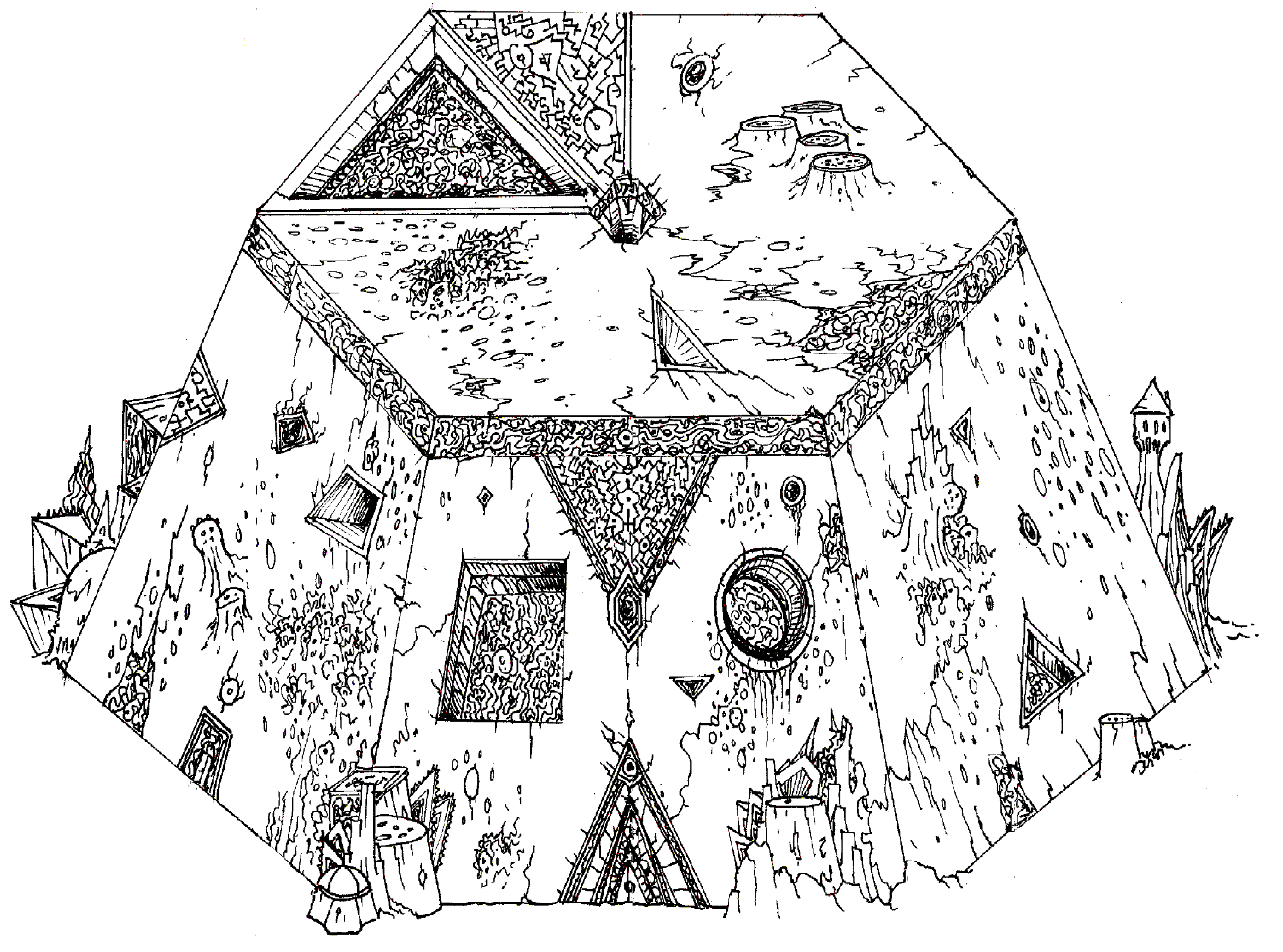 None are sure of the Hall's original purpose, and, indeed, not all of it has been explored, even these many centuries later, for there are doors within its endless entrails which no key, spell, or explosive have opened, and a million hidden passageways spiralling down into the Old City. And yet, as if defying the unfathomable structure, this is where Hex's parliament convenes.
The part turned down the Avenue of Aeons, stetching from the southern edges of Enigma Heap – where the laboratories of Caulchurch smouldered – to the Hall of the Hexad Council itself, terminating before the doors of the Hall and a spiral staircase that descended seemingly forever, the so-called Infinite Stair, whose bottom has never been found. They could see pilgrims of the Unspeakable Ones making their slow way down the Stair, into the numinous darkness where they would meditate, trying to commune with their unthinkable divinities. To the east sprawled the weird opulence of the Statue Garden, where dozens of ever-changing gargoyles presided.
Caulis noticed something off to one side – a homunculus, pacing and looking fretful in the shadows of a nearby structure.
"Everything alright?" Caaulis said to the fellow homunculus.
"What? No! No, everything is not alright!" the homunculus said. "Please, can you help me?"
"Slow down," Caulis said. "What's your name?"
"Flibbertigibbet," the homunculus panted.
"And what's going on?"
"My mistress," the homunculus said. "Doctor Lilyclock… one of Hex's foremost cartographers, Professor of Perspective at Umbral University… she was mapping the district, told me to wait out here, and went into that building. But she never came out. And when I went in… well… it's just a dead end! There's nothing there!"
Yam scratched their chin. Lilyclock? They couldn't remember meeting the professor… but, then Umbral University was a big place.
Alabastor eyed the building curiously. He caught the eye of a street urchin selling handkerchiefs, the better to staunch the nosebleeds endemic to the district. Handing the waif a coin, he inquired as to the structure the homunculus stood before.
"That old hulk?" the urchin said. "No one goes in there. Been marked by the Council as unfit for habitation. Dangerous." He pointed out a glyph on the side of the building, indicating the place was unsafe.
"Good to know," Alabastor said, returning to the party. They resolved to hurry on to their appointment, but to revisit the homunculus afterwards, and help it if it were still there.
Past the grand doors of the Hall, two gargantuan golems resembling huge stone statues in the style of the monstrous beings in the Statue Garden stood guard within a vast foyer, its walls adorned with millions of lines of arcane formulae. Numerous passages branched off from this room into other parts of the structure, while another set of huge doors leads into the Council Chamber.
"Who comes before the Hexad Council?" the hideous golems asked.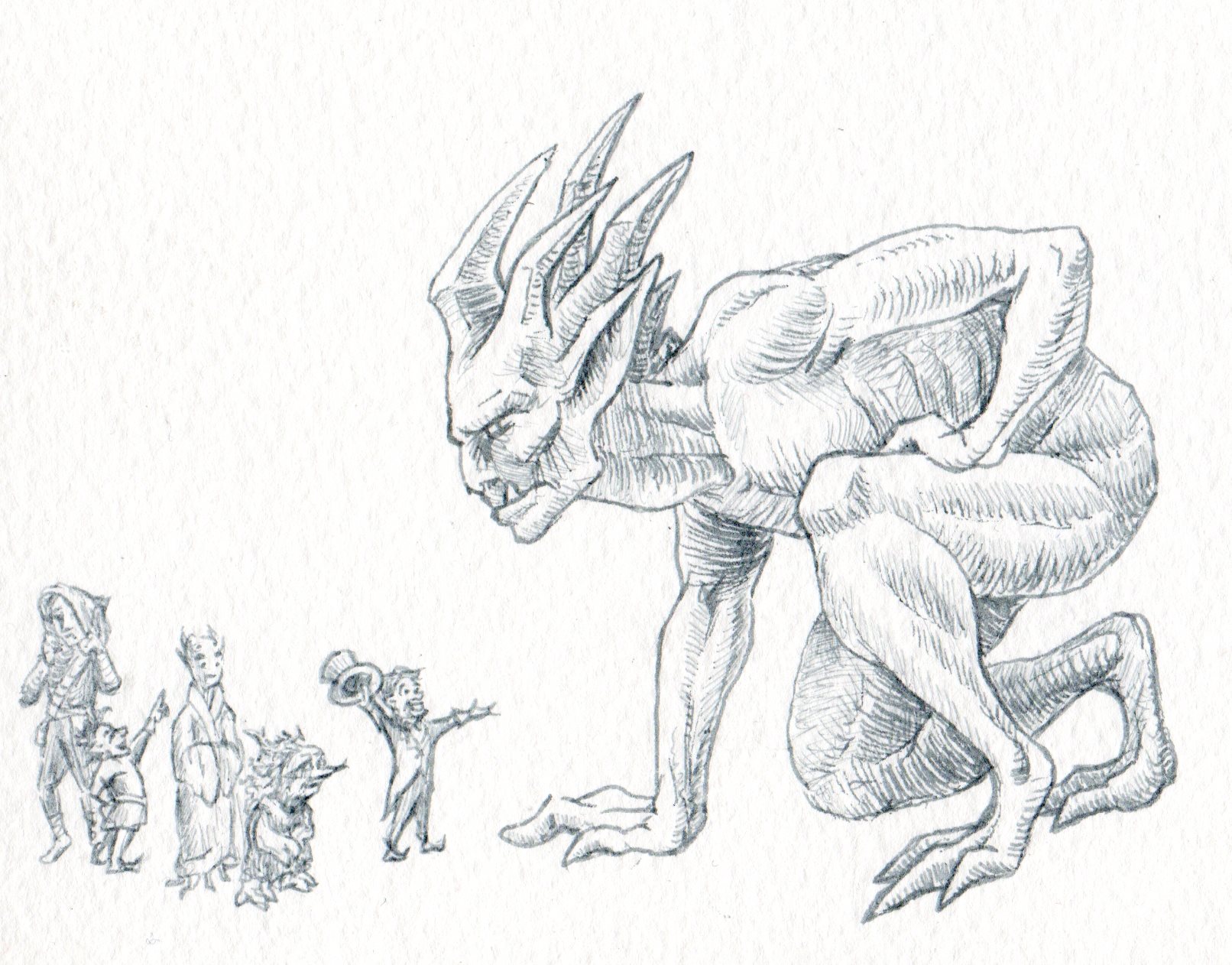 Golem Guard. Illustration by Caulis' player, Bronwyn McIvor.
"The, ah, Variegated Company is here, to see the Hexad Council!" Alabastor Quan declared, doffing his hat with a flourish, his old carnival-ringmaster showmanship manifesting. "We have, as you can see, an invitation!" he flourished and produced the summons with a sleight of hand.
"Very well; you may enter," the golem replied. A little awed, the group passed through the vast doors and into the centre of the building, the thief Garvin nervously shadowing his face with his hood, Yam cracking jokes, Sister quite unflappable, Caulis intrigued, and Alabastor leading the way like a flamboyant herald.
Within was huge six-sided chamber at the heart of the building. The walls hadbeen hung with bewitched tapestries depicting the history of Hex: the exploration of the ruins, the coming of the Lengians, the War of Miscreation, the Incarnadine Wars, the Brimstone Wars, the subjugation of Troll Country, the Taming of the Tangle, the petrification of the Wyrm, the binding of the Plasmic Woe, the revelations of Saint Monstrum, the building of Mainspring, and many other events of note.
Six men and women watched the party closely as they entered, their names and faces known to all in Hex:
Silas Thamiel, arch-Diablomancer, former Chancellor of Fiend's College: a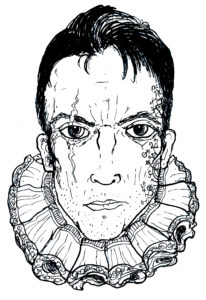 powerfully built man, human, of middle years, with jade green eyes that watched everything closely, hair black as midnight, and a bronze complexion covered in numerous arcane tattoos. He is known for his grim pragmatism, stern approach to law and order, military acumen, and conservatism.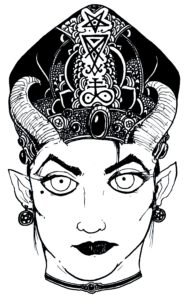 Arabella Sickle, a tall, voluptuous cambion woman, somewhat unfamiliar in the purple robes of the Council rather than the black and red regalia she wears as Hex's Infernal Archbishop. Her huge horns gleamed in the magical light suspended above the six, and she worean expression of disdain. She is known for her ambition, her appetites, and her interest in aggressively expanding Hex's power, influence, and colonial holdings. Perhaps most notable – her attempts to establish a Penal Colony in Hell, a measure repeatedly failed when it came to a vote.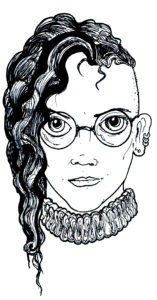 Iris Skewstone, also human, a surprisingly young-looking woman with hair that shifted colour every few seconds. She wore a pin of Umbral University on her robes. Iris is known for her radicalism, and her efforts – thwarted as surely as Her Unholiness' desire for Hellish colonies – to extend suffrage to the non-magical citizens of Hex. She is attacked regularly in some corners of the press, alternatively as a manipulator, firebrand, extremist, or megalomaniac, but enjoys widespread support among Hex's growing middle class.
Barnabas Grimgrove, the richest man in Hex, and one of the richest individuals in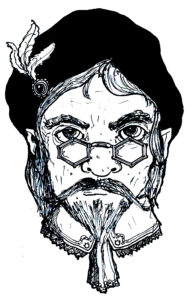 the world: an alchemist and entrepreneur of great skill and economic savvy, who built his fortune mass-marketing potions and homunculi to the rich of Hex and beyond. He is a rotund, jovial gnome whose skin is discoloured from numerous alchemical burns. Though spectacularly rich, he is beloved by those of the city's working class capable of voting, and by many of the elite as well. His policies favour economic growth above all else. He is pro-trade, and averse to war save when profit can be made.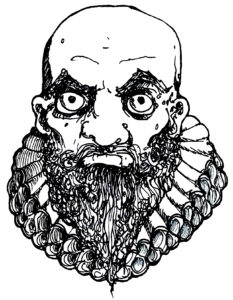 Angus Loamson, reputedly a changeling, undoubtedly an eccentric, a former vagrant who wandered in from the Feypark. Angus – wild-bearded, crazed of eye, and smelling of the woods – insists that he speaks for all vegetal life. He pursues environmental policies with single-minded devotion and is a sworn enemy of the industries Barnabas. While widely dismissed as a crackpot, he was swept into office on the votes of homunculi and fungoids, amidst rumours of voting manipulation via magical slumber.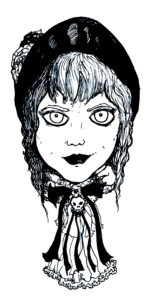 Finally: Valentina Nettlecrave, a woman who looks even younger than the fresh-faced Iris, but whose porcelain perfection belies her true age. It is an open secret that Valentina is a lich, mummified and sustained by necromancy – easy to believe given her skull-pin of the Académie Macabre, indicative of her high rank at that sinister institution. Despite her likely illusory appearance as a doll-like girl barely beyond adolescence, she is renowned for her extraordinary wisdom and arcane knowledge. She is a wildcard, voting unpredictably, siding with various members of the Council at different times.
"Welcome to the Hexad Council," Silas said, his voice silky but strong. "We understand you aided the Citadel of the Perpetual Storm in ending the fell winter that gripped our city. We wish to ask a few questions about this matter. We have already spoken extensively with Vanessa and Octavia Greyleaf of the Weather-Witches and with Sergeant Phineas Hookwood of the Stormguard, and have received Master Melchior's recorded testimony as well, but we would like to hear your perspective. We shall each take a turn. Arabella, if you would?"
Arabella Sickle nodded, and spoke a brief incantation. There was a small rupture in space-time, a sound like a thousand screams of the damned, and a brief sulphurous stench as a demonic scribe materialized in one corner, next to a desk with a typewriter: a thin creature whose hands bore dozens of fingers. Immediately, sigil-graven restraints bind the creature to the desk. It sighed and flexed its fingers over the keys.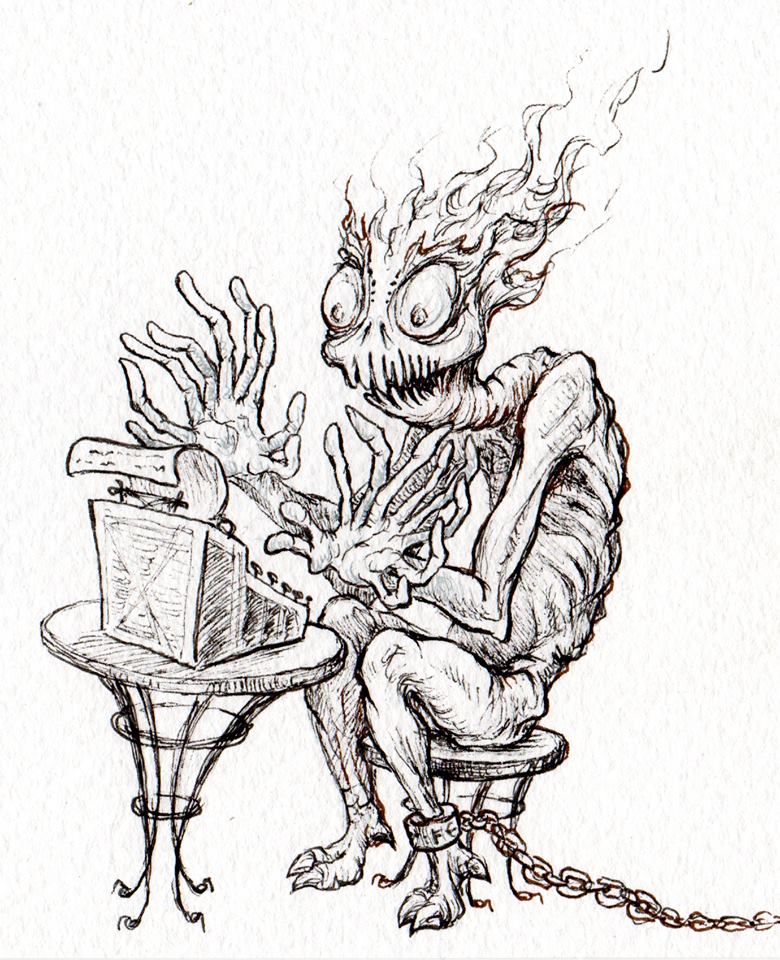 Stenographer. Illustration by Caulis' player, Bronwyn McIvor.
Silas' questions came first.
"First, we would have you summarize your actions in Troll Country in detail."
Moving through the group, the party explained their actions – the disruption of the Harrowgast ritual, and the rejuventation of the land – keeping to themselves certain key details – Caulis being especially careful not to note Queen Titania's involvement.
"It is the task of this Council to determine whether further military action need be taken against Troll Country," Silas continued. "What is your estimation of the Griefbringer's forces?"
"Scattered and depleted," Garvin said hurriedly. "I don't think a military intervention would be needed."
"Yeah, the other trolls really didn't like her," Yam added.
"Invasion, at this point, would only alienate potential allies," Sister insisted.
"I see. And could this magical winter or 'Harrowgast' be revived?"
"Unlikely, perhaps impossible," Caulis said. "We convinced the ancestral spirits of the land to turn against the Griefbringer."
At this, Valentina Nettlecrave perked up. Silas continued.
"The other Troll tribes – the Blackhorns, Twocrowns, Stoneclaws, Bonegrinders, and Goreteeth – how do they seem to regard the Skintakers?"
"The Goreteeth, Blackhorns, and Stoneclaws didn't seem like big fans, from what we could tell," Alabastor said. "Some of the others seemed to be working with them, or more tolerant of them…"
"Very well. Arabella, proceed."
"Thank you, Silas," Arabella said. "Now, on to my own questions. First. Who are you, precisely? What are your goals, your agenda?"
"We're the Variegated Company," Alabastor replied. "Freelance adventuring group. Retrieving artefacts, righting wrongs, that sort of thing."
"I see," she said, disdainfully. "And who was it exactly who hired you for this mission?"
"Uh, as I remember… no one hired us," Yam said, looking to their companions for confirmation. "We just, ah, wanted to help."
"We talked to the people in the Citadel of the Perpetual Storm," Sister added. "They had their hands full keeping the weather under control, but they seemed eager for the help."
"Yes, we have discussed this with the Greyleafs extensively," Arabella said. "Now, what is your connection with Master Melchior? Why do you enjoy the Archmage's favour?"
"We helped clear out some Spellmould from the archives," Alabastor said, truthfully enough.
"And we've been helping Master Melchior with some research," Sister added. "Ancient history."
"Mhm," Arabella said, her eyes narrow. "Who authorized you to negotiate with the Goretooth Tribe on behalf of Hex?"
"We certainly weren't negotiating on behalf of Hex," Garvin said. "And, in fact, we didn't come to any formal arrangements with the Goretooth tribe. We spoke to them, and they provided us with some limited assistance -"
"Your actions have fundamentally reshaped the political and physical landscape of Troll Country for years to come, without permission of this Council or the people of Hex," Arabella interjected. "Some might consider such actions reckless, perhaps even treasonous. How would you defend yourselves against such charges?"
"We saved the city!" Sister said, incredulous. "The winter was literally killing people!"
"I am inclined to agree with the Lengian," Iris Skewstone added. "This group's actions may not have been formally sanctioned, but Hex owes them a great deal. To consider their actions treasonous is ridiculous. If you pursue this, Arabella, I will hire their lawyers myself."
"Hmph," Arabella said, relenting. "Very well. I maintain that this 'Variegated Company' have set a dangerous precedent. But formal charges may be inappropriate at this juncture. Go on then, Iris, ask whatever you want."
"Thank you," Iris said, smiling tautly. She turned back to the party. "What is the current state of the Sickened Land?"
"Um… cured," Sister said. "There's a huge forest, healthy, where there used to be disease and death."
"So we have heard. How exactly did you manage this extraordinary feat? Surely this would require incredibly powerful magic."
The party looked slowly to Caulis.
"Ah… I found a, ah… a scroll. Several scrolls."
"Scrolls?"
"Yes, scrolls. A spell. In my master's library." The homunculus shifted uncomfortably.
"I see. And you don't have any other copies of this spell?"
"I'm afraid not."
Iris sighed. "Very well. If you unearth anything further, I would appreciate you letting this Council know." She pressed on. "You have seen the suffering of Troll Country firsthand, in a fashion few in Hex have witnessed. It is my belief that we owe a terrible debt to the inhabitants of this land, but I am aware that further meddling from Hex may be unwelcome. How do you believe offers of humanitarian aid would be received?"
"I'd be careful," Garvin said. "Things are… pretty fragile, right now."
 "There's a lot of distrust for Hex," Sister said. "I think that could change. But it's going to take work. Barging in too quickly could be a mistake."
"Thank you for your candour," Iris said. "Baranabas, the floor is yours."
"Thank you, my dear," Barnabas Grimgrove grumbled. "Troll Country is a region long written off as a broken wasteland, too dangerous to mine and too barren to produce anything of value. But it seems your efforts may have reversed, or at least mitigated, some of these concerns. How large would you estimate the extent of these new-grown forests is?"
The party described the rough boundaries of the forest.
"Did you think the Trollbloods you encountered would be amenable to employment in the mining, lumber, or fur trade?"
"Possibly," Alabastor said. "But like Sister said, things are fragile. I would wait for things to calm down. They seem to have their own way of doing things."
"What about agriculture? These restored lands – might they be converted into farmland?"
"Too cold," Caulis said. "Small scale farming, sure. But Troll Country's never going to be a breadbasket."
"I am also interested in these stone-circles. Tell me more about the power these primitive structures channeled."
"We managed to convince the ancestor-spirits of the heargs to relent," Sister said. "With difficulty. I would let sleeping ghosts lie."
"Hmph. Very well. Some investments take time to mature. Angus, I suppose you have some questions about shrubberies or something?"
"Indeed, Grimgrove," Angus Loamson said. "Are any of you servants of the Faerie Queens or Kings? Which ones?"
"I have a contract with Queen Titania of the fairies," Caulis said, truthfully enough.
The other party members indicated in the negative. Alabastor swallowed and lied through his teeth, concealing his allegiance to Queen Mab.
"What are the properties of the woodland?" Angus asked. "Are there any magical qualities associated with it?"
 "There seem to be healing properties associated with water in the woods," Caulis said. "There may be other enchantments as well."
"Intriguing. I commend you on spreading greenery and life through a desolate region, and undoing some of the horror this city has wrought in its inglorious past. Valentina, the floor is yours."
The tiny undead woman cleared her ancient throat with a demure cough. "Yes, excellent," she squeaked, eerily girlish. "These spirits, conjured at the hearg. Describe them."
"Spooky ghosts," Yam said. "Uhhh… like troll-ghosts. A lot of them. They went into the land when they died, but the Skintakers pissed them off. We convinced them to stop being jerks."
"Were the spirits individuals? Did they seem to retain their autonomy, their psychology? Or were they a collective, acting as one?"
"Yes," Garvin said. "They were individuals."
"There was a fight," Sister said. "A duel, between two of them."
"I see. Fascinating. We know so little of troll necromancy. Ands what occurred to these spirits after the harrowgast dispersed?"
"They seemed to go back into the land," Alabastor said. "Calmed… content even."
"They're at rest," Yam added.
"My questions are complete," the likely-lich intoned.
"Very well," Silas said. "Variegated Company, you are released from this meeting. As a reward for your service to the city, we have agreed to grant you five hundred guineas each."
"A final offer, before you leave," Iris Skewstone said. "Should you wish to make your status as servants of Hex more official, we would like to offer the Variegated Company employment as a contracted mercenary company of the city, with a fifty guinea salary, and additional payments for specific tasks. Please, bring this offer back to the rest of your Company and think it over carefully."
The party thanked the Council and hastily left.
"Well, that wasn't so terrible," Sister said.
"I think we managed to stop them from invading Troll Country, anyway," Alabastor said.
Released from their duties, the party decided to return to Flibbertigibbet and its tale of woe.
"Ah, thank the Magistra you have returned!" the homunculus chirped.
Resolving to investigate, the party cautiously entered the condemned structure. A narrow tunnel snaked into the building, broadening into a vast hall, its roof supported by vaguely eel-like statues with insectile heads. There were numerous bas-relief carvings on the walls. They showed a series of abstract figures – perhaps Librarians – excavating some sort of gemstone from the earth. The carvings showed the gemstone breaking, and a curious vapour emerging and coalescing into a malevolent-looking figure, spidery and sinister. This being was then shown stalking the streets of the Old City, killing Librarians and their servants, before being apprehended and bound in a cage-like device in a seven-sided room.
"Ominous," Garvin said.
"I DON'T LIKE IT," Yam declared, eyes wide at the spidery figure.
"There's a door over here," Alabstor said, indicating a triangular opening. The party continued onwards, Garvin searching carefully for any traps or wards.
They entered a seven-sided room dominated by a device that resembled an intricate mechanical cage, identical to the one depicted in the mural. Bound within the cage was a human woman clad in the silvery robes of Umbral University, with short greying hair and large turquoise eyes.
On the floor were the remnants of what looks like map-making equipment, strewn about: parchment, quill and ink, measuring devices, and the like.
"Magistra be praised!" the woman said. "My name is Deirdre Lilyclock, and I've been trapped here for some time. I was mapping these tunnels when I came across the machine. As I examined it, the cage closed around me, and now I'm stuck! I can't even use spells to get away, there's some kind of anti-magic dampening field. Please, I think there's a control panel." She points. "I'm sure the right combination could release me! Then maybe we could find a way out of here together…"
"A, Mistress Lilyclock!" the homunculus said, rushing up to the cage. "We'll get you out of here!"
Smelling a rat, Sister surreptitiously cast Zone of Truth on the cage.
"Ah, I didn't quite catch that," the Lengian cleric said, craftily. "How was it you were stuck here?"
"I was… I stumbled… I was mapping… damn you!" Deirdre Lilyclock cursed, choking on the lies as they tumbled from her lips.
"So much for an anti-magic field," Garvin muttered.
Suddenly, Flibbertigibbet was gone, and in the place of Deirdre Lilyclock towered a spindly, inhuman figure with nine flickering limbs and a tenebrous body somewhere between shadow and flesh. "I am Mephitis," the creature snarled. "And you are about to die."
"Your name is My Fetus?" Yam said. "That's weird!"
The tenebral hissed, conjuring a phantasmal killer to assail Yam's mind, but the skilled illusionist fought off the assailant easily.
"I've been studying hard. You'll have to do better than that," Yam said, and conjured a cloud of daggers to assail Mephitis. The being shrieked as the magical blades plunged into its shadowy skin.
Caulis, grinning, conjured a series of looming images, abstract renditions of the Librarians. They rose to all sides, closing in on Mephitis. The creaure cowered, exposing itself to Alabastor's eldritch blast and deft Hex.
Garvin, dancing around the creature, flicked out his Wand of Fireballs and sent a bead of flame towards the cage, which blossomed into a brilliant greenish conflagration. Mephitis whimpered, relenting its psychic attacks.
"Gah! You have bested me! Let me be! Let me be!"
"Why did you lure us here?" Alabastor demanded.
"The Librarians captured me," Mephitis said. "I have languished here many centuries… until explorers unsealed this room. I can cast my mind beyond the chamber, conjure illusions in your heads. I hunger, you see – I feed on consciousness. I am starving… it has been years since I tasted thoughts. Lilyclock was my last meal." It waved an arm, and an illusion flickered and lifted, revealing a dusty skeleton in one corner of the chamber.
Alabastor investigated the bones, discovering a map of Enigma Heap and its undercity, a cloak of scintillating colours, along with a scroll of Haullucinatory Terrain.
Mephitis began pleading with the party to release it from bondage, explaining its cruel fate, its centuries of imprisonment. The party considered releasing it under certain conditions, but eventually left it in its cage, making vague and likely untrue promises to return.
Back at the Green Star, the party discussed their next steps, and resolved that funds would be their first priority. As they talked, a potential source of funds was repeated several times – Delirium Castle. The ruinous old fortress was infamous in Hex, known for its dangers and traps, but perhaps the Variegated Company would succeed where others had failed…