The characters in this session were: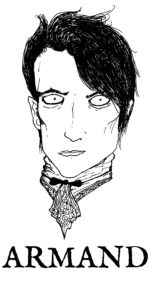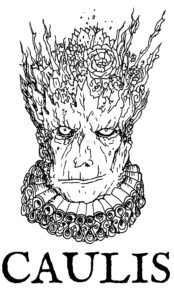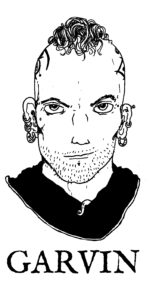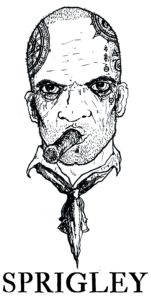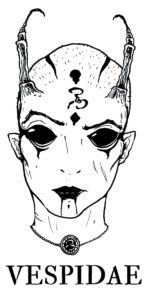 Armand Percival Reginald Francois Eustace de la Marche III, a suspiciously pale, apparently human noble and sorcerer, and certainly not a ghoul (how dare such a thing be suggested).
Caulis, a homunculus warlock liberated from its master; has made a pact with certain Faerie Powers.
Garvin Otherwise, a human rogue and burglar of the Ravenswing Thieves' Guild, with a very, very peculiar past and a zoog pet, Lenore.
Sprigley Gilette, a hardboiled, cigar-chomping human mercenary and veteran of several brutal wars, and a relatively new arrival in Hex.
Vespidae, a waspkin bard – a sacred dancer with a deathwish, shunned by the waspkin community for complicated ritualistic reasons. Now a follower of the Queen in Yellow and accompanied by two animated statuettes created by Magdalena Rotterthorpe.
XP Awarded: 200 XP.
The party met in the Green Star, a tavern in Mooncross filled with plants of various kinds, halfway between bar and greenhouse. The bartender was a fungoid who sometimes added herbs and other ingredients harvested from the indoor-garden to various drinks. After ordering various beverages (absinthe, nectar, a Cacodemon Ale) they set about deciding what venture they might next undertake.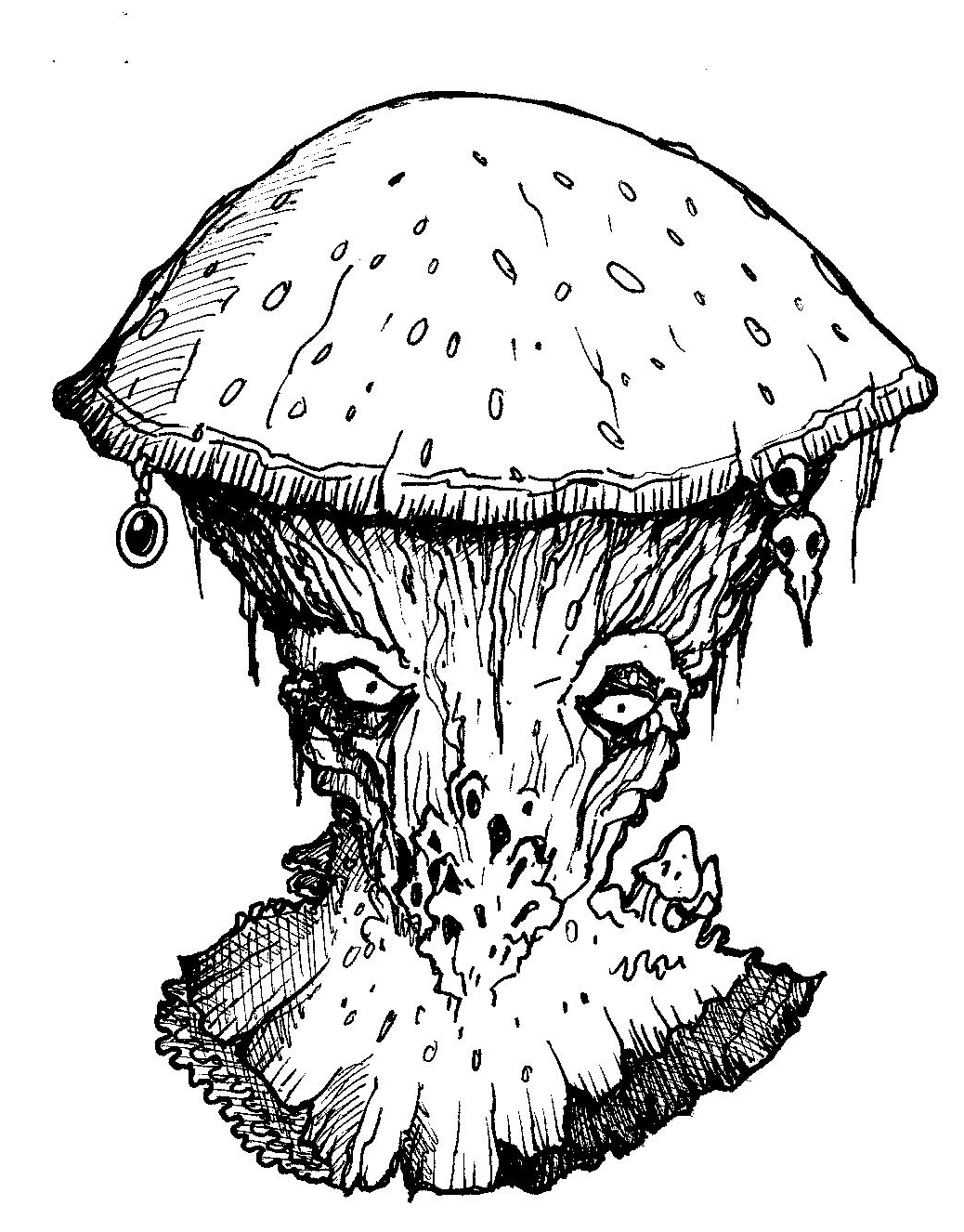 After some discussion party eventually resolved to apprehend the ghoulish gangster known as Nettie "Ossifrage" Toadlung, leader of the Starveling gang of Shambleside. They had spotted wanted posters in Corvid Commons during previous activities in the area. Additionally, Garvin was aware that the Starvelings were potentially forming an alliance with the Crowsbeak Thieves' Guild, sworn rivals of his own Guild, the Ravenswing. For this reason, putting a stop to Nettie's operations would be beneficial. During his investigations, Garvin learned that Nettie was in fact the operator of the Rat & Roach, a subterranean casino in the understreets below Shambleside. The place reputedly had a number of quasi-legal and downright illegal activities available for the distinguishing patron, including unlicensed zombie cage-fighting. It was also said to have a large vault full of cash for the casino above, as well as various items stolen by the Starvelings.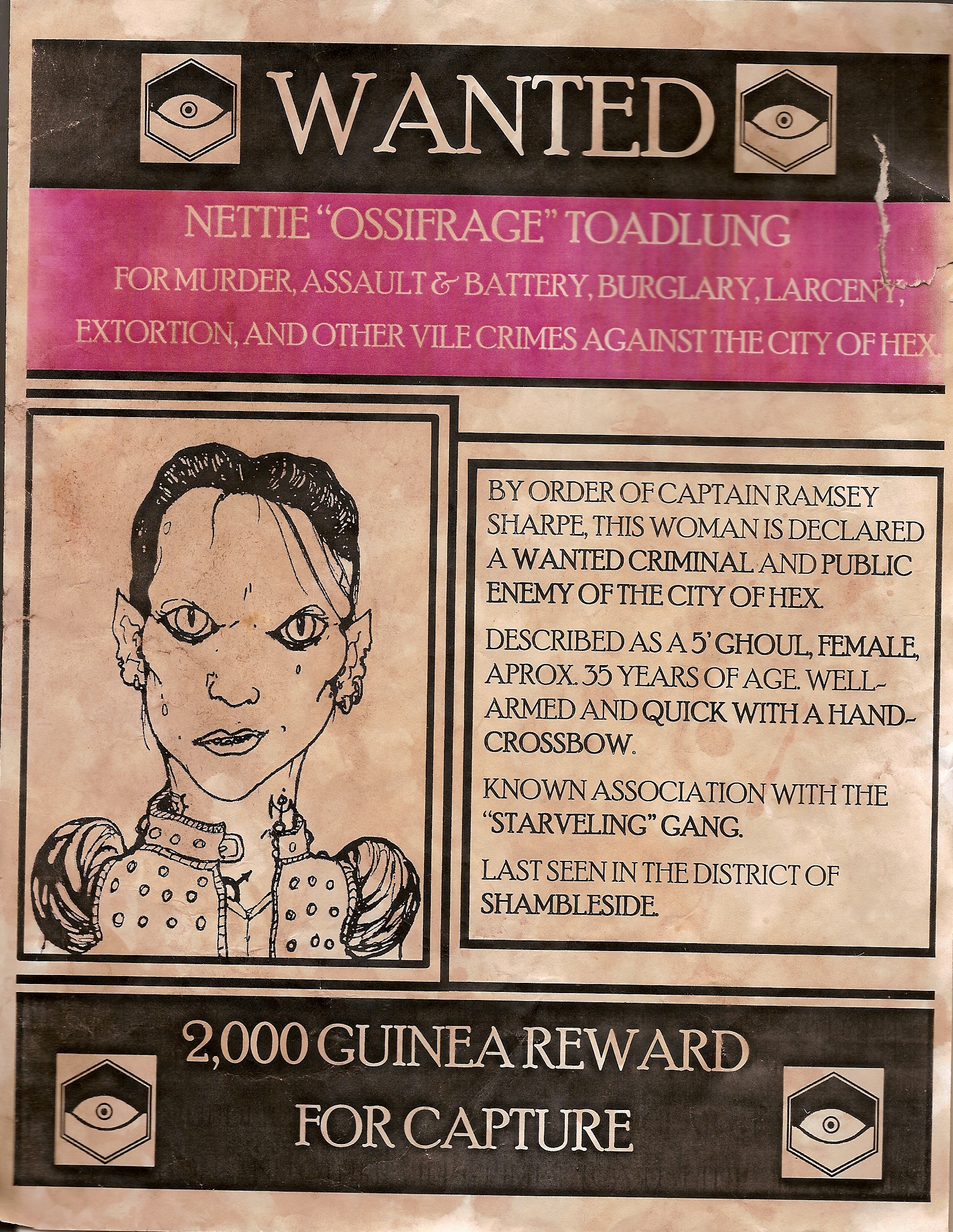 After equipping themselves, the party set out for the reanimators' district. While trying to be discrete, several were stopped by a patrol of Eyes, the police of Hex, who informed them that travel into the district was being temporarily suspended to "keep the peace," due to a "still-developing situation." However, the party was able to talk their way past the watchmen, Armand and Caulis claiming to be on an important errand and to have no interest in whatever troubles were brewing. Reluctantly, the Eyes let them past.
The air was thick with the smell of spice and embalming fluid and leather, and beneath it all the stench of rot. From the gruesome deadstock pens to the Moaning Market where the reanimated are auctioned off, Shambleside is stepped in the macabre. Ghouls live here in great numbers, lurking in the shadows, avoiding sunlight whenever possible.
There seemed to be some kind of protest brewing not from the Charnel Gate –a number of armed City Watchmen were clustering around impromptu barricades, where a gathering crowd holds signs and jeers. Investigating more closely, the party found the source of the disturbance to which the watch patrols alluded: an angry mob of protestors were facing down a cordon of Eyes near the deadstock pens. The protestors were a variegated bunch, a mix of humans, ghouls, cambions, dagonians, gnomes, and even a handful of waspkin and Lengians. They were united by their demands: their signs bore variations of "A Living Wage for the Living," "Against Exploitation, Against Reanimation," and "We Want Bread, Not Undead." Things looked tense, but apart from the occasional bit of shoving or shouting they hadn't turned violent. Taking advantage of the disturbance, the party found a quiet side street and descended into the sunken streets below, paved over many years' past.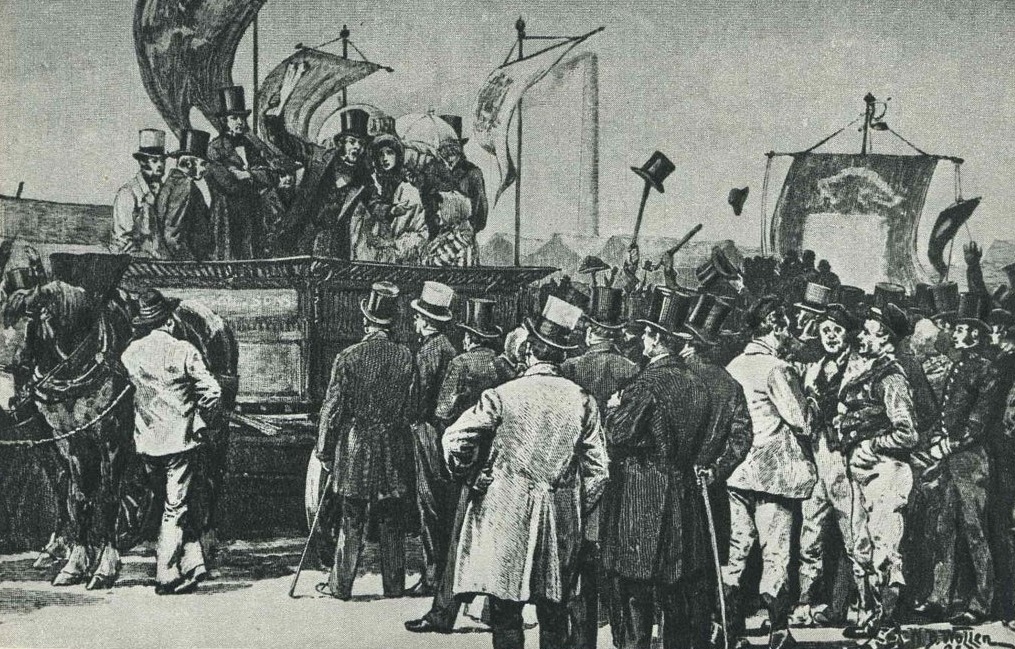 Finding their way to the Rat & Roach proved relatively simple, and after some additional scouting the party discovered a passage leading to a back entrance. Garvin searched the passage and discovered it was booby-trapped with a gnomish sliver-mine, which he disarmed and kept for himself. The passage terminated at a door guarded by a single Starveling – a ghoul clad in tattered waistcoat and bowler hat, smoking and guarding the passage leading into the casino. With the aid of charm person, Caulis was able to circumvent the guard, claiming to be on a special errand to speak with Nettie personally on obviously guild-related business. The bewitched guard allowed the party entrance, and they entered the casino without having their weapons confiscated or their true purposes known.
The main room of the Rat & Roach was a sprawling, filthy bar and casino-room filled with ghouls, cambions, trollbloods, and humans, all drinking, gambling, and carousing. Rotgut, blood, fungus ale, Blackbeak Brew, shadetea, and various other substances were all for sale. The patrons played games of Hexchess, Ruff & Honours, Blind Idiot, and Leper's Dice, among other games. An elevator leading up to the Phantom Queen, another tavern on the surface, was evident in one corner, while a pair of doors leading  to a series of other chambers and backrooms frequented by high rollers and those with connections could be seen as well. The evening's entertainment consisted of a ghoul singer, her highly canine face belying her beautiful if rasping voice. She was backed up by a chorus line of reanimated dancers, mechanically moving and kicking in perfect time, their skirts flouncing, their eyes dead.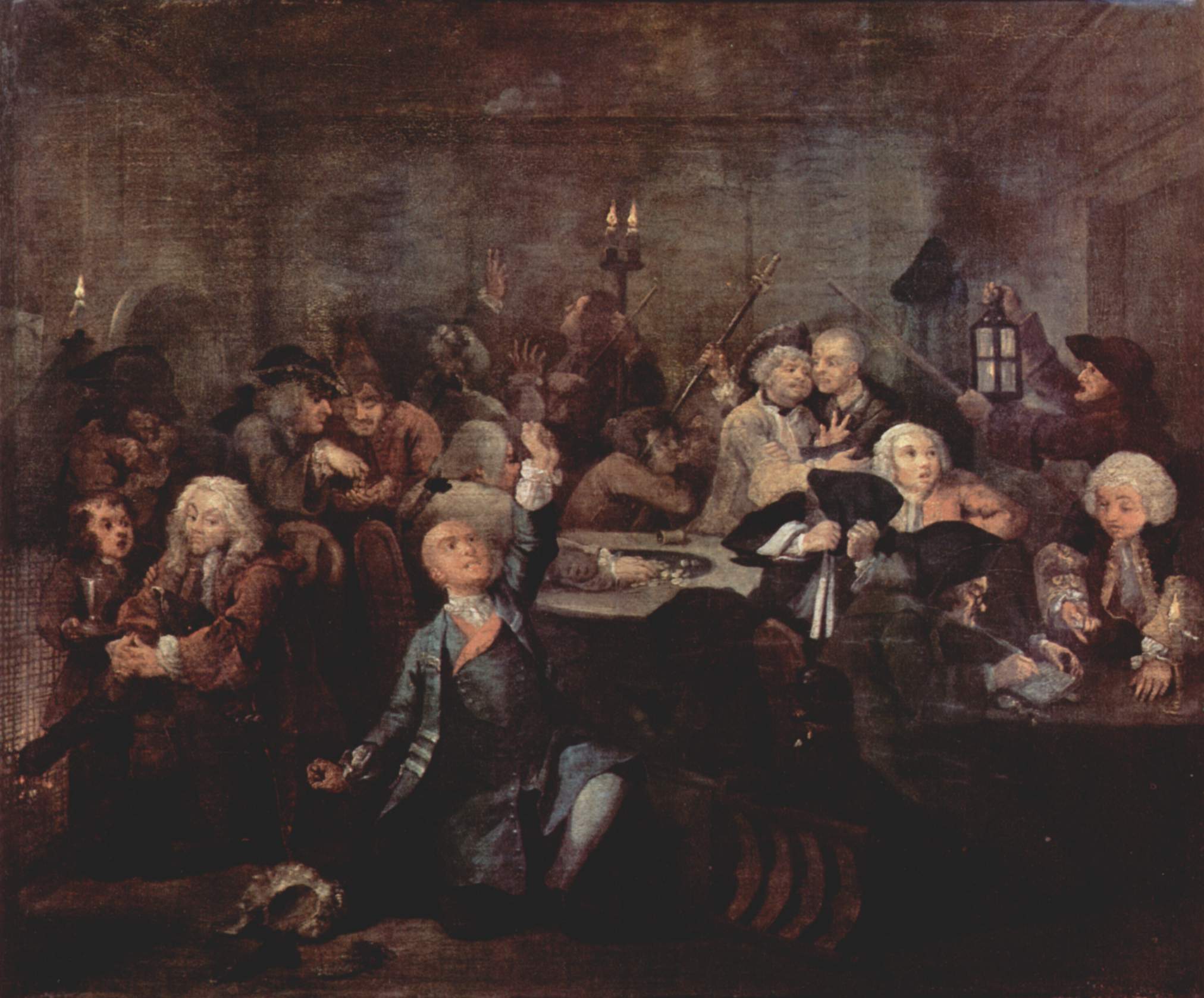 Surreptitiously, Garvin investigated one of the backroom doors and discovered a brewery room staffed with reanimated workers under the direction of a single ghoul brewmaster barking orders to the undead thralls as they tended to the huge vats. A stair led down to a cellar on the next level. Returning to the main chamber, Garvin described what he'd seen.
"I bet the vault is on the bottom floor," he said. "If we had some sort of distraction maybe we could go through the cellars."
"I might have an idea," Vespidae volunteered.
After a brief talk with the management, Vespidae convinces them to let her try her hand at some entertainment. She was ushered backstage into an area with several small dressing rooms. Half a dozen reanimated dancing girls stood here, still and inert as manikins save for the gentle rasp of their breath. After waiting for the current act to end, Vespidae tentatively walked out on stage.
Accompanied by her Unseen Servant and two animated statuettes – duplicates of herself fashioned by the arcane sculptress Magdalena Rotterthrope – Vespidae began an intricate, utterly absorbing dance, partly on stage, partly in the air. The crowd, at first sceptical and angry at being deprived their normal entertainment, gradually became enraptured by the hypnotic performance, which including intricate, dramatic in-air moves and complex patterns.
"Hey, you gotta see this!" one of the bouncers yelled to the ghoul brewmaster, who lumbered out of the brewery. While the brewmaster was absent the rest of the party slipped into the brewery. Ignored by zombies still lethargically tending to the equipment – some now spilling good ale and leaving valves open without the brewmaster's supervision – the party began by investigating several adjoining backrooms.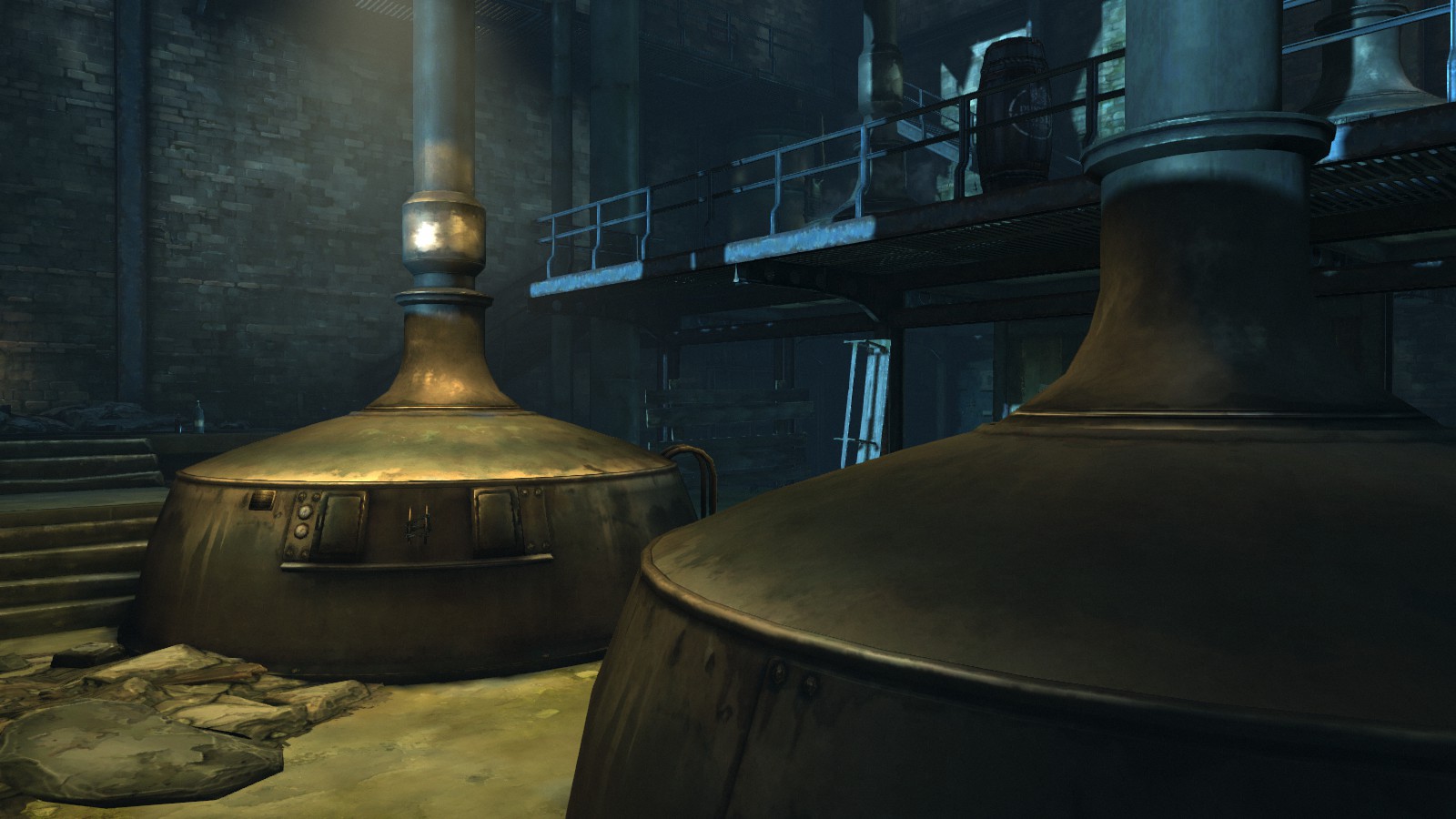 Garvis first picked the lock to the door of a small room filled with filing cabinets stuffed with papers. Sprigley plundered this records room for incriminating documents, turning up a number that showed what looked like evidence of an illicit drug-smuggling operation. Next they entered a grimy, ill-lit room with a chair set up beneath a glaring light. A badly beaten man was chained to the chair, gagged and bloody. Hesitating only a moment, the party freed the man, who identified himself as Dirk Brillspar, and confessed to having been caught cheating at cards. He feared himself soon to be killed and given to "Abjectus," a creature in the tunnels with some kind of pact with the Starvelings.
After arming Dirk, the party hastily returned to the brewery and clambered down a ladder into a cellar below. Huge kegs filled this gloomy chamber, which reeked of cheap alcohol. There were crates and racks of wine here, as well as stronger spirits such as absinthe and whiskey. Rats teemed in great numbers here.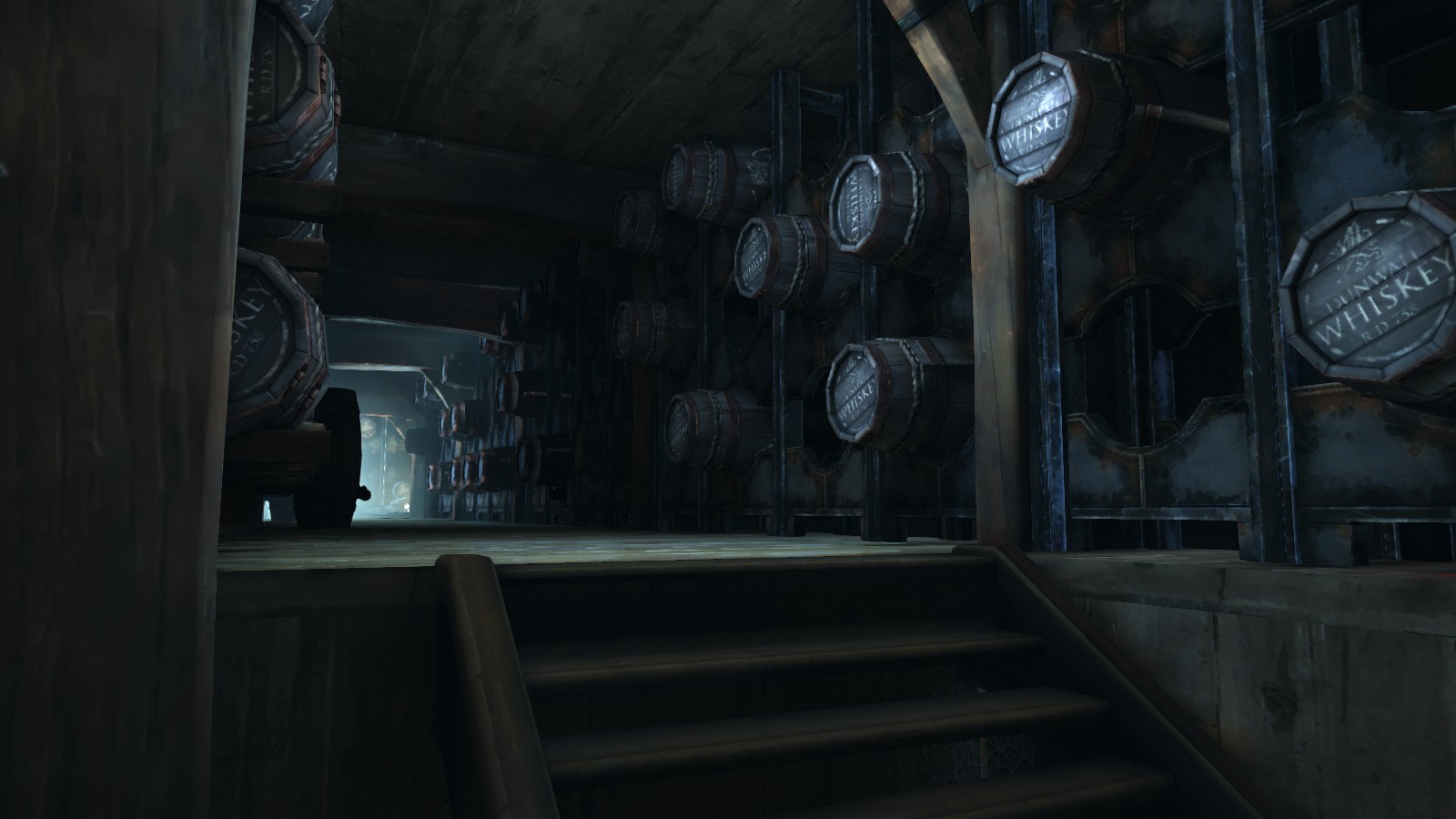 After helping themselves to a few choice bottles of wine, the party slipped out of the cellar into the passages on the second level of the casino. Glancing down one hallway they glimpsed what looked like the vault door – to judge by its prominent combination lock. Hearing an approaching guard, they forewent further investigation and quickly ducked down another corridor and through a door. Here they found a cavernous sewer tunnel bobbing with filth. Moored to the catwalk overlooking the tunnel was a small boat laden with crates. The party looked inside, discovering large quantities of the Sap, the arcane drug harvested from the Elder Tree in Ambery, the last in Hex. Taking several phials of the valuable drug, they were debating what to do with the remainder when footsteps became audible coming down the corridor. They attempted to hide; the door opened, and a Starveling emerged, peering round the chamber. He located Caulis and Armand, who attempted to talk their way out of the situation, feigning disorientation and having "gotten lost" on their way from the gaming tables. The guard was unconvinced by this obvious ruse, but in the meantime Garvin and Sprigley leapt into action and quickly subdued the guard, knocking him unconscious. They concealed his comatose form in the boat and crept back into the tunnels.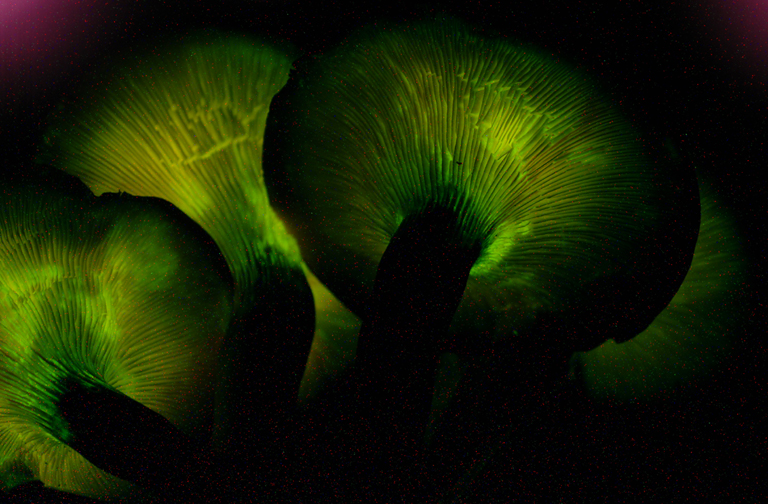 Continuing to explore the lower level, the group entered a chamber which looked to be an enlarged natural cavern. Slowly developing in this moist, dripping cave were a number of fungoids, still in the nacesent stages of growth where they appear somewhere between puffballs and squalling infants. Various tools for feeding and harvesting these still-growing creatures were evident. Caulis, observing the fungoids, inhaled a blast of spores, and then –
A woman walks through a snowy landscape, carrying a bundled, still child. She clambers down into a dark, sheltered hollow in the hills, sweeps a large flat stone clear of snow, and lays the child on it. She draws a blade and makes long cuts along her arms, then uses the blood to draw sigils around the stone and child. Losing blood, she begins to weaken and stagger. Where the blood has begun to congeal on the cold stone, it now gathers into animate forms, lurching and roiling towards the child. The child jerks, its features twisting subtly, and it sits up, and smiles.
– Caulis jerked back, reeling. An ancestral memory? A hallucination?
Somewhat disturbed, the party continued into an adjoining chamber to0 discover a large iron pen, as for cattle. Inside milled a dozen fungoids – the sporious humanoids indigenous to the Old City of Hex, as well as the Zymotic Ward. These particular fungoids had a peculiar purplish cast. An array of tools hung on a rack on the wall, including man-catchers, lassos, claw-grips on the end of poles, scrapers, shears, and the like. Stairs climbed back up to the first level.
Ignoring the fungoid prisoners for now, the party continued exploring the lower level and eventually located Nettie's office – but not before Sprigley, blundering forward, tripped a hidden wire. A mechanism clicked, spraying him with a mist of vapour before lighting this flammable gas with a spark. The resulting blast of flame engulfed the warrior, horribly burning him; he flailed backwards and slumped against a wall. Sprigley's companions managed to put him out and rescue him from the brink of death with a hasty healing potion. Shaken but alive, Sprigley got to his feet and the party approached the office.
Garvin proved unable to pick the lock to Nettie's office, so an alternative solution was employed. Using an enchanted bolt of silence, Garvin created a bubble around the door in which no sound could be heard. Then Sprigley kicked the door off its hinges. The group entered a small, grimy room with a grotty desk, a mouldering chair, and a handful of old cabinets. A thorough search turned up quantities of cash, a hand crossbow, poisoned bolts, and a spare vial of poison. Sprigley, search especially thoroughly uncovered a hidden compartment in one of the desk drawers, in which a piece of parchment could be found. The parchment had three numbers scrawled on it: 13, 9, 17.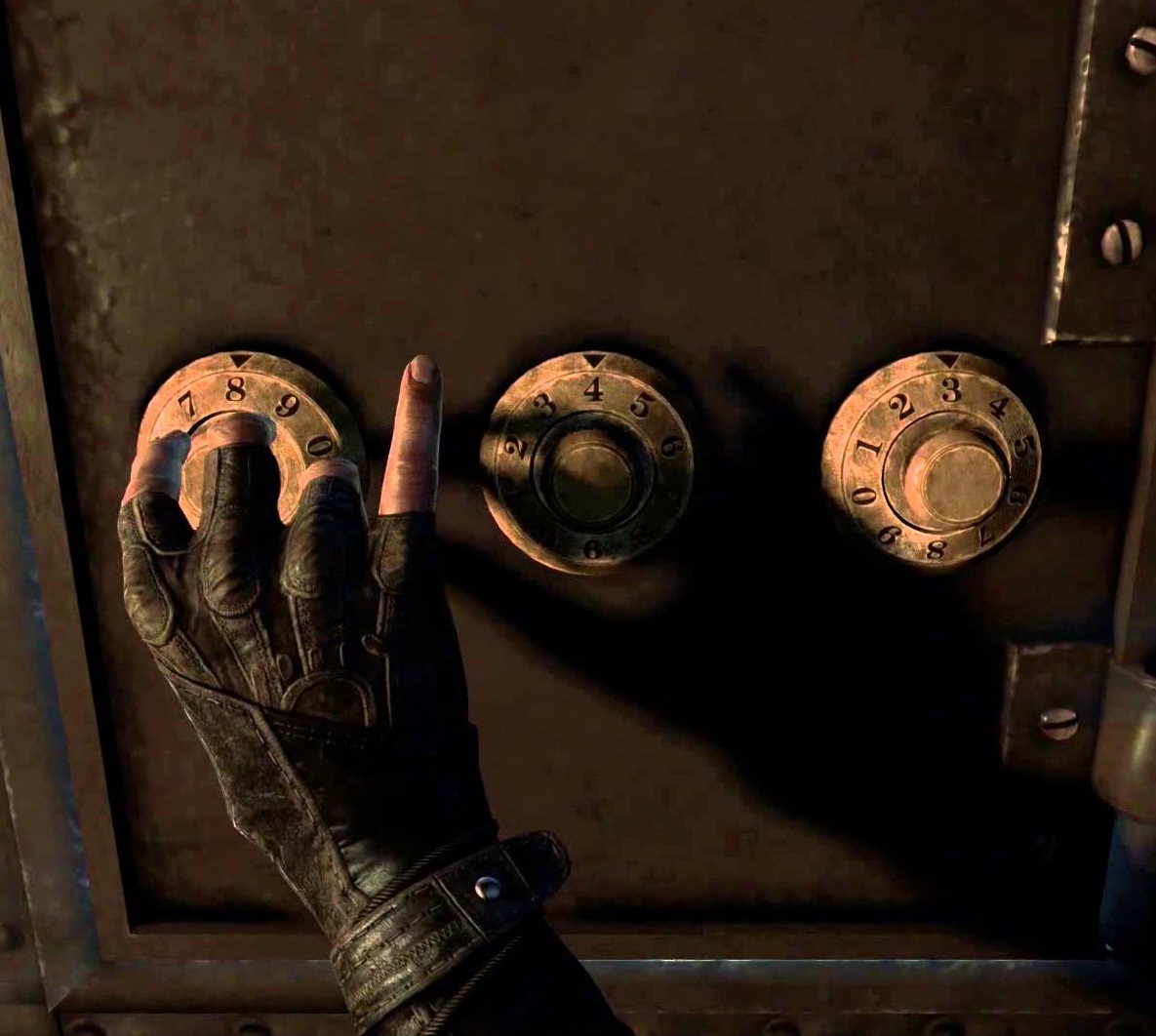 The party now hastened back to the vault, though Armand – swayed, perhaps, by a pang of conscience, or perhaps deciding to create a distraction to cover a potential escape – stopped to carefully open the pen of the fungoid prisoners. Sprigley decided to hang back with Dirk, guarding the path to the boat – now the group's intended escape route. Wary of additional traps the party began searching for tripwires. Garvin, unfortunately, managed to blunder into one in the course of the search and accidentally set it off, resulting in a jet of poisonous vapour which he inhaled fully. Gasping, his face and veins blackening, he slumped to the ground in terrible pain. Swift application of a healing potion spared him from death. Using the combination 13, 9, 17, the party managed to open the vault. Inside were shelves piled with coin-rolls and bags of coin, as well as several objects which the party hastily grabbed: a painting of Arabella Sickle, Infernal Archbishop of Hex, a mysterious deck of cards, a scroll, a verdigris-encrusted gun, and a mysterious book with a black cover.
Meanwhile, upstairs, Vespidae had finished her performance spectacularly, destroying her statuette-duplicates in a crescendo of violence using her javelings, to the utter delight of the crowd. Tips poured in for the dancer, who was now euphoric with success. Impressed by Vespidae's prowess, the casino's management offered the waspkin a chance to test herself in the backroom. Seeing no sign of her companions, Vespidae agreed and was led into a crowded chamber adjoining the main room where two reanimated corpses fought in a brutal contest within a cage. Both had been extensively modified by their Reanimators. One bore a morningstar where its hand should be, its wrist wrapped with an iron chain nailed and sutured to its dead flesh, while its head was studded with brutal spikes like a mace, in mimicry of the ball swinging from its forearm; if its opponent were to headbutt it, they would be impaled. It carried a shield in its other hand. The other gladiator was even more ostentatious. Its head was that of a reanimated ghoul, complete with tearing canine teeth, but its body had a writhing mass of limbs, those of a Lengian. How the necromancer secured a spiderfolk cadaver is anyone's guess; usually Lengians send their dead to the Temple of the Mother of Spiders in Cobweb Cliffs. The hybrid horror was armed with a multitude of knives.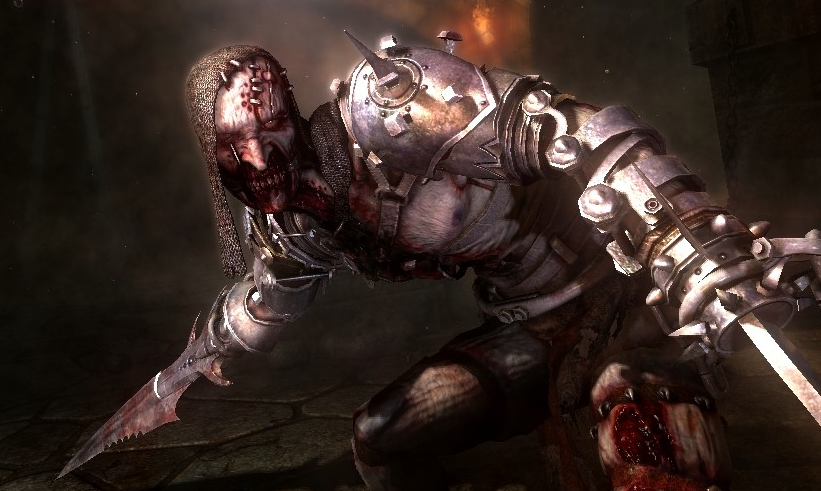 While the two zombies circle one another and intermittently attacked, fed arcane instructions by their handlers, a crowd cheered and placesd frenzied bets.  The melee was brutal, but the mace-headed zombie triumphed, pummeling its opponent into submission. To the whoops of the crowd, Vespidae was placed in the cage. The waspkin managed to land several crippling blows on the reanimated gladiator with her javelins, but a lucky head-butt from the zombie brought the waspkin to the brink of death. Only the intervention of management managed to spare her life, though she was still paid for her time and invited to remain in the backrooms, even to attend to the high-rollers' table if she wished.
Shaken, still injured, and now clueless as to her companions' whereabouts, Vespidae decided to remain in the backrooms. She first wandered into room filled with decaying couches and armchairs,a drug den with several individuals strung out on shadetea, their eyes black as the void between stars. One girl was hopped up on thrum, an arcane stimulant made from the displacement gland of phasebats. She blurred, flickering in and out of reality, her flesh creeping and quivering, one moment present, another absent. Several ghouls also smoked a large pipe filled with some sort of purple-grey gas. One mildew-eaten room over, lit with a glimmering red lamp, junkies were sprawled on rotting furniture having consumed some form of psychoactive toadstools, more of which could be seen on a table in the room's centre. A dozen more bleary-eyed men and women sprawled on pallets and mouldy mattresses, their eyes wide and staring, pallid faces streaked with sweat. Dispassionately moving on, Vespidae came to the high rollers' room – a private room with walls of dark wood and a finely carved table that looked like it was liberated from a more salubrious district of the city. There were even some paintings on the walls, though these were mostly pornographic in nature. Given the go-ahead by a guard, she entered. A group of individuals sat around the table playing an intense game of he Cursed River, a complex magical card game in which players curse one another with their cards, making play more difficult. One fellow was slowly turning to stone, his feet and legs first. A few more curses and he'd be a statue. Another player could speak only in rhymes, and had to rehearse each sentence perfectly. Nettie Toadlung herself presided over the game, winning big, though blind in one eye from a curse.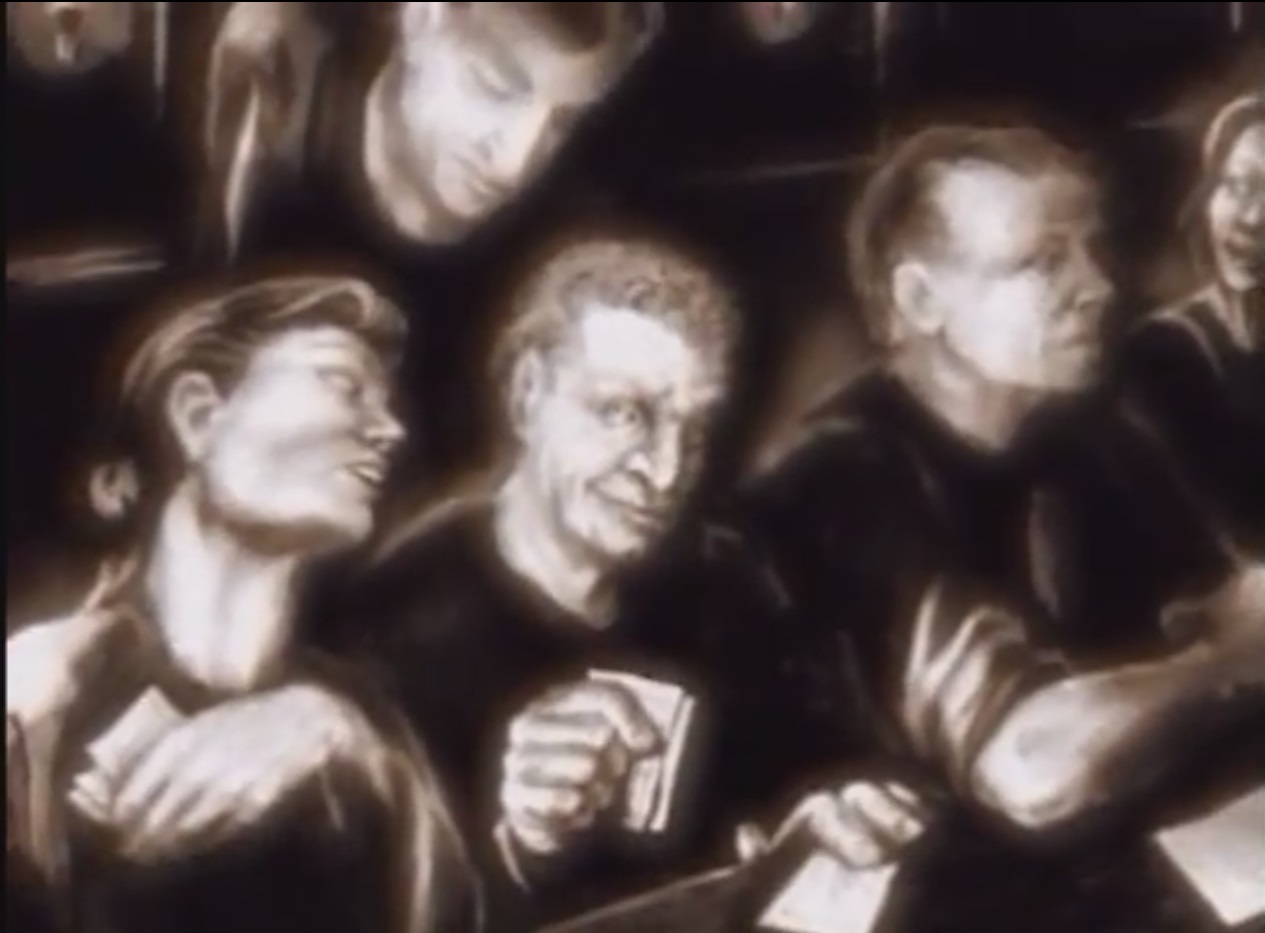 Vespidae entered the game to the amusement of several players and proceeded to clean up, winning hand after hand as her opponents became increasingly curse-riddled; Nettie herself was becoming increasingly translucent as she bled coins to Vespidae. The secret to the waspkin's success was smell – she could smell the pheramone levels exuded by various players, and judge hands accordingly. Waspkin, not usually a gambling folk, had cleared missed their calling.
Impressed by Vespidae's skill and taken out of the game herself, Nettie invited the waspkin down to her office to sign a contract, becoming a regular performer at the Rat & Roach. By this point Vespidae was so flushed with success she barely remembered why she'd come to the casino in the first place. She agreed to Nettie's offer and the two descended to the second floor, passing through a guard-room on the way.
At this point, all Hell broke loose.
Nettie arrived to find the passage to her office scorched, her door hanging off its hinges, and her desk drawers ripped out. Moments later Sprigley appeared from the shadows, pointing a gun at her and telling her to divest herself of weapons. Attacking with a hand crossbow, Nettie received a gunshot to the kneecap in return.
Hearing the gunshot, the rest of the party at the vault came running – as did the Starvelings from the guard room. The two groups intersected just as a group of bumbling fungoids emerged from their pen.
The resulting chaos was too confused to recount in detail – a blur of gunshots, screams, spores, and spells. Eventually, Garvin used his Hand of Glory, an embalmed hand clutching a candle, to paralyze several of the guards. Caulis summoned an Unseen Servant to dustract Nettie. Vespidae, confused and barely recognizing her companions, including a horribly burnt Sprigley, prayed to the Queen in Yellow for guidance. The Queen appeared to Vespidae in a vision, telling the waspkin to "make the situation even more of a farce." Vespidae cast longstrider on Nettie, and the Starevling gang leader, suddenly very fast, was sent flying as the Unseen Servant tripped her. She cracked her skull against a wall, giving Sprigley a few precious seconds to grab her. Caulis beat her over the head with its great-club and the party hastily made their way to the boat to make their escape, leaving a bleeding Dirk and a still-perplexed Vespidae behind.
Images: Chartist demonstration, Kennington Common, 1848; William Hogarth's The Rake's Progress; screenshots from Dishonored, Thief, Jericho, and Thief: The Dark Project; Noah Siegel's "Omphalotus oleraius."