The characters in this session were: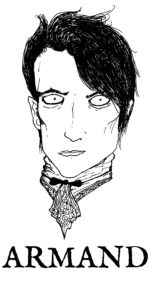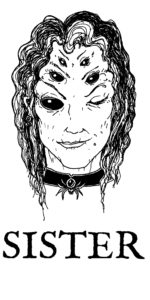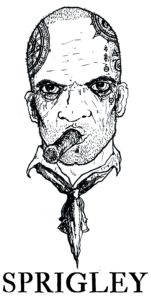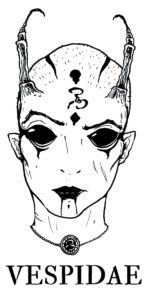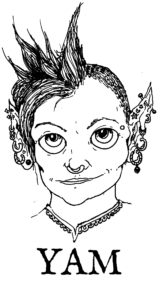 Armand Percival Reginald Francois Eustace de la Marche III, a suspiciously pale, apparently human noble and sorcerer, and certainly not a ghoul (how dare such a thing be suggested).
An ancient and enigmatic Lengian cleric of the Mother of Spiders, name unknown. She wears bulky ecclesiastical garments covering an uncertain number of limbs and goes by "Sister."
Sprigley Gilette, a hardboiled, cigar-chomping human mercenary and veteran of several brutal wars, and a relatively new arrival in Hex. He was part of Yam & Sister's expedition and was thought lost in the Whorl, but has emerged bleery and disoriented but alive.
Vespidae, a waspkin bard – a sacred dancer with a deathwish, shunned by the waspkin community for complicated ritualistic reasons. As of this session, a possible new devotee of the Queen in Yellow…
Yam, an eccentric gnome illusionist and local graduate student at Umbral University. Yam cares little for money. Yam is curious. Yam is Yam.
XP Awarded: 350 XP.
On the recommendation of their previous employer, Professor Valdemar Sluice, the party has been contacted by one of Hex's foremost playwrights, the cambion Vittoria Wolfsheart.
On their way, Vespidae discovered something unusual in his bag: a mysterious book he couldn't remember seeing, The Cuckoo's Egg.
Little Pandemonium smelled of incense, wax, and oil, though the reek of the Radula and the persistent scent of brimstone were discernible as well. This district was one of opulence, its buildings of the ornate Infernalist style, somewhere between palaces and monuments of the Underworld. Walls were carved with screaming faces in the semblance of damned souls, and gargoyles encrusted many buildings – not just the temples and shrines to the Chthonic Gods that riddled the district, but homes and shops as well. Those objects for sale here were mostly religious: votive candles of black wax, demoniac charms, and garments mimicking the fashions of Hell.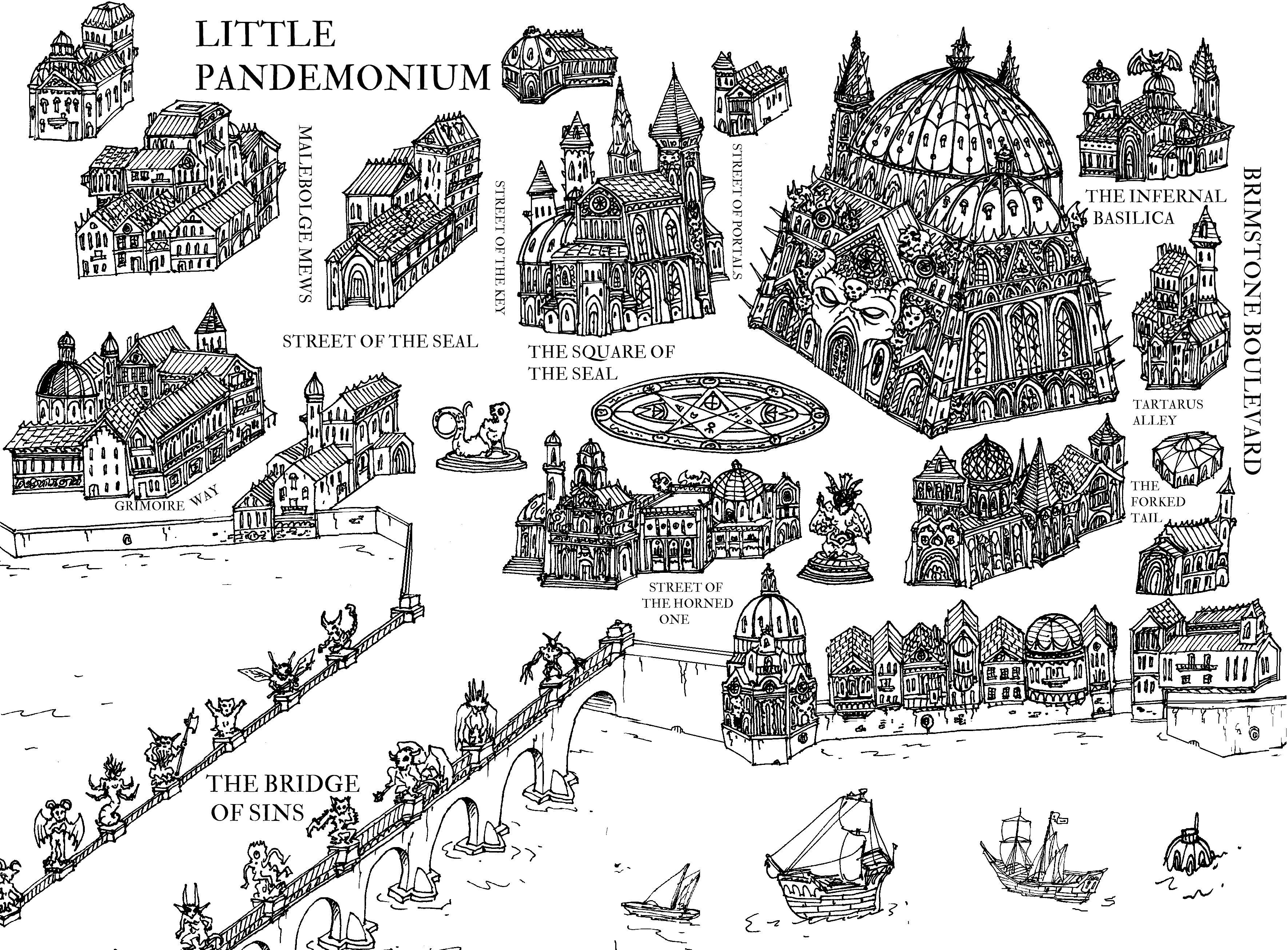 The people of Little Pandemonium were mostly a mix of humans and cambions, though the distinction was sometimes a subtle one, with many sporting only small horns, flickering red irises, or hooved feet indicating their otherworldly heritage. They made a strange mix – fashionable decadents clad in the outré chains, lace, and leather of the Diabolique style rubbed shoulders with priests in the robes of Astaroth, Malthous, Oroboas, and dozens of others. Many citizens walked hellhounds or other demons, leashed with glyph-graven collars and chains of silver to keep them safely bound, while bat-winged imps shared airspace with waspkin, flitting from spire to spire.
The party's client, renowned playwright Vittoria Wolfsheart, directed them to her house on Grimoire Way, just north and east of the Bridge of Sins which spanned the river. The street was mostly a commercial one, lined with book-sellers stocking the latest occult tomes, religious texts, and even fiction – mostly novels of the so-called Fiendish Romance genre. Students and scholars from Fiend's College across the Radula could be found here, ruminating over spellbooks and theoretical tracts. Vittoria's house was near the end of the street.
Leading the way, Sister was confronted by a cambion with curling goat-like horns and a forked tongue, who was handing out pamphlets on the street-corner. He swaggered up aggressively to the Lengian cleric and shoved one of the pamphlets into her face.
"Summoning is subjugation!" he proclaimed, his voice a hircine bray. Sister glanced through the pamphlet with mild interest before leading the party to Vittoria's house.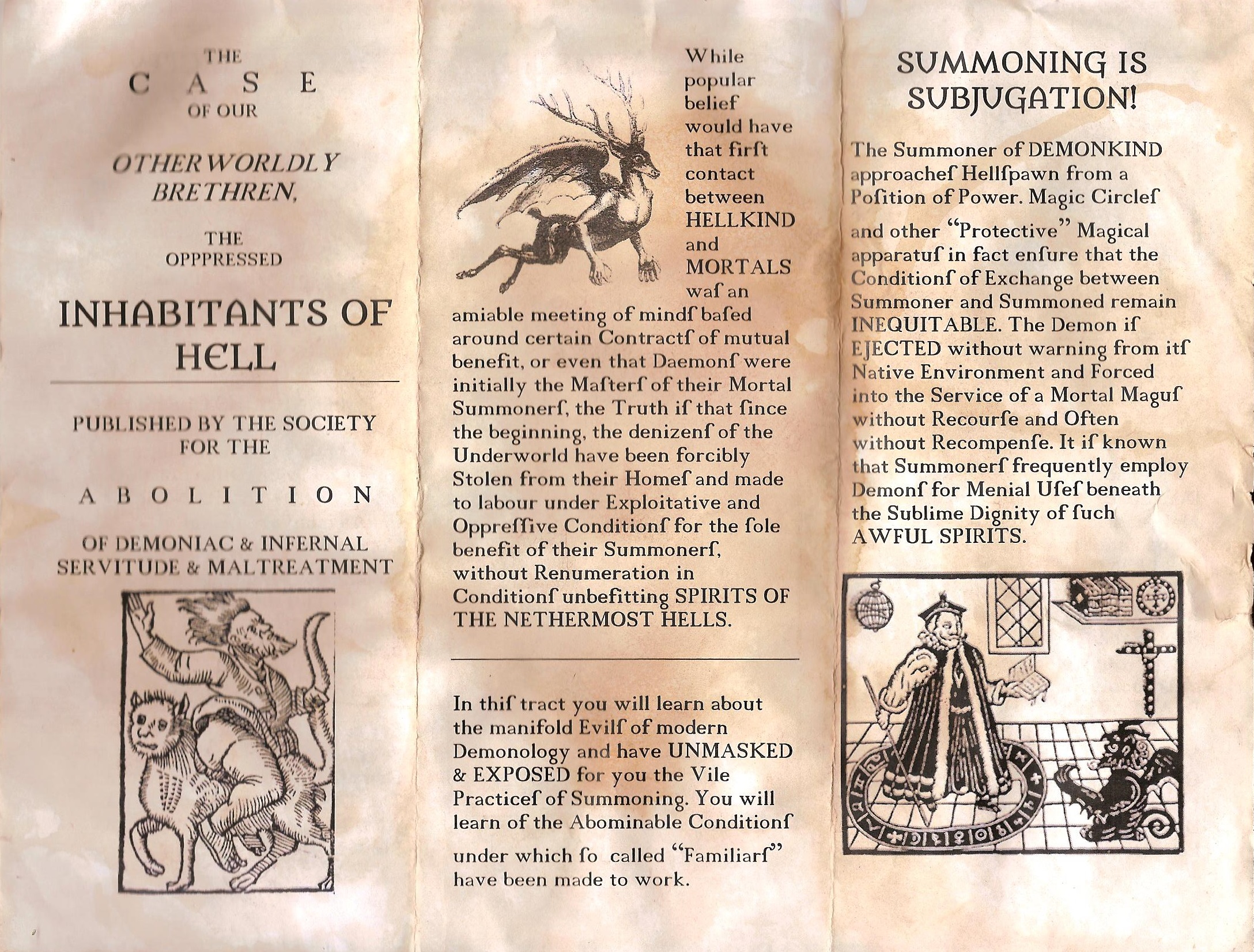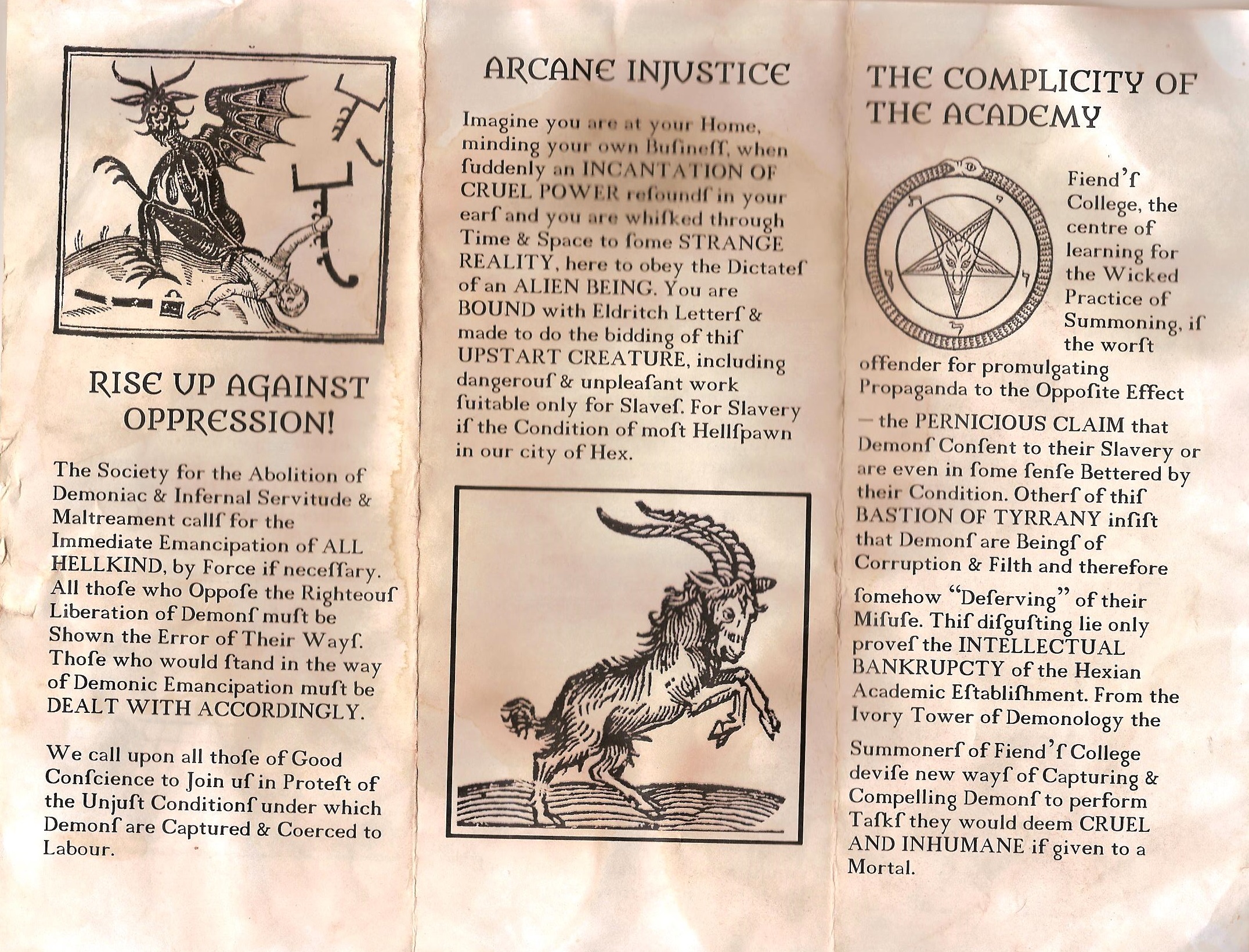 Vittoria's home was a well-appointed townhouse of four storeys. The building was painted red and black, with numerous gargoyles perched on the wrought iron balconies.
A handsome footman – human, from the look of him – opened the door. Inside was a small but well-appointed foyer with a floor of black marble and a spiralling stair of black iron. Numerous paintings on the wall depicted an array of unusual figures. Natives of Hex noticed that these were all paintings of actors and actresses playing some of Vittoria's better-known characters – the Flayed Man, the Gibbous Prince, Jacqueline Chandler, the Double-Faced Duchess, the Great Pig, Red Philippa, the Dandler, Morgana the Sorceress, and the Mismatched Maid, to name a handful. The footman, Thaddeus, directed the adventurers to the study on the second floor.
The study of the townhouse had a window facing out over Grimoire Way. Shelves filled with books cover the walls. By the window there was a huge desk made from striking white wood, strewn with papers. A thin woman with coal-black hair and bone-white, heavily tattooed skin sat in a crimson dressing gown at the desk, drinking coffee and scribbling with an owl-feather quill. Curved horns erupted from her head.
"The bold investigators appear," Vittoria said, laying down her quill. "Let's speak in the parlour, shall we?"
The parlour was sumptuously decorated with ornate lamps and plush furniture of red leather, with floors of black wood. The room adjoined a terrace looking out over the street below. From the look of things, a party was held there recently – there were still plates, empty glasses, and bottles strewn about, along with askew cushions and other signs of detritus. A servant was in the midst of tidying the chamber.
Vittoria indicated that the adventurers should sit on a nearby sofa and seated herself in a large armchair.
"As I said when I contacted you, I need assistance in acquiring a certain item stolen from me," she said. "Although I suspect it may already have been destroyed. The item in question is a script – my most recent play, The Tragical History of Robin Redcap. The script was on the top floor, in a small shrine I keep to the Queen in Yellow. Last night, I had a small party in celebration of the script's completion. It's a major milestone in my career – my first play to be performed at the Chiaroscuro theatre. Most of my work has been at the smaller and cheaper theatres; while writing for such stages has served me well, this play would represent my breakthrough into high society.
"When I went to bed last night after the party's completion I went to briefly pray at the shrine. I had left the script there so that the Queen in Yellow could bless the endeavour and ensure its success. But I discovered that the script was gone.
"I believe that the play must have been stolen by one of my guests. I can attempt to rewrite it, of course. I know many of its passages well. But there were times when I wrote in a poetic trance, seized by the spirit of creativity, that might be impossible to replicate. Times when I wrote late into the night and met the sunrise bathed in the feverish sweat of creation. I fear that if I rewrite the play from memory it will be but a pale shadow of the original.
"I was to send the script off to Stumpridge in a week's time for copies to be made for the players. If the script is not recovered soon, I must delay rehearsals and rewrite it as best I can. For my own reasons, I prefer not to go to the City Watch; for one thing, I strongly doubt they have the manpower to find it in time for my deadline."
"Do you have any suspects?" Armand asked.
"Yes," Vittoria said, producing a piece of parchment. "Several people in attendance at my soiree might have had motives to steal the play. I've underlined some of those I suspect most…"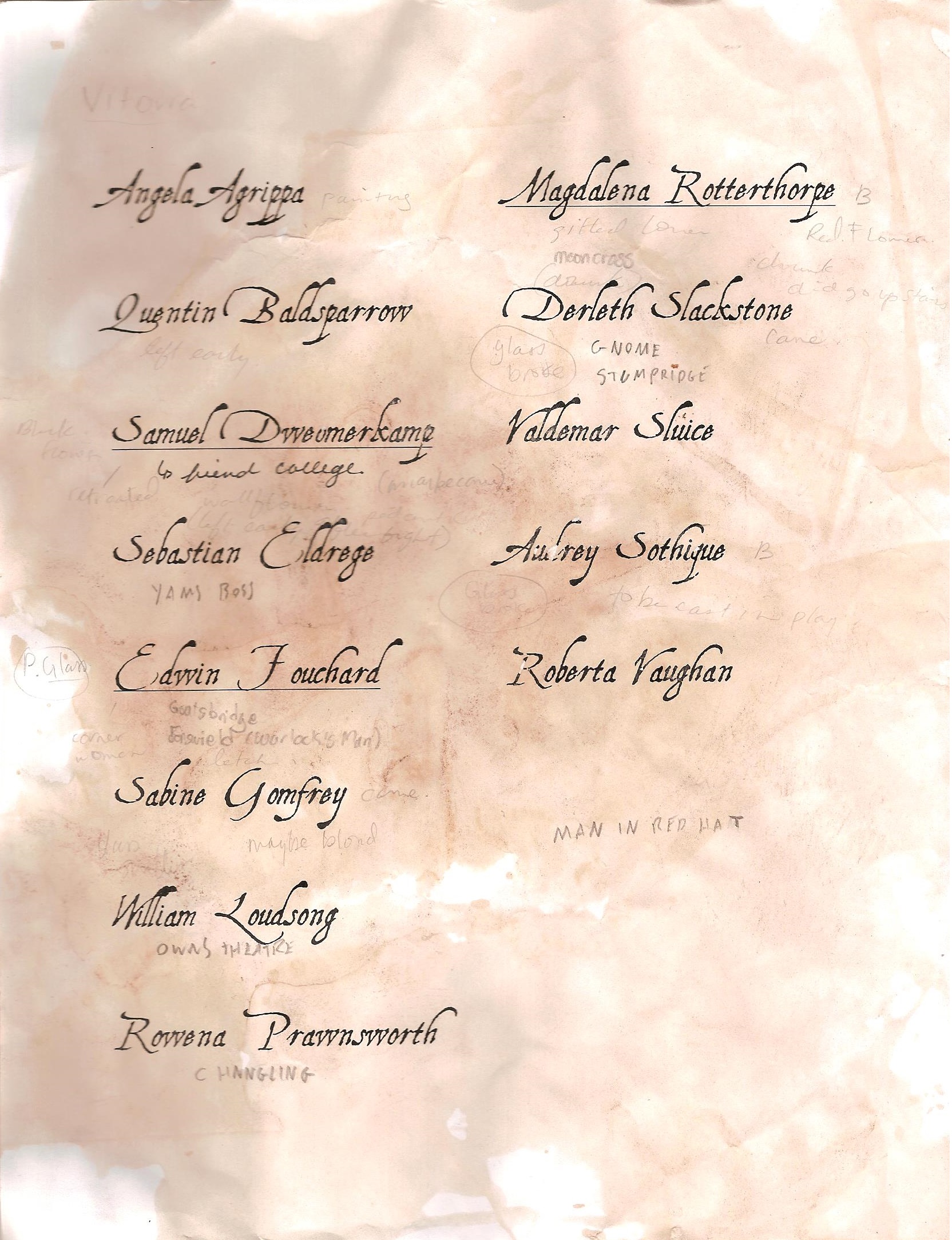 The annotations are from my players – I encourage them to really use & mark up the handouts I give them.
The group then asked Victoria questions about the various guests. Her suspicions were of essentially three tyoes – personal, professional, and political.
The party began by asking whether Vittoria had any obvious enemies – those who might not want the play performed. She drew their attention to Samuel Dwoemerkamp. "No doubt you are aware of a brewing protest against the maltreatment of summoned demons in Hex. I am known to have some sympathies with those who argue for the emancipation of Hellkind, and though I do not write my plays as polemics or propaganda, I will not deny that the spirit of freedom and anarchy courses through my speeches, and that my protagonists, often as not, are heroic revolutionaries, noble regicides, rebel princes, and others who reject tyranny. There are some who have called my plays seditious and immoral, claiming they incite violence and ill-feeling. Perhaps chief among these is a Professor at Fiend's College, a man of letters known as Samuel Dweomerkamp, who teaches Infernal Philosophy and Literature. He has penned many an article denouncing my , claiming that I deny what he calls the 'primal lust for power' or 'will-to-dominate' and endorse what he terms 'herd-morality.' I invited him mostly out of pique, and to avoid a deliberate snub. It could be, I suppose, that he so loathes my writing that he might make off with the play… he is known also to be close to some in positions of power who might dislike seeing my work on so prominent a stage. The play itself does contain themes he might find objectionable. He and I had a brief quarrel last night, where he reiterated some of the points he had previously made in print."
They next asked about the other suspects. "Perhaps the most obvious suspect is Edwin Fouchard, my biggest rival at the moment on the theatrical scene," she said. "For reasons beyond my fathoming Edwin has long been the darling of the critics, his plays put on at the grandest theatres in Hex, but his latest work, The Wicked Widow, proved something of a flop, while my own play was soon to appear on stage at the Chiaroscuro, bringing me the attention that Edwin has long enjoyed. Edwin's style is quite at odds with my own. I seek to capture the sublimity of life – its awe and majesty – to shatter preconceptions – to open great wounds and fill the audience with horror and wonder. Edwin limits himself to the drawing room and the country home. His plays are like the little dollhouses one sees well-born girls playing with: quite exquisite in their construction, but contemptibly domestic, a tool merely for the continued oppression of women, for the dissemination of the ruling ideology… ah, but I am getting away from myself. Suffice to say, we two are at odds. I had hoped to make some amends by inviting Edwin, but he proved disagreeable and insulting, insinuating that my tastes were vulgar and lower-class. He left in a sullen fury; I would not be at all surprised if he stole the manuscript on his way out. Edwin lives in Goatsbridge, towards the north end, but he can more often be found in Faunsweald, rehearsing with the Warlock's Men at the Dancing Satyr Theatre."
Finally they asked about Magdalena Rotterthorpe. "Magdalena is my former lover. She and I parted ways half a year ago, and I had hoped to renew our friendship, if not our romance. She, too, proved somewhat less than amiable last evening. While she was all outward smiles and reconciliation to me, I overheard her speaking uncharitably of me to several other guests. She clearly holds a bitter grudge and wishes me only ill fortune; it could be she stole the play out of pure spite. Magdalena is a sculptor by trade, and lives at her studio down in Mooncross, at the corner of Opalescent and Full Street."
The adventurers then split up. Vespidae and Armand decided to investigate the shrine, while Sprigley and Sister interrogated the servants, Henrietta and Thaddeus, about what they saw. Yam curled up in a large armchair and went to sleep, waking to discover a large up of hot chocolate and a book, Tales of the Tangle.
Sister and Sprigley spoke to the servants and learned several things of note. They discovered that Samuel was something of a bore, spent a great deal of time in the library, and left early; that Magdalena became drunk and at one point was seen heading upstairs; that Edwin was a terrible lecher and harassed Magdalena and several other women throughout the night; that one of the guests rudely refused to remove his hat;  that Sabine Gomfrey, an octagenarian, had to be levitated up the stairs; that a glass was broken on the terrace but no one was obviously injured. They checked much of this information with Vittoria. She was puzzled by Henrietta's description of the rude guest, saying she couldn't remember such a thing, but confirmed that Magdalena had become exceedingly drunk, and that, naturally, she knew her way to the attic.
Meanwhile, Vespidae and Armand looked for any physical clues. The small shrine to the Queen in Yellow filled what might once have been a spare bedroom. An idol to the strange deity loomed in the middle of the chamber, yellow robes flapping, an ivory mask at once monstrous and beautiful obscuring the face of the Queen. Her crown was made from jags of bone, like antlers, which bore numerous candles, more of which were scattered throughout the room, currently unlit. The Queen's long-fingered hands were spread, as if they might hold something, but they were currently empty.
Upon the altar of the shrine there was a painting, which seemed to have been badly burned. It looked like it was once a phantasmagoric landscape. A religious text bound in yellow leather layon a lectern nearby. Also evident were significant quantities of a yellowish moss which Vespidae and Armand identified as the dubiously legal hallucinogen sallowmoss, harvested from the Old City and declared restricted after several users suffered psychotic breaks and committed what became known as the Saffron Murders. The book, upon investigation, described several rituals of the Queen in Yellow. These included a ritual involving the sacrifice of an artwork, burning it on the altar of the Queen in Yellow in order to induce imaginative and creative mania. A thorough investigation produced several possible items of evidence: a single drop of blood, a dent in the floorboards, a blonde hair, and a red petal.
Yam had been sleeping this whole time, but waking up, he began leafing through the book and discovered a bookmark on an interesting page. The book seemed to be source material for Vittoria's play. One of its many tales told of a nobleman and magus, Duke Gothmord, who acquired a castle on the slopes of Mount Shudder, near to the border of the Tangle, the great wood just beyond Hex. A cruel and perverse man, he began conducting dark rituals in his fortress, the Castle of Blood Vale. One day while hunting in the forest he came across a fairy called Robin Red Cap, a hobgoblin of sorts. He decided to enslave Robin and captured him, binding him with spells. He forced the fairy to commit many dire deeds with him, including the torture and murder of travellers in the area. One day Robin helped his master kidnap a young woman, who turned out to be a witch. With the aid of this captive Robin Red Cap was able to break free of the Duke's spell. He exacted a terrible vengeance, killing the Duke and his retainers and painting the walls crimson. In this moment, the Castle of Blood Vale and surrounds were swallowed up into Faerie, departing from the mortal plane forever…
Yam yawned, shutting the book as their companions prepared to set out for Behemoth Bend – their first stop, Samuel Dweomerkamp's house.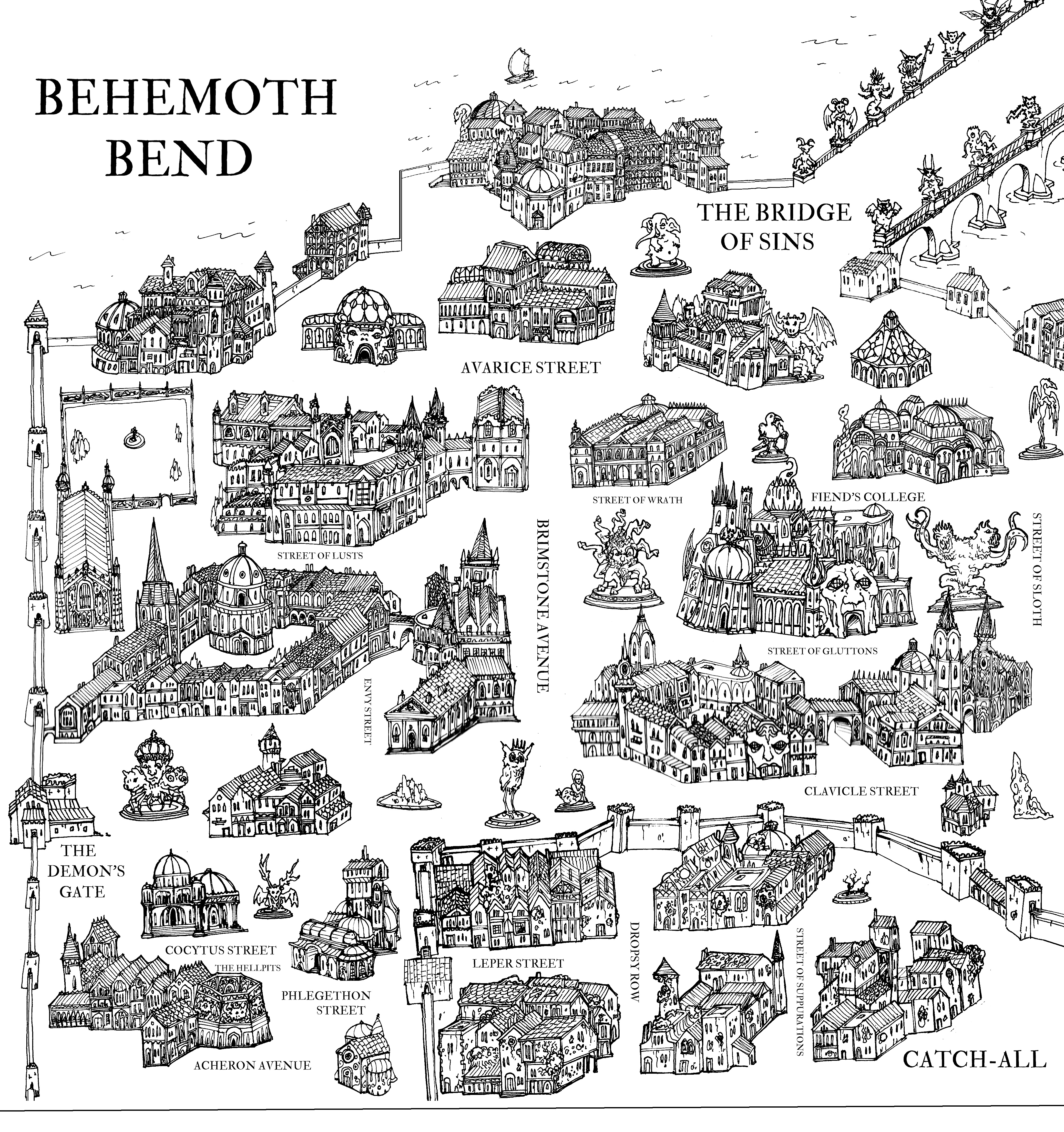 Behemoth Bend lies to the extreme west of Hex, where the Radula rushes into the city and towards the sea. Various Hellish languages are spoken commonly here, and as in Little Pandemonium cambions are commonplace.
The adventurers headed to Envy Street, to the address provided by Vittoria for Samuel Dweomerkamp. An ornate district of spires, domes, and demonic statues, the Bend was filled with scholars and students hastening to and fro between the various dormitories, lecture-halls, quadrangles, and libraries of Fiend's College, whose baroque campus sprawled through much of the district. Envy Street was mostly residential, with a series of beautiful if sometimes grotesque townhouses. Dweomerkamp's townhouse was one of several ostentatious, narrow homes here that formed part of the extended Fiend's College campus. The door was of black wood carved with geotic sigils, with a leering demon's head for a knocker. After convincing the magical knocker of their good intentions, they were admitted to the house and instructed that Samuel was on the third floor.
The foyer of the house was long and narrow, the floor covered in dark stone tiles, each moulded to look like a screaming face. At the far end of the foyer where a stair lead up to the next level, two figures stood stock-still – at first they might've been taken for statues, but a moment's further inspection revealed them as beautifully embalmed corpses. They wore leather doublets and hose and carried elaborate polearms, but did not stir as the party moved upstars.
Vespidae used the opportunity to have a look around while the rest of the party hurried upstairs to speak with Professor Dweomerkamp. She looked in on a small study bathed in a ghastly crimson light, shed by the single window at its far wall. The window – framed with black wood carved with glowing red glyphs – did not show a view of Hex, but of some other land. There was no sky, only a vast darkness from which drooled terrible stalactites like monstrous teeth, and below coil a series of fiery rivers. Ruinous cities of incomprehensible size rose from a landscape of ash and obsidian. Distantly she could see huge shapes moving over the tortured wasteland, and winged shapes flitting through the air. There were things like huge worms and trembling forests that writhed like beasts in pain and hungry pits like gaping mouths and other horrors innumerable. Flying briefly outside from a terrace on the second floor, Vespidae confirmed that this window seemed perfectly normal from the outside of the building. The waspkin also briefly investigated a conjury on the third floor. A series of glyphs had been carefully carved into the floorboards of this windowless garret chamber. Standing within the circle, illuminated by a series of flickering black candles, was a spindly creature covered in tiny barbs and spines, which hissed angrily from within its prison. A second circle, smaller, was inscribed near the floor. Cautious amongst such wonders, Vespidae decided not to touch or interfere with them.
Meanwhile, the waspkin's companions had found Professor Dweomerkamp in his laboratory. On a slab in this chamber, horrifically vivisected, lay an imp, its wings and limbs pinned. Paralyzed by magic, its innards still pulsated with life. An array of tools – scalpels, bonesaws, and other instruments – were evident on a tray to one side of the slab. Shelves on the walls were filled with jars in which were suspended demoniac body parts ranging from severed heads to individual organs, many with no humanoid cognates. While Yam pulled grotsque faces at the heads, the rest of the party conversed with Samuel Dweomerkamp, a plump, pallid man with a bald head and a short, well-trimmed goatee.
When pressed about details or oddities from the night, he confessed that he "seemed to remember someone staring daggers at Vittoria all night… a blonde woman, wearing a red flower in her hair," who he  saw "skulking up the stairs, just as I was leaving."
The conversation veered towards the political, a subject which the demonologist warmed to with pleasure. "Oh, don't start with this 'demon's rights' nonsense that the fools bandy about in the street!" he chided, when it was pointed out that his views clashed with those of Ms. Wolfsheart. "Do you know what a demon is? It is a manifestation of pure will, stripped of all empathy, all compassion, all guilt. A demon doesn't understand concepts like pity or mercy. It has no use for such things. It is a being of lust and passion and power, ruled by its drives, its whims, unfettered by the crude niceties that lesser minds call 'good' and 'evil.' The demon lives only to dominate and to inflict its will on those beneath it. When we dominate a demon in turn, we do only what it wishes it could do to us. And do you realize what can be done with the powers a demon possesses? Great and terrible things, things at which even the Librarians might have shirked. We can use them, use them to build a better world. Do they suffer under us? Yes, but no more than they do under one another – indeed, probably a good deal less. Hell is an unending war of demon against demon, in which the strong subjugate the weak, using them to gratify their desires as they please. We at least need not misuse demonkind unnecessarily. What suffering we do impose is a concomitant, not an end in itself."
Professor Dweomerkamp also described a game of "illusions" played at the party in which spellcasters attempted to conjure the most inventive creatures. Yam attempted to demonstrate their own skills and produced a fearsome undead dragon-horror. The imp on the table promptly expired from fright at the sight of the monstrous thing, to Samuel's intense irritation.
Despite this setback, the investigators were able to coax Samuel into confessing that he enjoyed Vittoria's plays more than his blistering critiques might suggest and that he considered her a powerful playwright, albeit a misguided one. "I merely believe she is far too political in her writing, and, wittingly or no, endorses the contemptible morality of the herd, of the slave or chattel," he insisted. "Her heroes are all adolescent archetypes who do not truly understand power, but wield it for such empty causes. But her grasp of image and spectacle… her evocation of atmosphere, her beautiful speeches… I have often been struck by the sublime power of her work. I am merely disappointed by the supposed ethics that seems to run beneath the gorgeous surface she creates. I hope that by making her aware of the inanity of herd-morality and of the comparative righteousness of the will-to-power I improve her plays."
Still suspicious, Sister utilized a charm spell to see if she could learn anything further. So influenced Dweomerkamp added that he'd also seen another peculiarity: "An older fellow, white of hair. He walked with a cane, I remember, but seemed quite sprightly. He seemed incredibly ill-mannered – if I recall correctly, he didn't even take off his hat! I spoke to him briefly, and he seemed amiable enough, but he made a number of unwholesome jests betraying a rather crude sense of humour, so I made an excuse and extricated myself. I think he was still there when I left."
Convinced that Samuel Dweomerkamp was probably not the most likely suspect (and also that he was terribly creepy…) the party next headed to Mooncross to speak to Magdalena.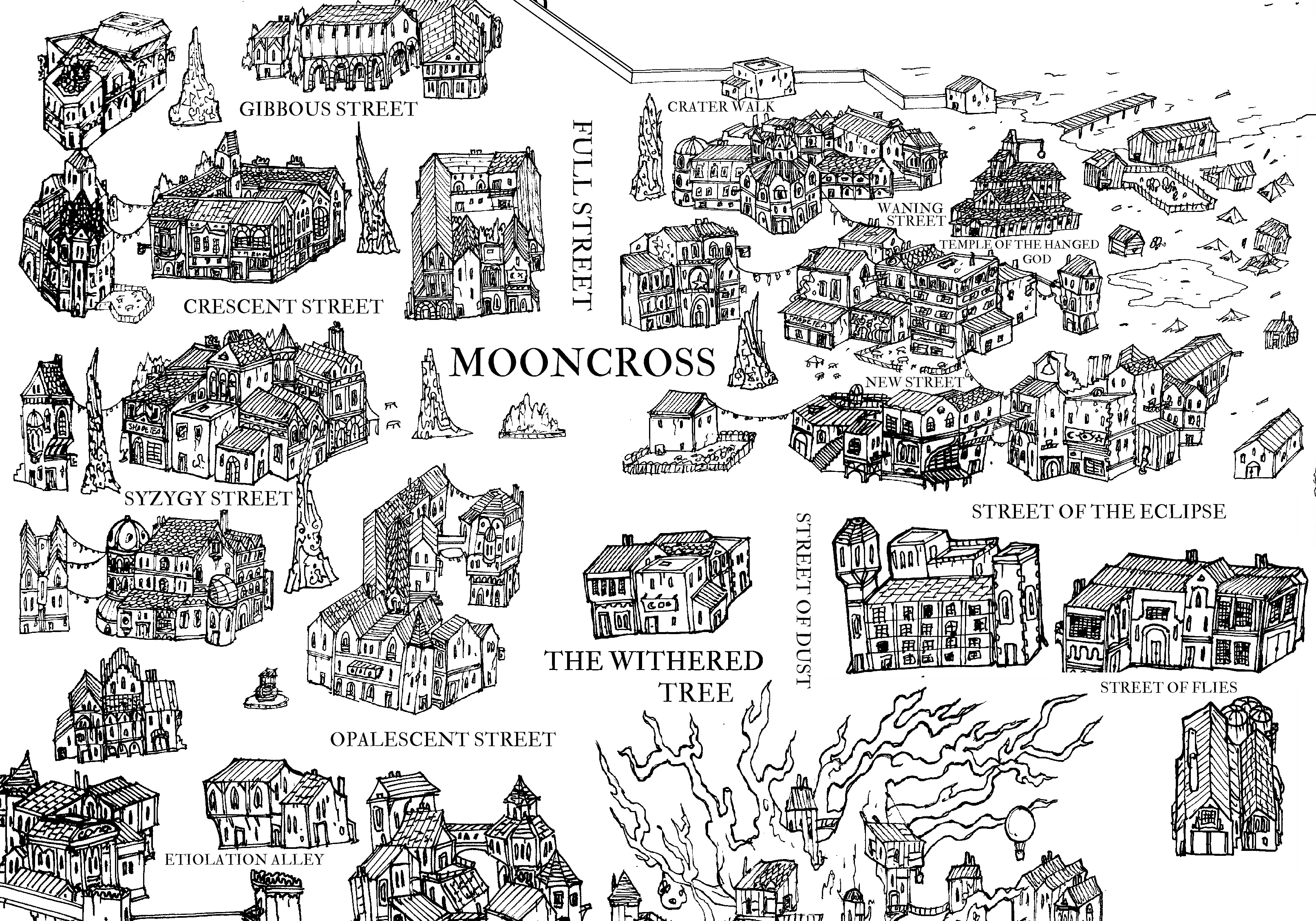 The district of Mooncross has none of Behemoth Bend's affluence or baroque grandeur. A shabby neighbourhood on the waterfront only a stonesthrow from the shanty of Trollhome at the south end of Goatsbridge, Mooncross is a place for dreamers, artists, and freethinkers, those who reject the orthodox academic institutions of Hex. Witches, sorcerers, poets, scribblers, and conspiracy theorists live here, hanging crude charms from strings and babbling about unlikely apocalypses. For all its shabbiness, however, the district is full of life and laughter, with colourful coffeehouses and taverns where its inhabitants while away many an hour. The buildings are rickety and overgrown with vines and mosses that some of the inhabitants seem to be actively encouraging to grow. Rooftop mushroom-gardens are common, as are rings of chanting people and street musicians of varying quality.
After stowing the "cosmic sheep" (which hitherto had been accompanying them on a leash) at Yam's apartment in this distrcit, the party headed down Gibbous Street, a quieter part of the district where a rougher sort lurked – off-duty labourers smoking and occasionally catcalling passersby, to the disgust of the locals. Just down the street was the drawbridge to Nullworth, Hex's antimagic island where wizardly prisoners are incarcerated. They eventually turned down Full Street, which ran from the river to the Withered Tree of Suckletown. It was mostly lined with residences, the most notable of which was a large, fenced off place with a massive garden that seemed to be some kind of all-female commune, judging from the numerous women visible tending to the plants with tools and spells.
Magdalena's studio, they discovered, was located on the top floor of a large, tottering building connected to a host of other structures with a narrow bridge. Two small clay statuettes guarded the door; these had been animated and endowed with sentience.
"Who's there then?" one statuette, a squat, pot-bellied goblin-like creature demanded, squinting up at those on the doorstep.
"What'd you want with Magdalena?" the other put in, this one a serpent with the face of a beautiful woman.
The investigators explained their purpose and the guardians grudgingly allowed them entrance. Inside they found a large space filled with marble dust, windows letting in shafts of light that made the tiny fragments of rock glitter. Save for a small sleeping nook and bathroom the entire apartment was taken up by the studio, which was filled with statues both half-finished and complete – though telling the difference could be difficult, since the statues were nightmarish, misshapen things. Some were recognizable beasts, such as sphinxes and wyverns, but others were bizarre hybrids of machine, animal, human, and otherwise, all curves and angles that made the eyes water. Though not without a certain alien beauty, the statues were also highly disturbing. Those few spots not taken up with statues wee filled by potted plants, mostly colourful flowers whose blooms perfumed the air with a heady miasma of pollen. Amidst the statues, working on a particularly strange amalgam of clock, cockatrice, and cockroach, was a blond, statuesque woman with a flower in her hair. She worked at times with a hammer and chisel, and at others with incantations, speaking to the stone and shaping it to her direction with arcane force.
Their interrogation of Magdalena was somewhat brisker. Confronting her with evidence of her presence in the shrine, Magdalena admitted having entered it to admire her own handiwork once again – the idol in the attic was her sculpture. Yam, meanwhile, curled up atop a kind of spider-bear statue, which proved to be animated and chuckled as Yam's climbing fingers tickled it.
""Oh, yes. I went to the shrine – but not to steal the play!" she said "I didn't even know Vittoria was keeping it in there, and I didn't see it while I was in there. I just needed to get away, recover my wits a bit. I knew Vittoria kept a shrine on the fourth floor – I sculpted the idol she keeps there, as it happens – and I thought it'd be a good place to catch my breath. That cad Fouchard had been bothering me all night."
She also noted that she had noticed something off in the shrine. "There was something on the floor – still wet – that looked an awful lot like blood. I thought maybe Vittoria had been performing some new kind of sacrifice. She's always been much more into that whole religious inspiration thing than I've been. Don't get me wrong, people can believe what they want, but I've never been much for ritual…"
When asked about the presence of a mysterious figure who would not remove his hat, or who walked with a cane, she noted that she did remember "a thin man with a red hat he didn't take off."
Vespidae was so impressed with Magdalena's work that she commisioned her to sculpt a statue of herself.
At this point, the party was developing a working theory – that perhaps the thief was not on the guest list at all but might have been Robin Redcap himself, or some simulacrum of him created through the ritual of the Queen in Yellow. Yam declared this line of thinking "incredibly obvious."
Armand decided to pay a visit to the diviners of the Isle of Entrails to see if he could procure a spell to track down whoever's blood was spilled on the attic floor. Meanwhile, the rest of the party decided to pay the third suspect, Edwin Fouchard, a brief visit at his home in Goatsbridge, reasoning that a hung-over Fouchard might not be at rehearsals yet.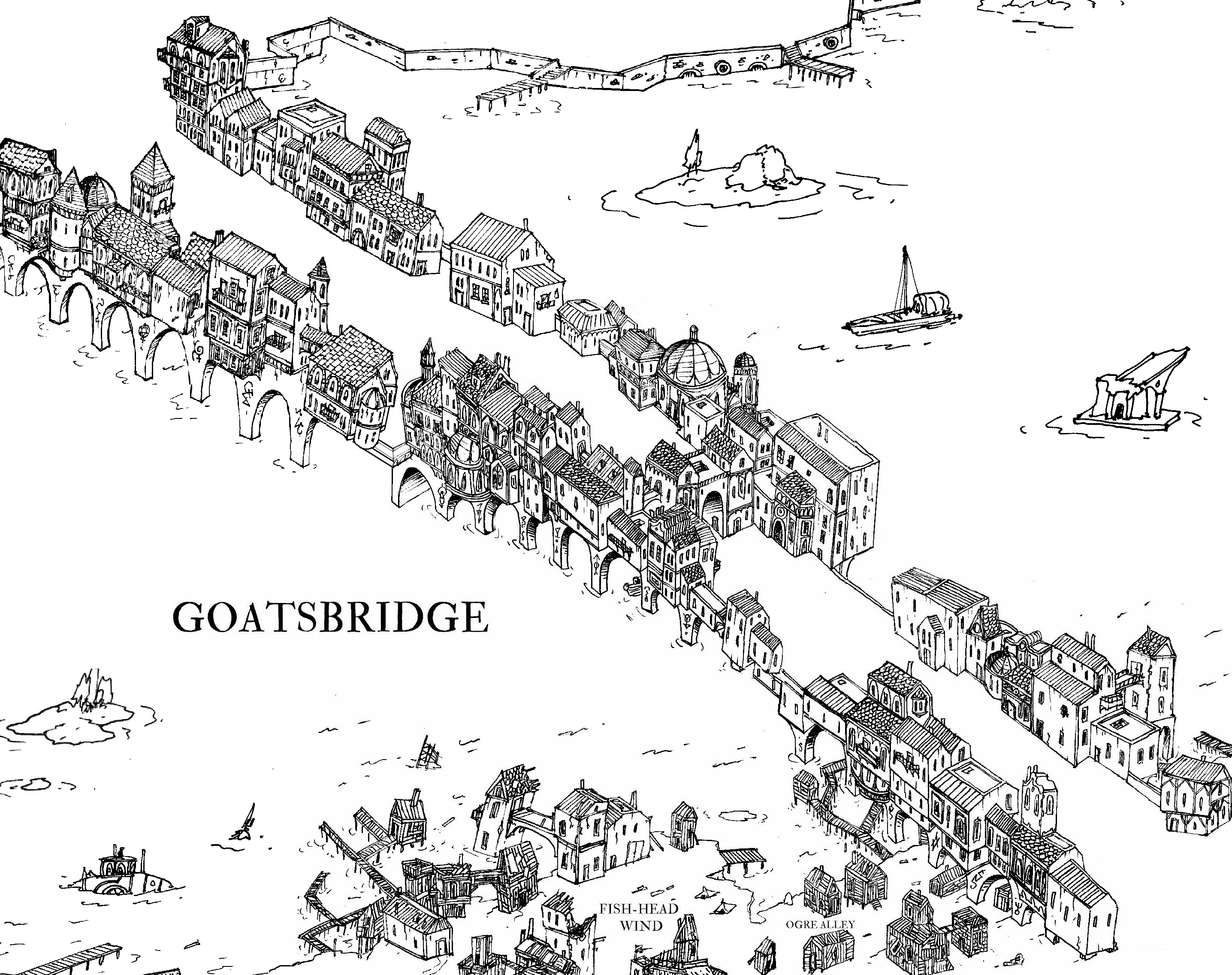 Goatsbridge is easily the longest bridge in Hex, and a district in its own right, along with the ugly riverside neighbourhood of Trollhome that clings like a parasite to its southern underside. A long span of ancient, glyph-graven stone, the vast bridge is encrusted with buildings along either side so that the Radula River is often barely visible. Towards the south end the buildings are run-down and crumbling, the haunt of trollbloods and ruffians; towards the north end they are more ostentatious and in better repair. Most towards the north end are residential, though there is also a small shrine to the Magistra. Towards the south there are several shops and taverns, including a place called The Eel and Ettin, a shop called Grimir's Gris-Gris advertising shrunken heads and bone charms, and several shops selling freshly caught fish, mussels, and lampreys.
Edwin Fouchard's elegant home, painted in subdued lavender tones, rose on the western end of the bridge, next door to the church of the Magistra. The party found the playwright lounging about at home and bemoaning his excesses the night before. Fouchard denied having anything to do with the play's disappearance. When asked about the mysterious uninvited guest, he did recall some interesting details.
"Yes, that peculiar chap… he wasn't an actor or a writer I knew, but there was something flamboyant about him, theatrical. He had magnificent silver hair and carried a cane, and wore this absurd hat. He was more like a character in a play than an actor. Anyway, I remember he was speaking to some of the guests, and it was as if Vittoria couldn't even see him! She nearly walked right through him…"
At this point, the party felt confirmed in their suspicions. As Armand returned with the spell from the Isle of Entrails, Vespidae suggested that they cross town to the Feypark, where the boundary between the mortal world and Faerie grows thin. If the real Robin Redcap did pay Vittoria a visit, he almost certainly would have entered through the park.
The edges of the Feypark were relatively manicured, with fountains, statues, and well-kept gardens. Neat little paths wound through the park, past benches and rows of blooming flowers. But a little ways into the park, things became considerably wilder. The trees became shaggy and brooding, mushrooms and moss replace the carefully planted plots, and the paths became crazed and zigzagging, leading into dense arboreal darkness.
The innermost parts of the park were so wild and overgrown they were more like a forest than a park at all. Densely clustered trees seemed to whisper to one another, confiding ancient and unfathomable secrets. The air smelled of rich loam, grass, and mushrooms.
"The trees can talk here," Vespidae noted. "Perhaps we should find one?"
"Very well," Sprigley answered, and setting off, rapped soundly on the trunk of an oak tree looking suitably ancient.
"Are you friends of that ghastly fellow in the hat?" the tree demanded. "The litterer?"
The tree will informed the party that a silver-haired fellow with a cane was strolling through the wood in a kind of fury. He stopped and scribbled something on a piece of paper "using my trunk as a writing surface! What cheek!" The tree said that this individual then seemed to head deeper into the park, "but not before littering!" and stabbed a branch towards what the party discovered to be a piece of stray parchment. This proved to be the first page of Vittoria's play.
At this time, the party discovered someone else, out for a stroll in the Feypark: Angus Loamson, the eccentric sixth and most recently appointed member of the Hexad Council, the ruling council of the city. Rumoured to be a vagrant who lived in the Feypark for many years, Angus was swept into office by a powerful voting block of Druids, Fungoids, and Homunculi – while many stayed suspiciously home, suddenly drowsy. Rumours have dogged the environmentalist ever since.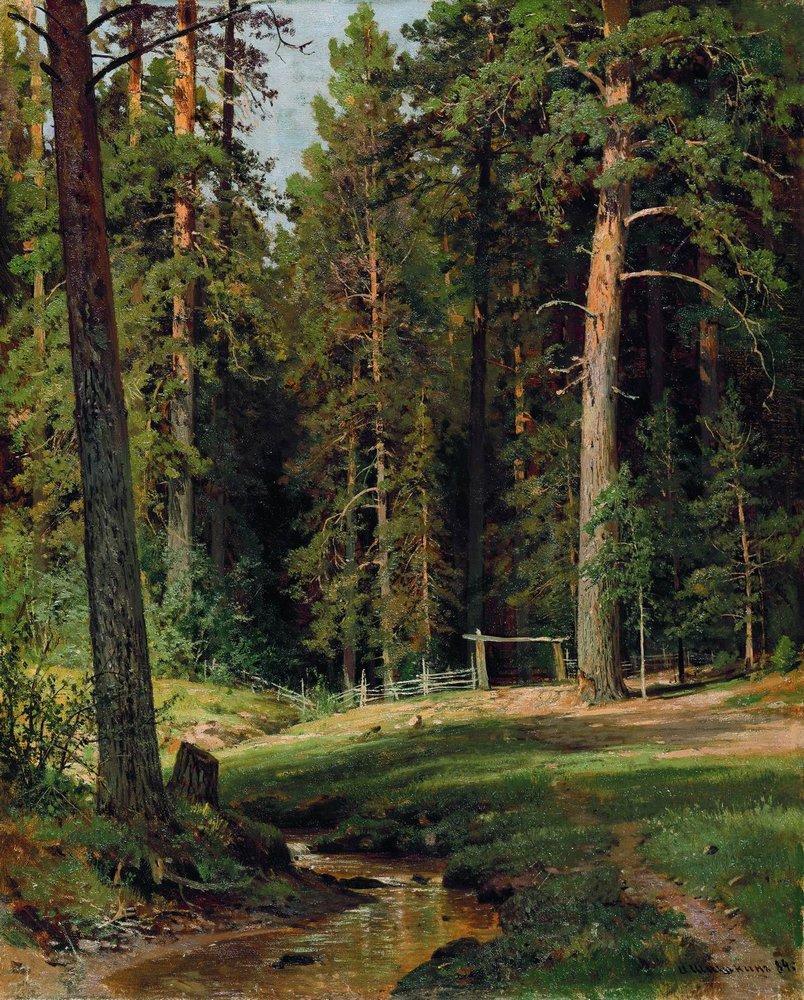 Approaching the Councillor, the party requested the aged, bushy-bearded Druid cast the scroll that Armand had procured from the Isle of Entrails, the better to track Robin Redcap. Enraged that someone had defaced his precious Feypark, Angus agreed. Using blood scraped from the floorboards as a focus he cast the spell, revealing a glimmering path through the woods. The party, thanking the Councillor, pressed on into the woods, now following the arcane pathway.
The path led first to a huge tree, gnarled and twisted. The tree had borne fruit – huge, juicy, succulent-looking plums with dark crimson flesh. The fruit were enticingly swollen, and exuded a delicious scent.
"Hmm. Danger-plums," Yam mused, thoughtfully plucking several of the mysterious fruit. Several otehr party members did the same, though none dared taste of the likely Faerie fruit.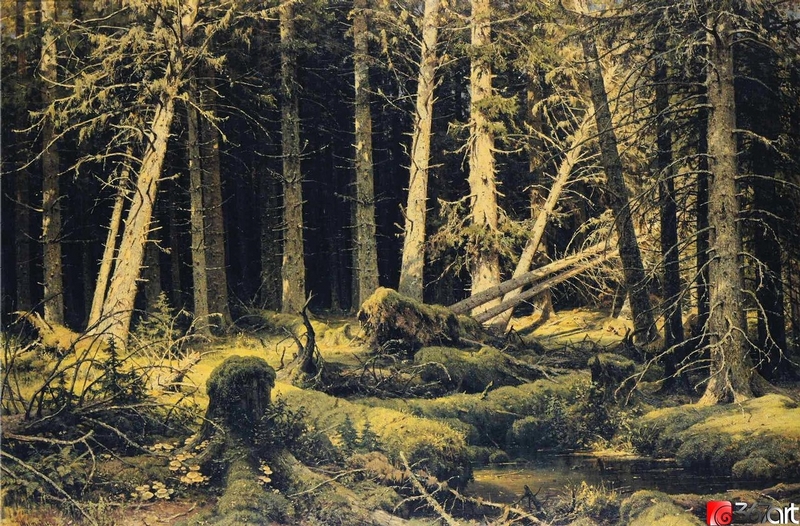 Pressing on deeper into the wood, the group next came to a wall of brambles, their thorns glistening with dark liquid. The nettles occasionally rustled and twitched, as if possessed of a strange animacy. Armand froze several with a ray of frost, but this only withered a small number. Sister considered fire, but was reluctant lest the forest around spark. Yam, eyeing the brambles, yelped an incantation to produce a thunderwave. With a great sonic boom the force of the spell parted the wall of brambles, allowing those of small size, such as Yam and Vespidae, to pass through unharmed. The larger party-members were forced to walk sidelong, but squeezed through without being pricked – though Sprigley's clothes were snagged at one point.
As the adventurers passed through the brambles and left the darkness of the forest a wide realm bathed in strange starlight appeared before them – a land of brooding hills and soaring peaks and windswept moors. In the distant, cresting a dour crag overlooking the vale, was a black, ruinous keep. Even from here the party could see a distant light twinkle near the topmost floor.
"Oh. The castle from the story!" Sprigley said.
"Uh. Yeah," Yam said, rolling their eyes.
The group approached the castle with caution. It had been decimated by time overgrown husks of the kitchens, smithy, and other buildings mouldering within the crumbling remnants of the walls. The front doors of the keep were of dark wood.  Above, the keep itself rose: a dour stone edifice now covered in withered, black creepers, with narrow windows overlooking the courtyard below.  The windows were dark, peering at those below like a hundred beady eyes, save for one near the top of the keep.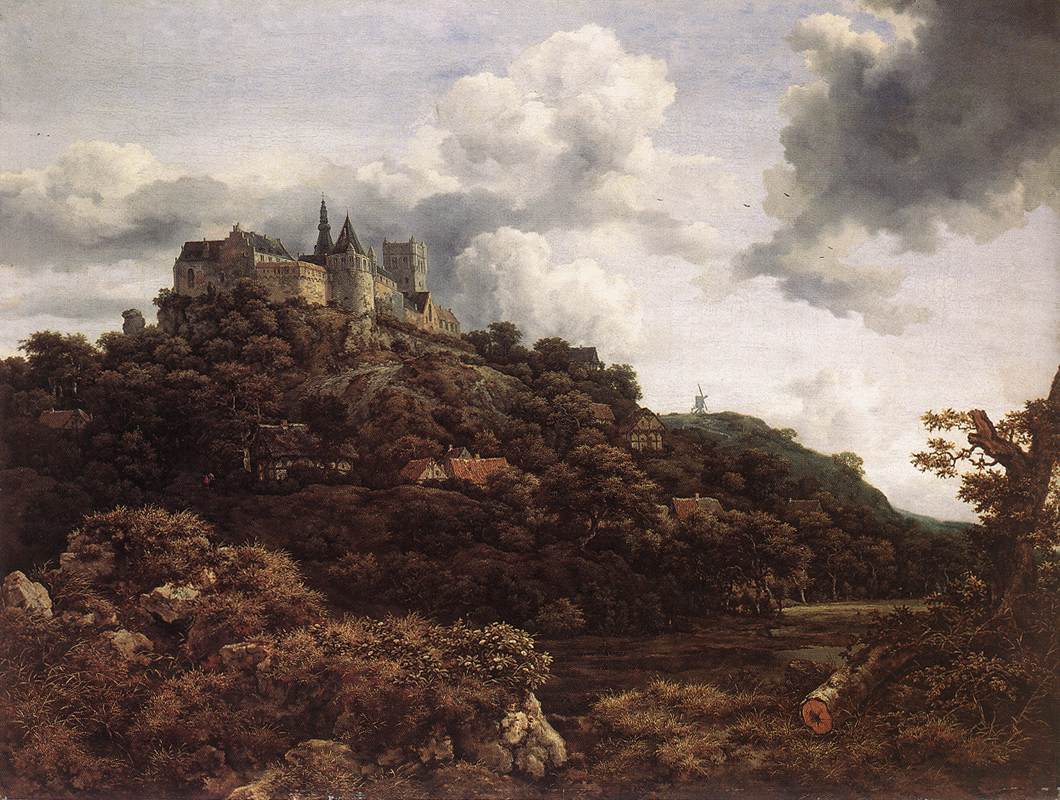 Entering the keep, the party discovered a dusty, foreboding hall, now mostly empty.  A few rats chewed on the mottled tatters of the tapestries which once hung in the hall, and on the shredded remains of the carpet covering the flagstone floor.  Iron shields bearing the symbol of a bloody fist rusted slowly on the walls, in-between a dozen stuffed wolf's heads whose fearsome visages glowered at those below. Lying on the ground, forlorn and solitary, was a single, surprisingly clean-looking page of parchment – another page from Vittoria's play.
Upon stepping into the hall, the adventurers were alarmed as the stuffed wolf-heads began snuffling and snorting, then raising their snouts in bloodcurdling howls. Thinking quickly, Sister conjured the sound of a thunderclap to drown out the wolf-howls, preventing the alarm from alerting those nearby. While the adventurers could hear movement in nearby chambers, they hastened through a nearby door and up a flight of stairs to the second level of the keep.
Next the party came across three child-sized skeletons dressed in tiny rags in a broad hall, two of them mock-dueling with a pair of ceremonial swords stolen from the suits of armour that stand to attention, while a third officiated.  The swords were far too big for the little skeletons to handle, and as a result the duel was a clumsy affair in which the participants frequently over-balanced and fell over, sometimes shattering into pieces before picking themselves back up.  A pair of impressive double doors stood slightly ajar beyond.
Sprigley approached the child-skeletons, who ceased their game and rushed forward, tottering beneath the weight of their swords.
"Who goes their?" one demanded in a voice somewhere between a child's squeal and the sound of a sour wind soughing through the bones of one long dead.
"Be you friend or foe?!" another demanded in a voice uncannily like a young boy's, though simultaneously redolent of a hideous death-rattle.
"Uh… friend?" Sprigley ventured.
"We don't believe you!" the child-skeletons yelped. "En garde!"
At this point, Yam stepped forward and began singing a nursery rhyme about the castle and Robin Redcap, gleaned from Tales of the Tangle. The child-skeletons, delighted at the sound of this bloody singsong, abandoned their swords and began dancing madly round, joining in on the abominable fairytale tune.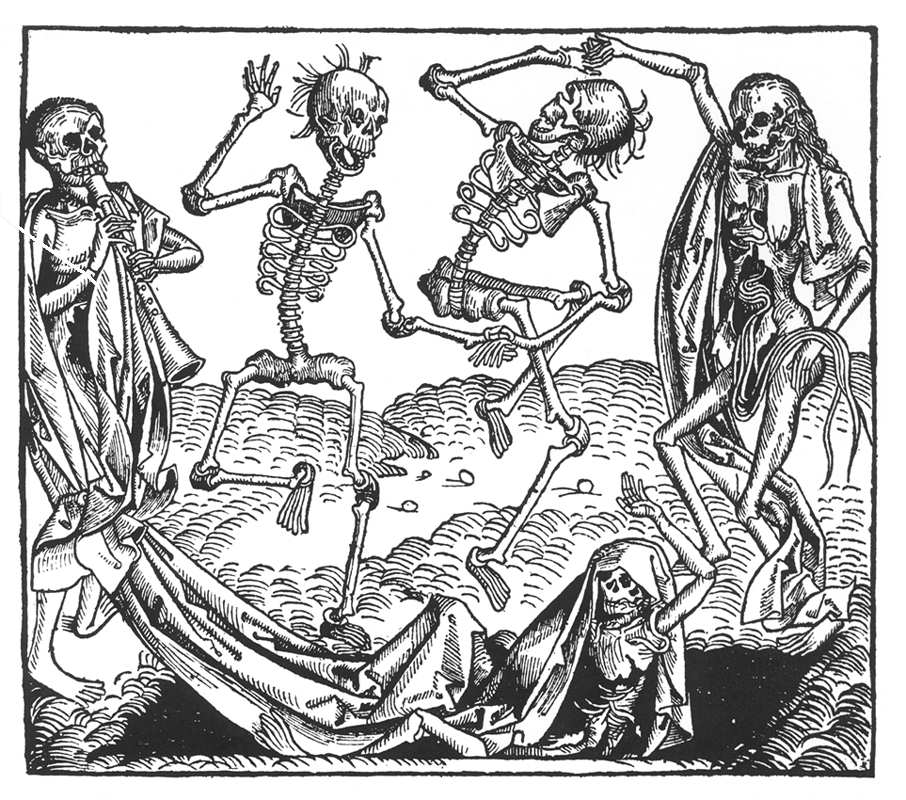 Meanwhile, Armand peaked in the next chamber. The remains of a gruesome feast were laid out on the huge banquet tables of the great hall beyond the door.  A slovenly mess of dirty plates, glasses, chalices, mouldy trenchers, and rusted cutlery, the dinner settings were rife with gruesome scraps culled from both animals and humanoids.  On one table, an entire human corpse – trussed and served on a platter – was being feasted upon. Twelve skeletons were seated at this table tearing at the entrails of the corpse, stuffing their bony mouths with handfuls of bloody intestines, which then passed into their empty ribcages to plop disgustingly to the floor, slick with masticated gore. On the table with the macabre feast, brimming with blood, was a beautiful cup of silver set with shimmering gemstones which seemed to change from ruby to emerald to sapphire when no one was looking. Encircling the room about twenty feet above were galleries where troubadours or other performers might once have played.
Spotting another page of the play on the floor, Armand stealthily picked it up, then hastily snuck back to the party, undetected by the macabre feasters within.
Continuing their exploration the party continued collecting pages and hurried up towards the top floor, eager to leave Faerie as quickly as possible. Climbing another stair they came to an antechamber spattered with old bloodstains; the once-rich rug on the floor had been thoroughly saturated with blood and was now a mouldering, half-rotten mess. A page of the play lay upon it.
Armand snatched up the page, and the rug sprang forward, suddenly animate and attempting to envelop him, but Armand staggered back. Sprigley lept to the fore and discharged his pistol into the carpet, blowing a hole in it. The murderous rug wrapped itself round the warrior, but he wrestled it off. Yam conjured an acid splash, eating away at the rug, while Sister hefted her mace, whacking the rug as if cleaning it. Dust flew and the rug was beaten back as if "winded," pressing itself pitifully against the wall and doing its best to pretend to be a tapestry. Savagely the Lengian cleric beat it again, bashing it to inert tatters.
Continuing on, the party came to a chamber where a hunchbacked skeleton with a twisted spine amused itself by whittling human bones .  The ugly results of its previous labours wee strewn across a round table at the room's center. The ugly bone statuettes depicted beasts, goblins, barghests, trolls, and other creatures.  Among the crude statuettes whittled by the skeleton was a statuette of an Angel of Death, complete with bony wings and a horrific grin upon a gaunt, near-fleshless visage. Shuddering, the party began to creep past.
"Hey, what are you lot doing here?" the skeleton demanded, looking up from its work.
"Don't worry about it," Yam said. "We're guests of Robin…"
The twisted old skeleton turned back to its work with a grumble.
Following the trail of parchment, the party at last traced the thief to his lair. Judging from the huge four-posted bed, private hearth, decorative woodwork, and rich carpets, the party had come to the keep's solar, the bedroom and living quarters of the its lord.  Heraldic wall hangings of the a bloody fist and tapestries depicting ancient battles hung on the walls.  Though the room would once have been luxurious, now the place was a tattered mess.  The wall-hangings and furniture was broken, the curtains have been torn down, blood spattered the walls and carpet, and gnawed, bloody bones were strewn everywhere.
Seated in a chair by the crackling fire sat a gaunt, spindly-limbed creature dressed all in crimson garments, including an impressive red hat that glistened strangely. An iron cane lay nearby, and his feet were shod in iron. He was scribbling madly on a piece of paper with a quill pen, then tossing the pages aside. They were strewn across the floor haphazardly.
"Uh, Robin Redcap?" Sprigley asked tentatively.
The fairy seemed distracted.
"She's got half the facts wrong, did you know?" he ranted. "I mean, for example, she makes me out as some namby-pamby innocent little sprite who turned to evil after my misuse by that fool Duke Gothmord. If anything it was the opposite. The poor Duke wasn't anywhere near as bloodthirsty as he became under my tutelage. Yes, he bound me as his servant, but only as punishment for torturing a few of his peasants to death. He only acquired his reputation later, once I had shown him the error of his ways, so to speak."
He grinned. Led by the eloquent and charismatic Armand, the party set about convincing the deranged fey to return the play.
"Perhaps if we promise Vittoria will look at your additions?" Armand offered, speaking carefully.
"Hmm. Perhaps, I suppose," Robin mused. "I had planned to have some of my own subjects perform it, but then again, skeletons make poor actors. They can never get the expressions right…"
"Well, just finish your revisions and then perhaps we can take them back…"
"I'll want a private box as well," the creature demanded. "To watch the play."
"You can use ours."
At this point, it seemed almost as if an agreement could be made, but then Vespidae spoke.
"You live here?" she asked. "This is your home?"
"Yes…" Robin said, eyes narrowing.
"But, it's all bloody and dirty…" the waspkin said, pointing out the obvious.
"You dare insult my home?!" Robin Redcap demanded, standing up, his temper snapping in an instant. He began to grow and swell, towering now at seven or eight feet, now nine – becoming impossibly tall and spindly, like some grotesque arachnid. His beard, previously well-groomed, bristled and writhed from his chin, his eyes grew wild and bloodthrsity, and for the first time the party got a sense of his true age – he was impossibly old, wizened to the point of hideousness. Discarding the remaining pages of the play, he snatched up his iron cane, which was suddenly a huge, rusted pike. This he swing at Vespidae, but the waspkin dodged aside with a chitter of alarm.
Armand madly grabbed at the pages on the ground. Vespidae, panicking, conjured up the only thing she could think of – an illusion in the semblance of Duke Gothmord. Sister, also scrambling and unsure of what to do, used her powers to grant herself flashing, terrible eyes and assumed the demeanour of a Fairy Queen, declaring herself Titania and telling Robin Redcap to cease his attack. The mad fairy snarled, temporarily confused and distracted. He swiped at the illusion of Duke Gothmord, lashing out madly with a cry of "BEGONE SPIRIT!" but tripped on one of the remaining pages. His pike flew from his grasp. Sprigley, thinking quickly, seized the pike, jerking out of the way as Robin clawed the air with his overgrown nails.
"RUN!" Yam yelled before conjuring a cloud of fog, plunging the solar into murky confusion. Sister used a command spell, drawing on the power of her goddess to force the Redcap to retreat into the adjoining wardrobe-chamber in a flurry of twisted, overlong limbs.
The party stumbled out of the fog-drenched solar in a rush, clutching pages of the play, and slammed the door behind them before pelting helter-skelter back through the keep, ducking skeletal guards. They took one wrong turn and found themselves in an armoury, staying long enough for Sister to snatch a large, blood-stained axe before finding their way back outside. They could hear enraged shrieks and rapid footsteps in the castle as they hurried up the path and back into the woods.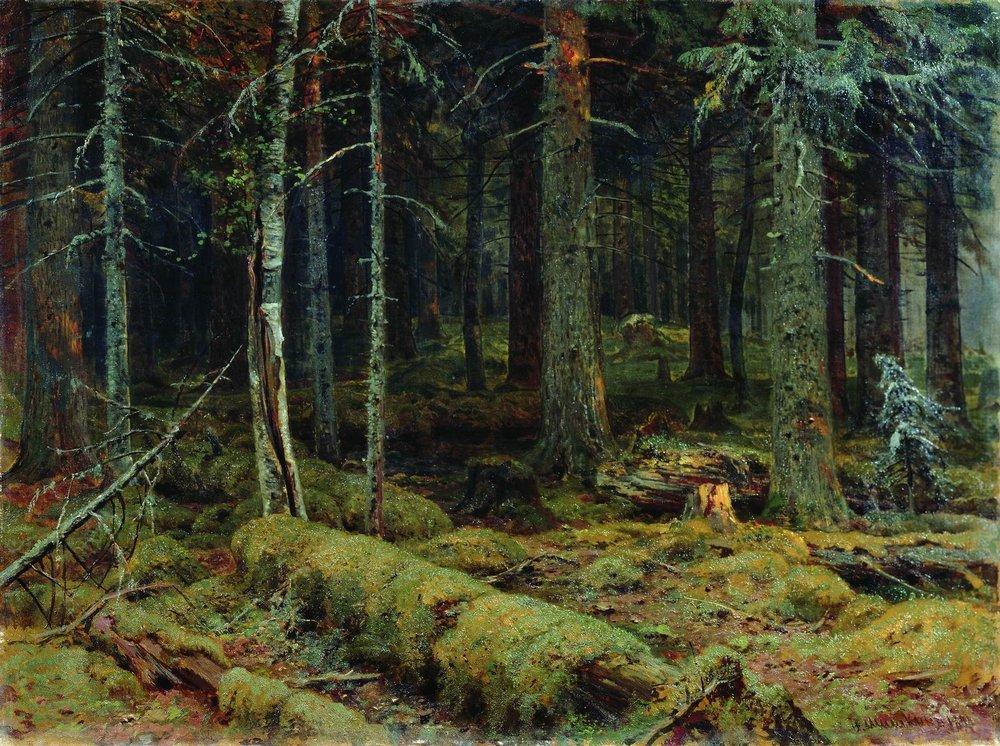 Once again the party had to squeeze through the gap Yam had created in the wall of thorns. Everyone made it through except for Sister, bringing up the rear, who was pricked by a single thorn. Instantly the Lengian was crippled by the poison, her veins turning black. She collapsed, spasming, and lapsed into unconsciousness. Sprigley leapt back to help her up, avoiding the thorns himself. As he helped the aged Spider-priestess up he caught sight of a figure moving towards them from the keep, its legs grown incredibly long so that it could cross the landscape in a few short strides. Eyes widening, he carried Sister through the thorns, where Armand provided her with a potion to heal her wounds. She regained consciounsess blearily and the party hurried onwards through the woods, Robin Redcap still in pursuit.
Hastening down the paths they at least emerged back in the Feypark of Hex. Night had fallen. Behind them, the shadowy paths that led to Faerie were black and still. Not wishing to tempt fate, they made their way south to Little Pandemonium and Vittoria Wolfsheart's townhouse, the play retrieved.