These character portraits were drawn by the talented Bronwyn McIvor (of Beemonster Illustration), who plays Wynflaeth.  This is the party I've been taking through the St. Severine's Skull Megadungeon.  They're currently on the second level of the Dungeons below the Keep in the Inner Bailey, way ahead of the material I've posted here (they've been through the Gatehouse, Chapel, Catacombs, Library, Archives, Black Tower, Laboratories, Cellars, and the 1st level of the Dungeons so far).  They're a pretty balanced party and have been playing well, with no deaths – they mostly consist of new players who don't have bad habits and so actually run away when things seem dire or too hot to handle.  They're getting close to the Skull but they're running very low on food and spells at the moment; at the end of the last session they locked themselves in a forgotten treasure vault in hopes of deterring the Goblin tribe inhabiting the Keep from feasting on their flesh.
Wynflaeth (Half-Elf Cleric) and Biff the War-Pony.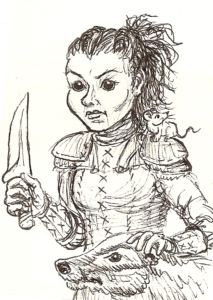 Simsa, Gnome Ranger – a possibly deranged xenophobe and nature-lover.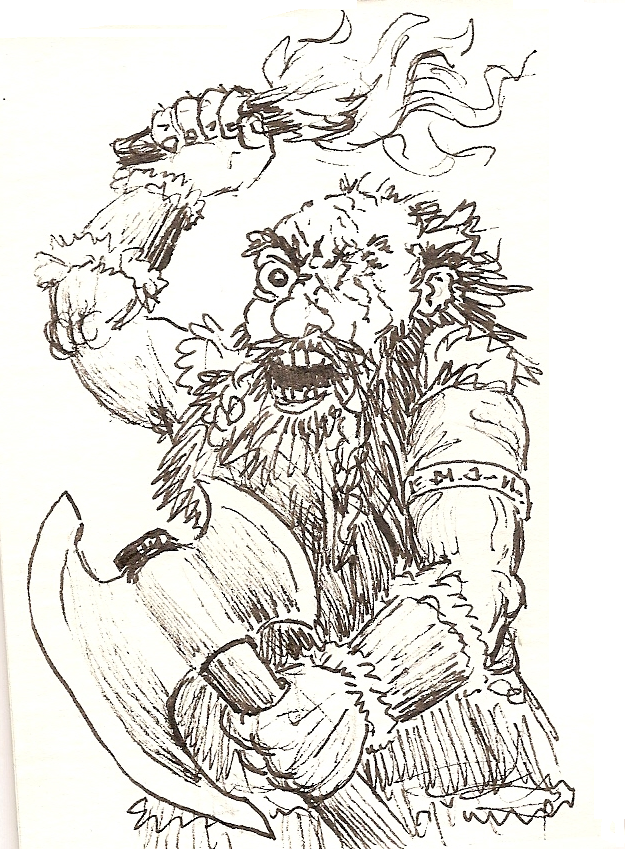 Tully, a definitely deranged fire-worshipping Dwarf Barbarian with a zeal for the destruction of Undead, preferably by cleansing flame.
Andro, an Aasimar Rogue in the service of the Church.