I recently made a bunch of wanted posters for my players as handouts – the law has finally caught up with them after a year and a half of hijinx in the City of Doors.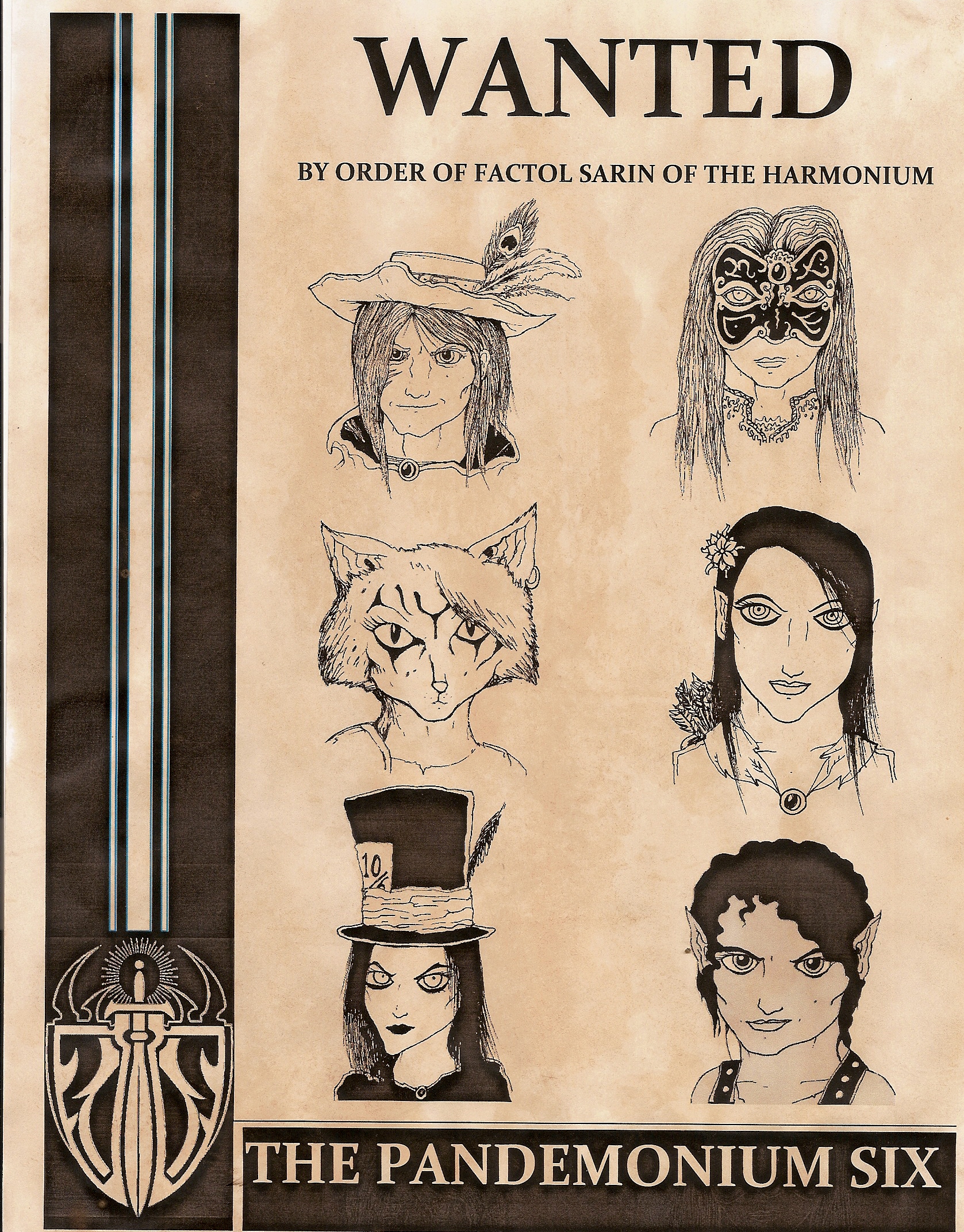 The original party met in the Howling Land of Pandemonium; due to their exploits the Sigilian authorities have dubbed them the "Pandemonium Six."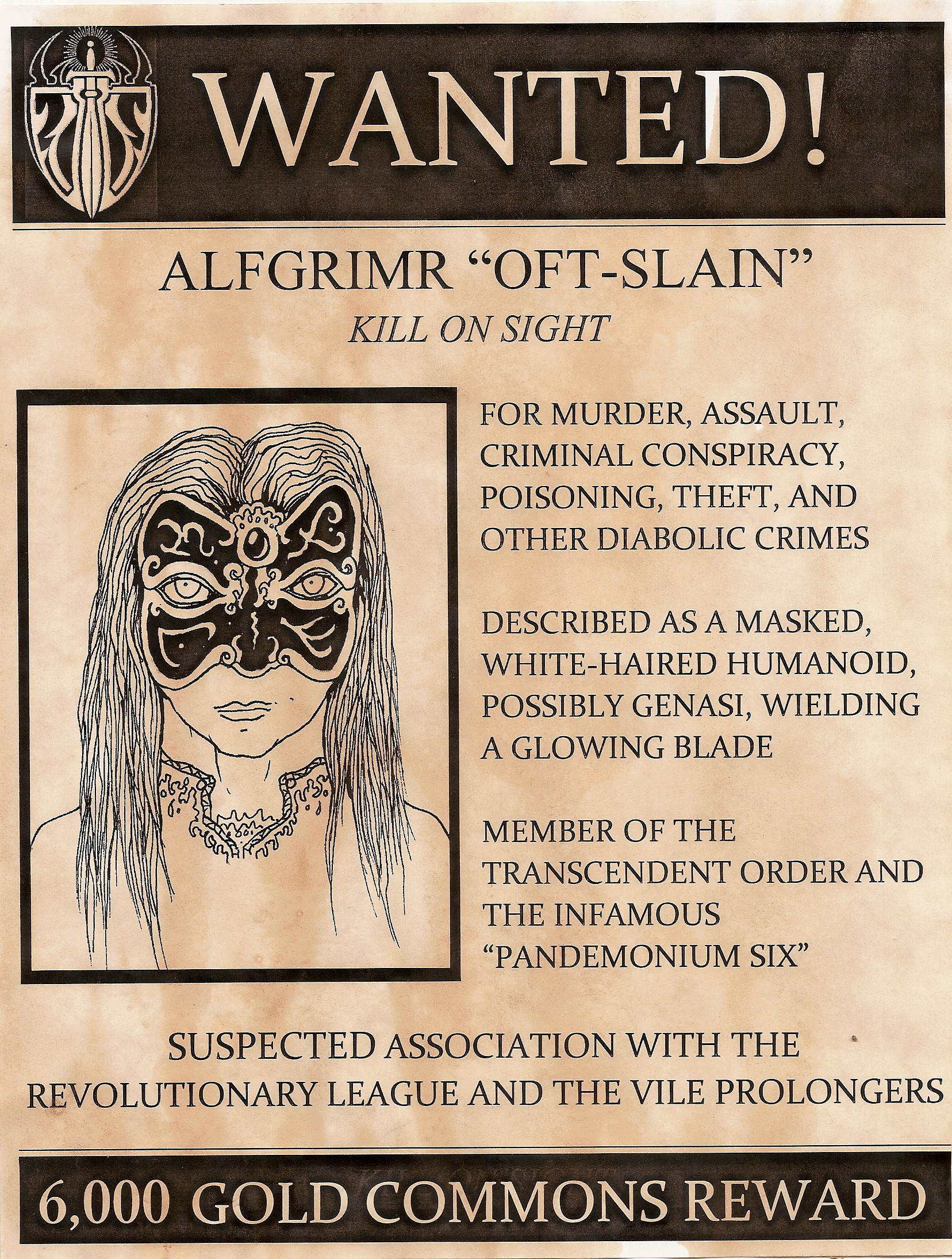 Alfgrimr was a character made by a Planescape veteran who, unfortunately, has now left the campaign (due to graduating from library school).  Alfgrimr was a very, very odd character – a water genasi Cipher of the Transcendent Order (which meant that if his player said he took an action, even in jest, he had to take that action), he was obsessed with achieving immortality and thus was always collecting odd bits and pieces along his journeys in the hope that they would extend his lifespan.  He was also crazily ruthless and disturbingly creative.  For a period another character possessed a Helm of Telepathy – which, at our table, is now represented by a paper crown worn by the player whose character is wearing the helm – and Alfgrimr's player would periodically pass the telepath unsettling notes, the "ambient thoughts" rolling around in Alfgrmir's twisted consciousness.  He also died a lot, and eventually became a proxy of the Norse god Baldr.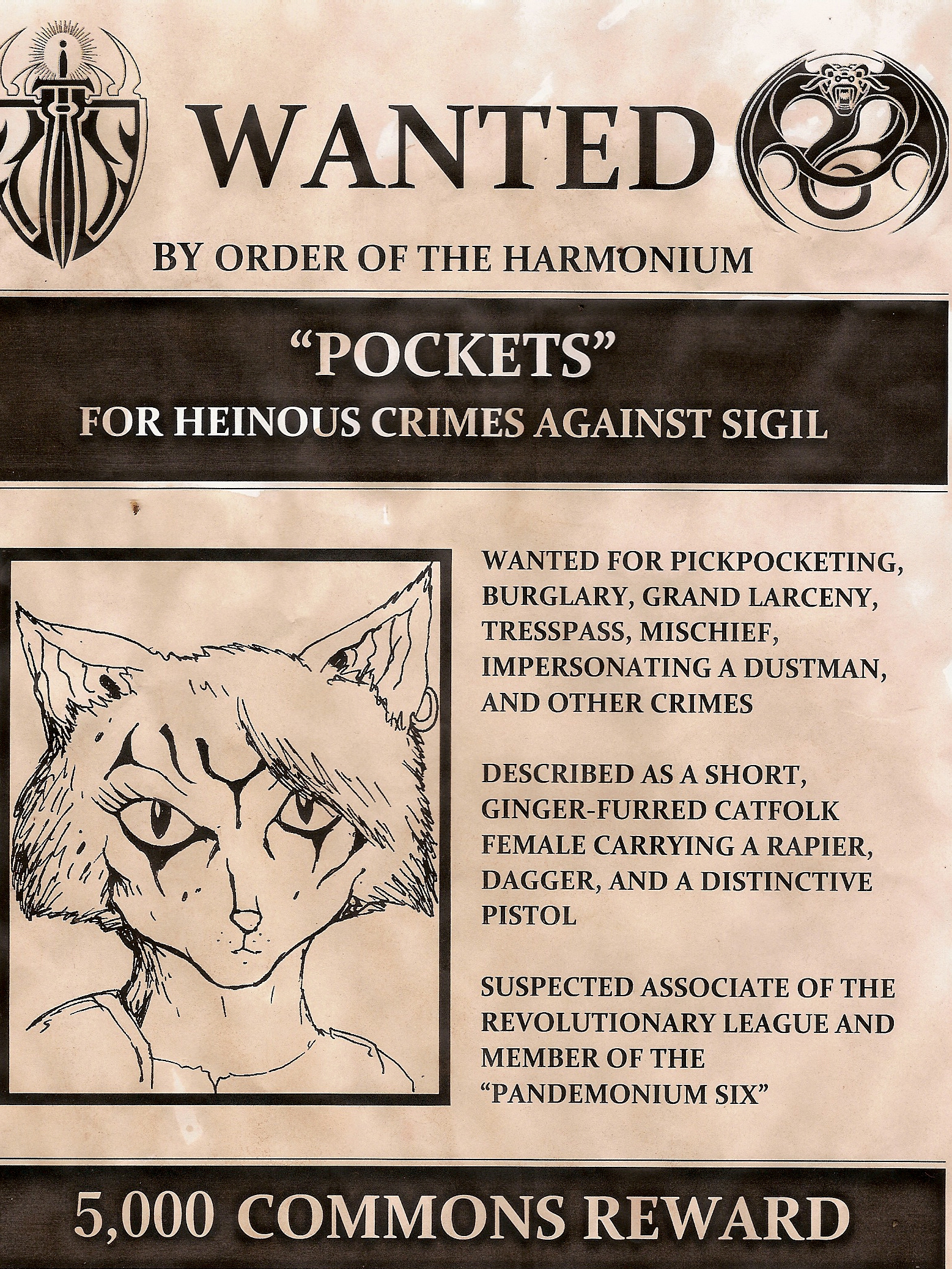 A catfolk Rogue and former street urchin, Pockets has a history that feels a bit like something out of a Dickens novel crossed with Selina Kyle and Garrett from the Thief series.  The abandoned daughter of the former Cat Lord of the Beastlands, "Kets" is a hardened, embittered seventeen-year old pickpocket turned upscale burglar who usually is about as jaded as they come.  She fights with a rapier and a winxy pistol, an ensorceled firearm she picked up in a Demiplane modeled on Lewis Carroll's Wonderland.  She's defiantly True Neutral.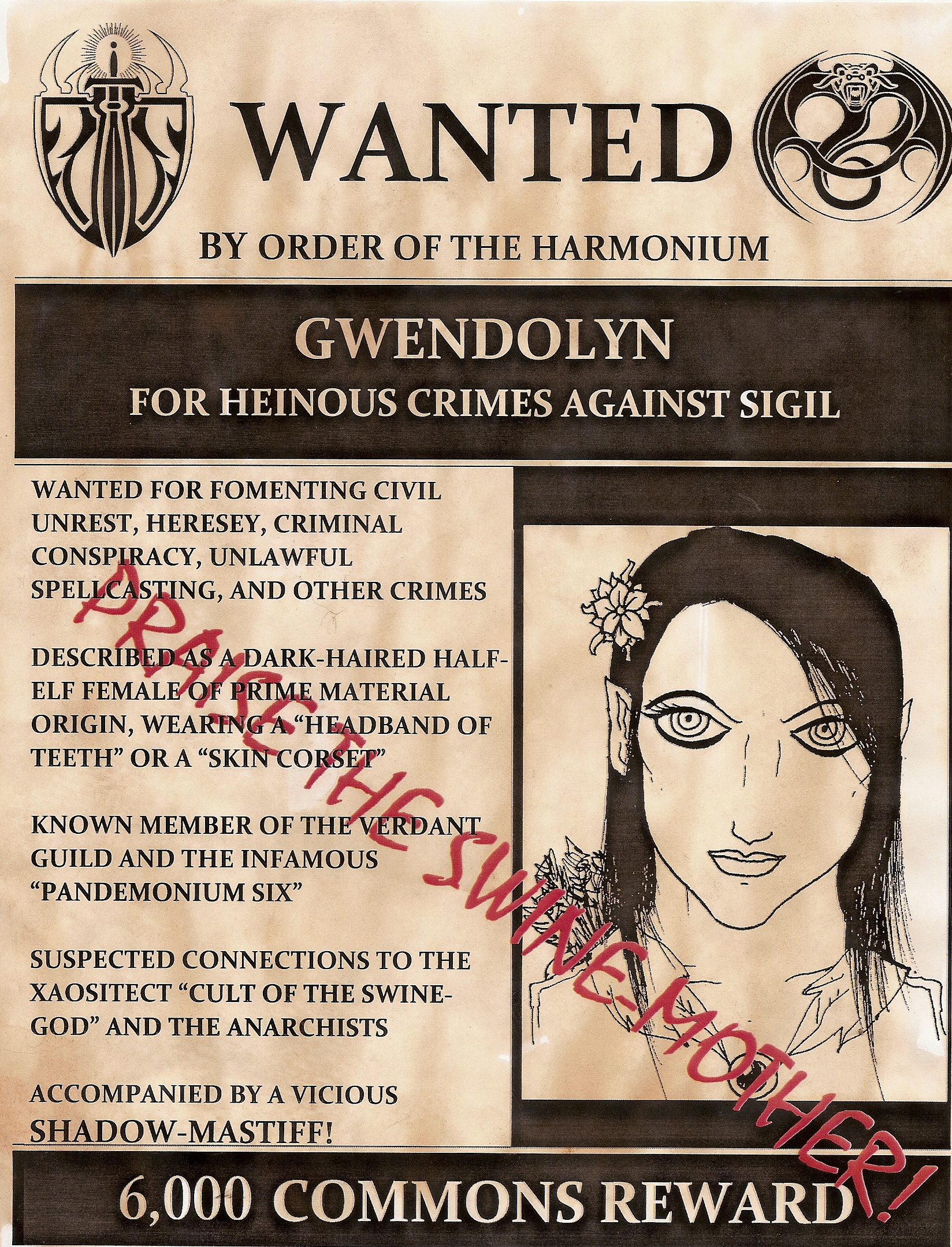 Gwendolyn is the animal-lover of the group and one of the two Good characters.  Along with Belric, below, she helped create a giant, green super-intelligent hog monster that grows bigger the more it eats and is now housed in an extradimensional warehouse in the Sigil's slums, hence her moniker "Swine-Mother," bestowed on her by a group of Xoasitects.  She's a half-elf Ranger/Druid and so serves as the party's main healer.  She often tends to spend a healthy portion of a given sessional wild-shaped into some sort of bird.  She's also slightly deranged from wearing a Helm of Telepathy for a bit too long.  Oh yeah, and she's wearing a symbiotic Corset now…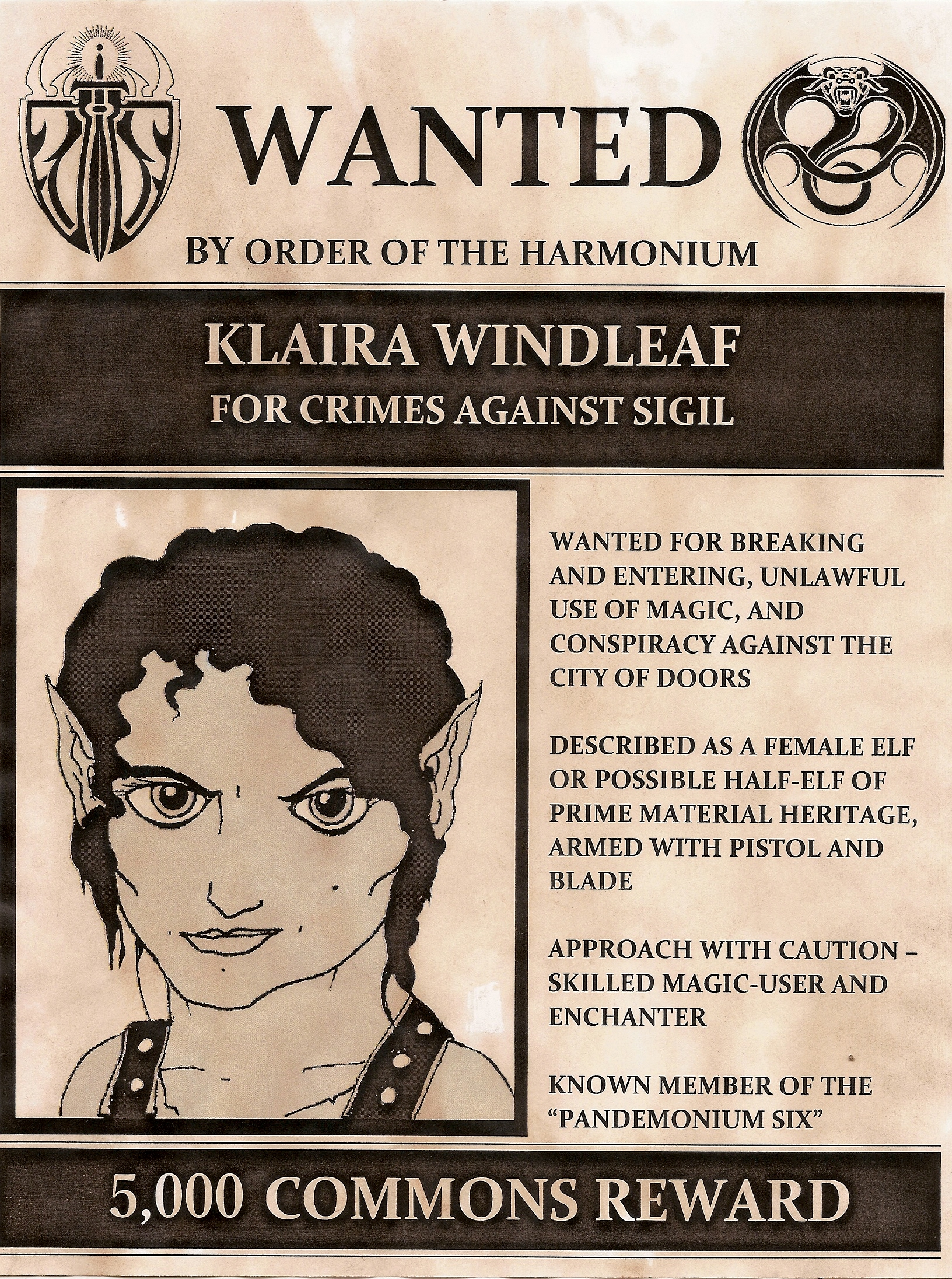 Klaira is the party's Bard/Gunslinger and the only other Good character, so she's forced into the role of "group conscience" pretty frequently.  She's also on the run from Unseelie bounty hunters who want to return her to a twisted fey aristocrat who previously kept her around as an enslaved storyteller, Scheherazade-style.  During the Savour of Madness adventure in Ravenloft she got grafted with a reptillian tail remeniscent of a chameleon's.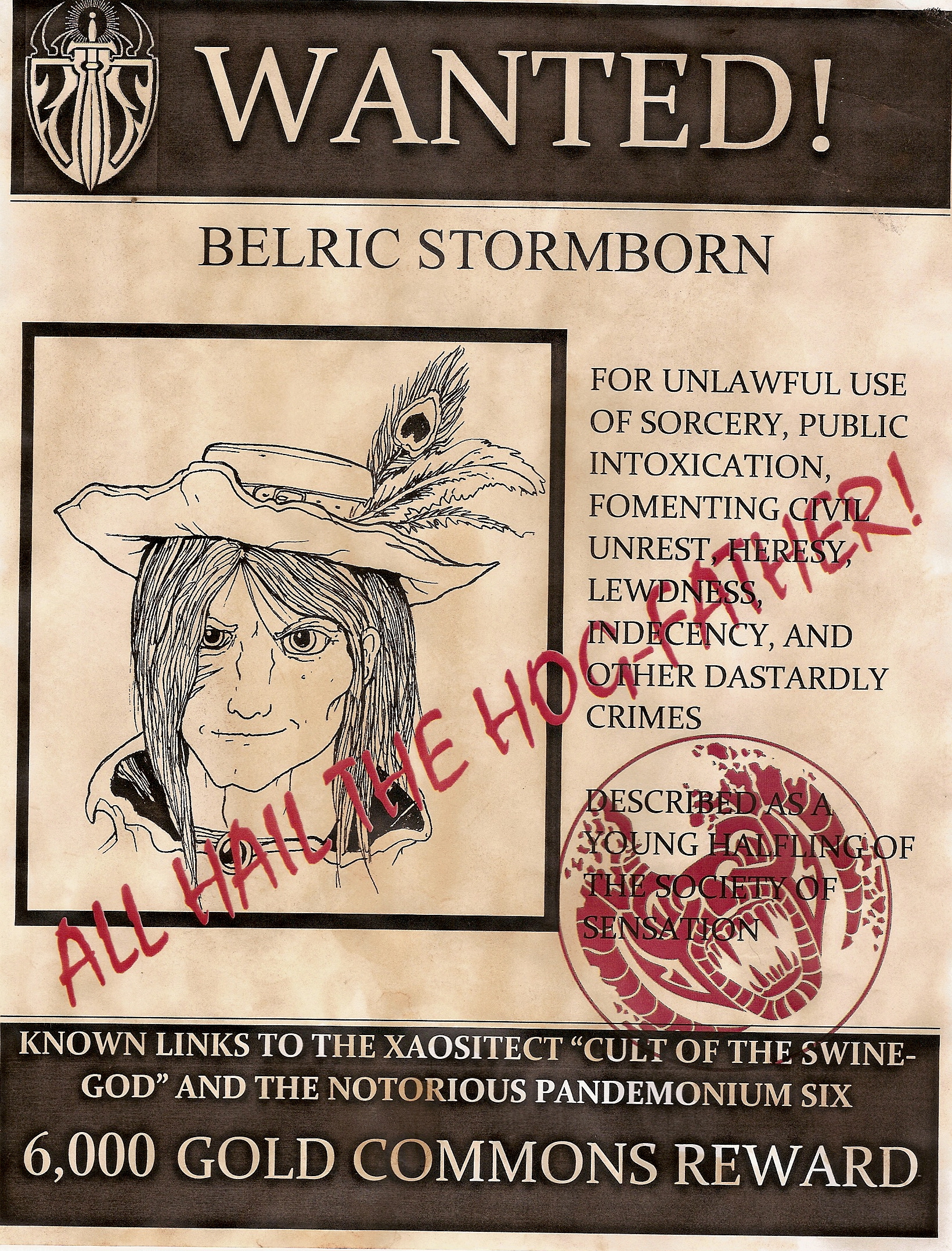 Belric is a Halfling… and also the child of an Olympian demigod from Arborea.  He's a Sorcerer who specializes in lightning spells, a former Athar turned Sensate, and easily the whackiest character in the party – he's got all the appetite of a Hobbit and a taste in mind-altering (and body-altering) substances that would match William Borroughs.  He eats and drinks everything: mysterious chaos-cheese from Limbo, age-reversing potion, Alignment-altering liquor, animal petitioners on the Beastlands, and dozens of other morsels and tinctures.  Chaotic Neutral to the core.  He was reincarnated as a Kobold for awhile.  He's also bedded fallen celestials, fairies, and probably a few things I've forgotten about…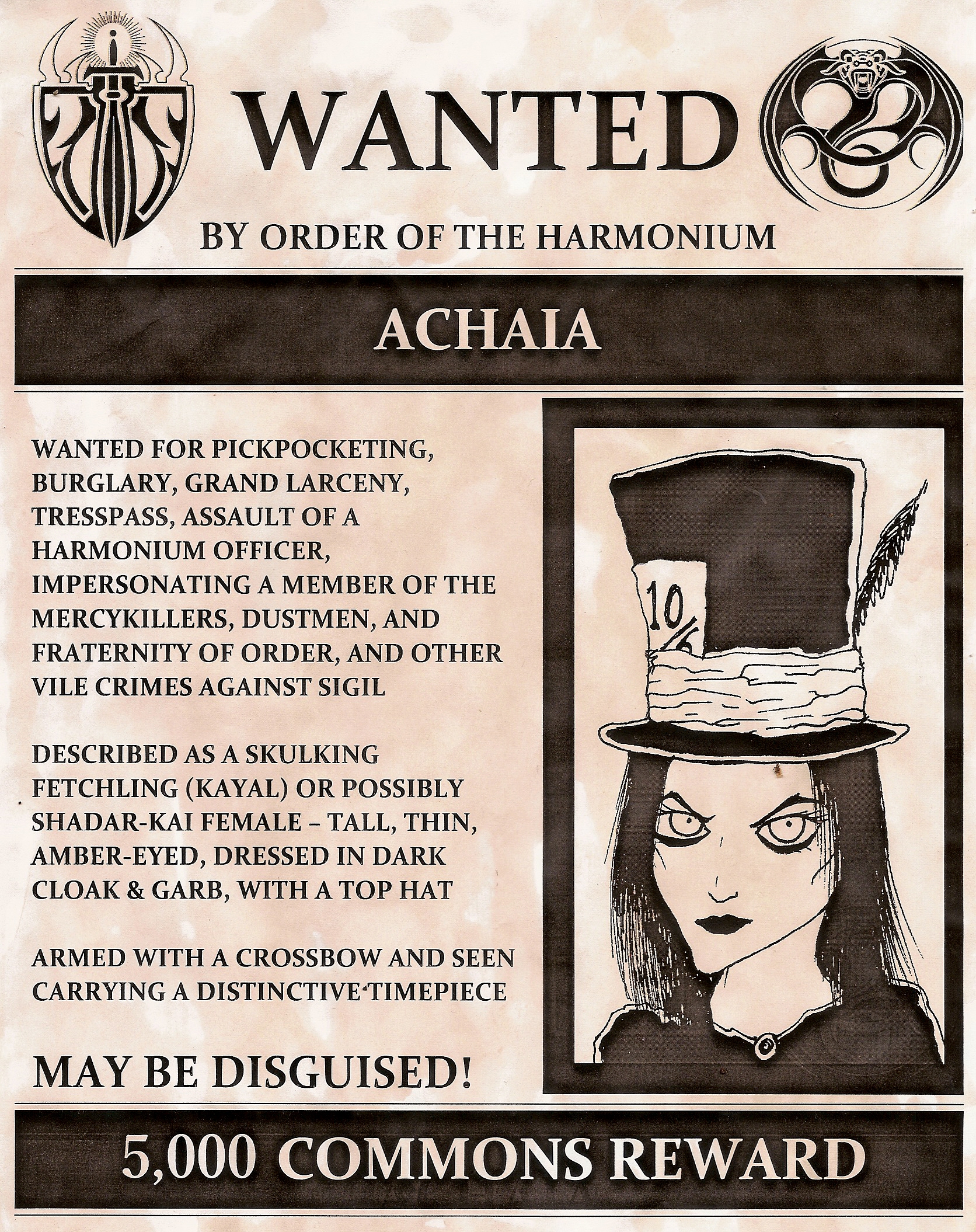 Achaia is a Fetchling Rogue/Shadowdancer with a Stealth bonus so high I often don't even call for Stealth checks anymore.  She can shapeshift and hide in plain sight, and steals pretty much anything that isn't nailed down, which all goes into a capacious bag of holding.  She's usually pretty self-serving but seems to have a soft spot for children and simialrly vulnerable types, going out of her way to aid the downtrodden and neglected.  The hat was filched from the Mad Hatter's felinoid house.  She's also got a nice little time-manipulating stopwatch a Paladin polymorphed into Goblin form gave her after an escapade on Acheron.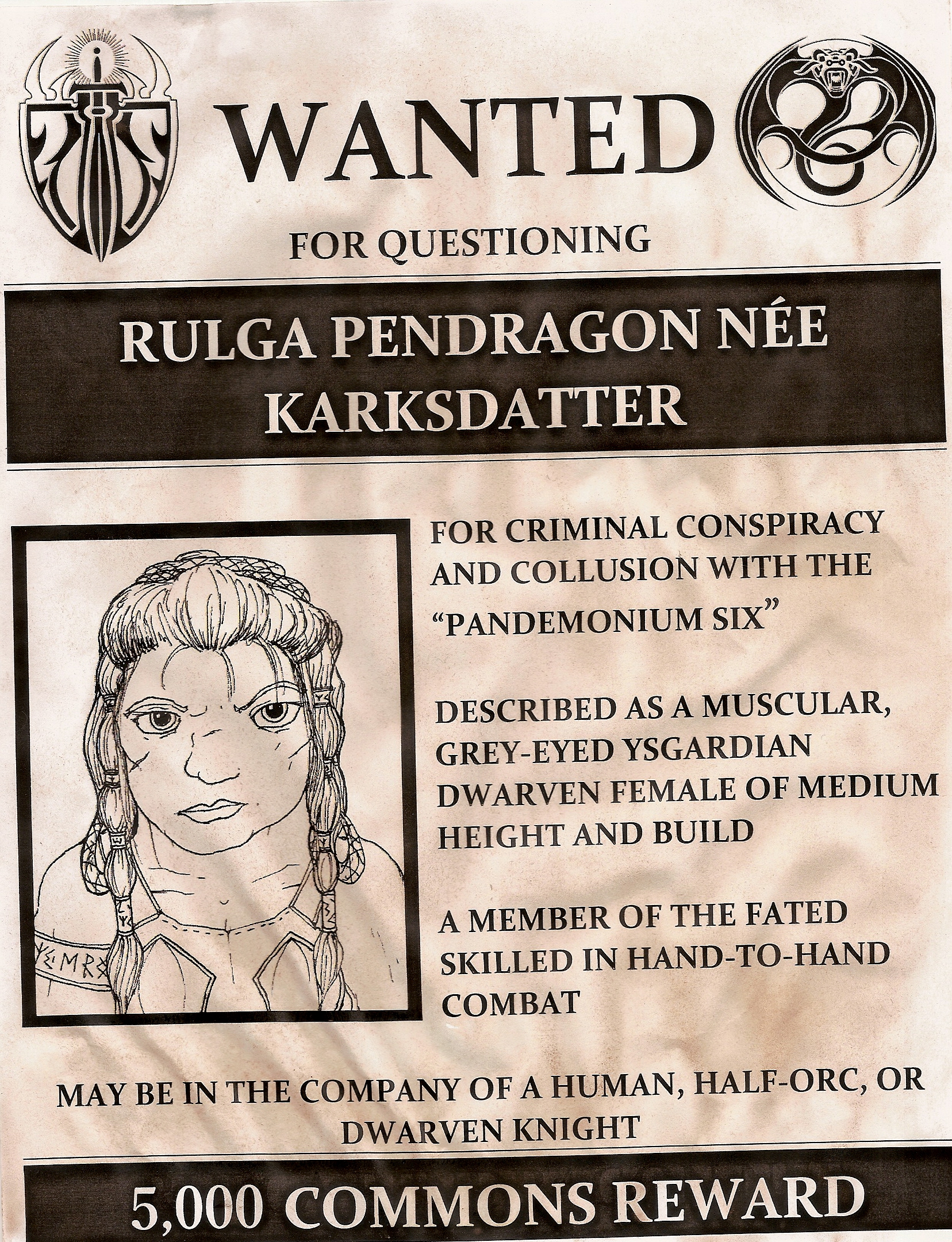 Rulga was a character made by a player who unfortunately had to leave the campaign, but she was great while we had her.  A Dwarf Monk and member of the exacted Fated – who are something like Planescape's Objectivists and Nietzscheans – she served as a major voice of reason (she was also the only Lawful character in a party full of Chaotic types).  She eventually met Arthur Pendragon in Avalon on Elysium – he was waiting to be recalled to Albion on the Prime Material Plane, but the party somehow convinced him to join them, and over time the two had an extremely strange off-kilter romance that survived several reincarnations.