The characters in this session were: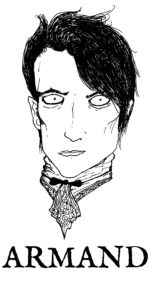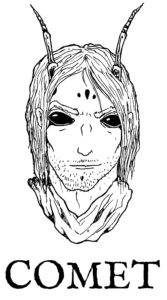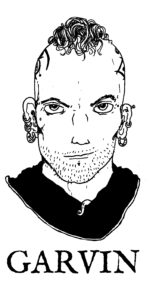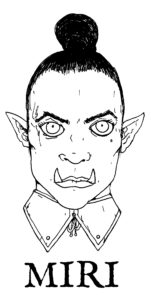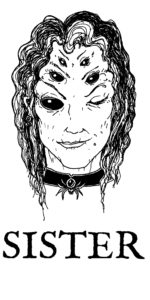 Armand Percival Reginald Francois Eustace de la Marche III, a suspiciously pale, apparently human noble and sorcerer, and certainly not a ghoul (how dare such a thing be suggested).
Comet the Unlucky, waspkin ranger, a dreamer and an idealist, longing for the restoration of the Elder Trees and the liberation of his people. Loathes the Harvester's Guild, parasites and destroyers.
Garvin Otherwise, a human rogue and burglar of the Ravenswing Thieves' Guild, with a very, very peculiar past and a zoog pet, Lenore.
Miri, trollblood wizard, plucked from Mount Shudder and raised amongst Hex's arcane elites. A recent graduate of Fiend's College.
An ancient and enigmatic Lengian cleric of the Mother of Spiders, name unknown. She wears bulky ecclesiastical garments covering an uncertain number of limbs and goes by "Sister."
XP Awarded: 300 XP
The day had come. Genial Jack was arriving.
The city had turned out to see him in vast numbers, flocking to Croakmarsh and the Isle of Entrails and the docklands of the Swelter. Thousands more had camped along the banks of Sawtooth Sound, or clambered to Stumpridge, Cobweb Cliffs, or even the forever-torrential Downpour Heights, hoping to spy his arrival using looking glasses. The richest had hired hot air balloons or magically floating platforms to gaze upon him, or watched from the balconies of Fanghill.
The Variegated Company – flush from their recent exploits – viewed the giant whale's arrival from one such airship.
"Sister, you've met Jack before, isn't that right?" Garvin asked.
"Yes. Twenty years ago," Sister said, a slightly wistful look entering her several eyes. "I spoke with him, actually."
"Really?" Miri seemed suprirsed. "I thought only the Navigators had that privilege."
"I was… close with one of them. Adam Quell. He'll look older now. Folk of this plane age so rapidly."
"So, we are agreed, then?" Armand asked. "We will sell the items acquired at Delirium Castle in one of the auction-houses in Jackburg."
"Is it true the city's actually inside him?" Comet asked.
"Inside and outside," Sister explained. "Outer Jackburg can be sealed when he submerges. The inner city is made up of flotsam and jetsam, cobbled together into a makeshift town. The more who've come to dwell in Jack, the more he grows, fed on their faith."
"So they worship him? Like a god?" Comet continued, glancing at the Elder Trees he worshipped – the living tree in Ambery, and the dead trees in the Boil, Stumpridge, and Suckletown.
"He is a god. Or as good as one. His Navigators channel his power as surely as I channel that of the Mother of Spiders. Their minds are trained from birth to make contact with his. His mind can be overwhelming – alien. He is ancient, inhuman… but kind, impossibly kind."
Conversation dwindled as a vast murmur spread throughout the city, turning to excited cheers as Jack, at last, came into view.
His approach was slow and gentle, so as not to drown the city in a tidal wave, but even so the riverbanks and bridges were buffeted by spray as he surfaced, and a great cheer went up as he appeared, first a rising shadow, and then a breaching enormity, a thing bigger than the mind should hold. Though the friendliness and benevolence and tremendous care of Genial Jack was central to his mythic identity and vital to his interaction with his many ports of call, there was still terror mixed in with the awe, delight, and wonder his bulk inspired. Were he to have plowed into Hex, to beach upon the city, he would l have leveled most of it in an instant, killing countless thousands. Fortunately, Jack's beneficence was legendary.
He was like something scaled differently than the rest of the world. A mountain of flesh clad in a second skin of gleaming metal and stone, the submersible city he carried on his back. Eyes the size of cathedral domes gazed out at the stupefied onlookers to either side. A great burst of spray erupted from his blowhole, touching off more cheers and applause.
Then his great jaws opened, water rushing in, and a fleet of ships rushed out, flags flying in the wind, ships of every type and nation, flying alongside the cetacean flag of Jackburg: galleons and triremes and whirring submarines, corpseships from Erubescence, dolphin-drawn chariots, puffing steamships, hovercraft from Verdigris, living boat-things from Teratopolis, amorphous amoeba-vessels from beyond the Entropic Wastes, chitin barqentines from across the Blushing Sea. Behind them, in the great beast's mouth and through into his stomach, the lights of Jackburg twinkled.
The party descended and made for the Swelter, hiring one of the numerous ferries ready to take eager Hexians to Jackburg. The boat drew close to the vast beast. The Company decided to begin their visit to Jackburg in Melonward, hoping to speak with Sister's Navigator friend, Adam Quell. On their way they saw some of the Whaleguard vessels, carefully watching over the first ships to enter Jack's maw. Some were not boats but Watchturtles – gigantic sea-turtles upon which had been constructed Whaleguard outposts, complete with periscopes, harpoons, and cannons.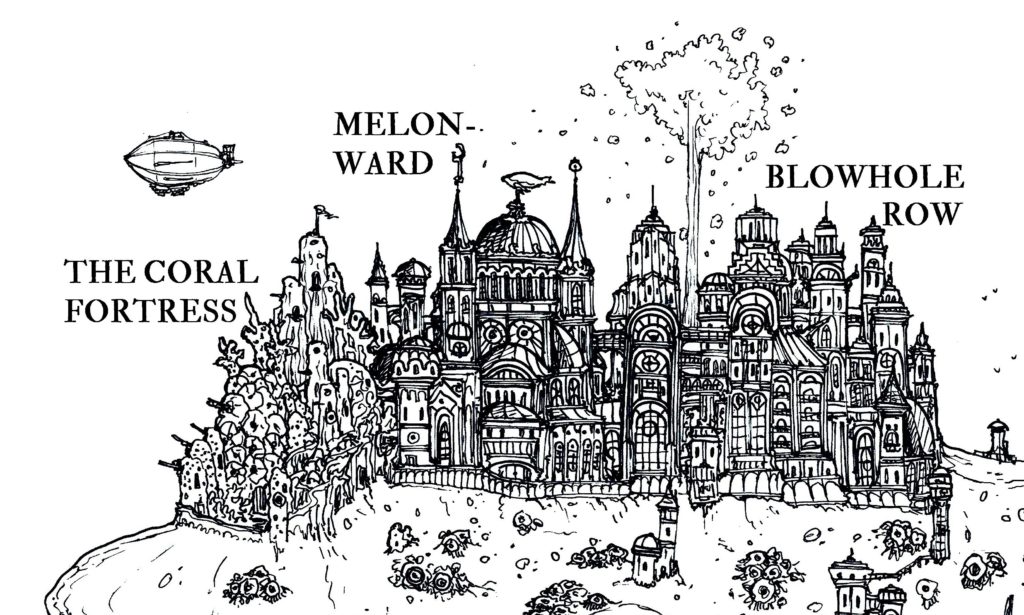 The religious district, Melonward was centred around the Cathedral of Genial Jack, a temple built atop its god, where the Navigators communed with their vessel and deity. The party docked along Jack's flank and took a winding series of walkways up to the top of his head. The people who walked the streets of Melonward were generally uniformed, either in the stylized captain's garb – complete with tricorn hats – that marked the Navigators, or in the sea-green military uniforms of the Whaleguard.
The party made their way to the Cathedral, entering a long hall lined with statues – former High Navigators and others fallen in defending Jackburg. Sister's breath caught as she passed one of these statues, the stone semblance of a tall, powerfully built man in Navigator's robes, a naval sabre in one hand and a flintlock pistol in the other. The man stood atop a heap of bodies, while a swarm of gelatinous creatures like humanoid jellyfish were sculpted assailing him. At the statue's base was an inscription: "Adam Quell, 1723-1780. Died defending Jackburg against the Gelatinous Empire in the Battle of the Gilded Sea."
Sister stood for a moment in quiet contemplation, the party respectfully silent. Then a voice broke the silence.
"Sister? Is that you?"
A young, olive-skinned woman with a confidence and poise greater than her years suggested stood in a frock coat so long and ornate it was closer to a robe. Perched on her head was the lovechild of a priestly mitre and a tricorne hat. Scars that look like claw-marks were visible on one cheek.
"Do we know one another?" Sister said.
"Parthenia Quell," the woman said, extending a gloved hand. "I remember you, a little, from when I was young, and ,y father told me so many stories about you." She nodded towards his statue.
"I'm sorry to hear of his passing," Sister said.
"He died nobly," Parthenia said. "And his memory lives forever in Jack's mind." She smiled. "You know what that means, of course, better than most – if my father is to be believed, you're one of the few outsiders with a mind capable of communing with Jack."
"It was only a brief contact. But quite an experience."
Parethenia nodded. "Well, I am glad to see you again. In fact, there might be something you could do to help us… but we can speak of that later. Is there anything you wish to see on your visit here to Jackburg?"
"We're trying to set up an auction," Comet interjected. "We have some stuff to sell."
"An auction? I'd recommend the Queen of Lost Souls in Queen's Corner – the best gallery in Jackburg. In fact, I might be interested in attending. With my father's passing, I've inherited his position as one of the High Navigators; we're always on the lookout for useful artefacts, and Hex's treasures are legendary."
"Thanks for the advice," Sister said. "I hope to see more of you during our visit."
"Certainly. Send along an invitation once the auction is arranged." She nodded. "I'm afraid I must leave you now – I'm on my way to a meeting with the Captains' Conclave."
Sister nodded in return as Parthenia departed. They lingered for a time in the Cathedral. Sister lit a votive candle for Adam and prayed at the shrine of Jack. As she knelt before his altar, she felt a glimmer of his mind, reaching out to glance against hers, and a surge of divine power filled her – the God Whale recognizing a former friend of his servant.
Respects paid, the party descended to Jack's huge, still-open mouth. His huge eye rolled in its socket to glance at them, and Sister once again felt a flicker of familiarity.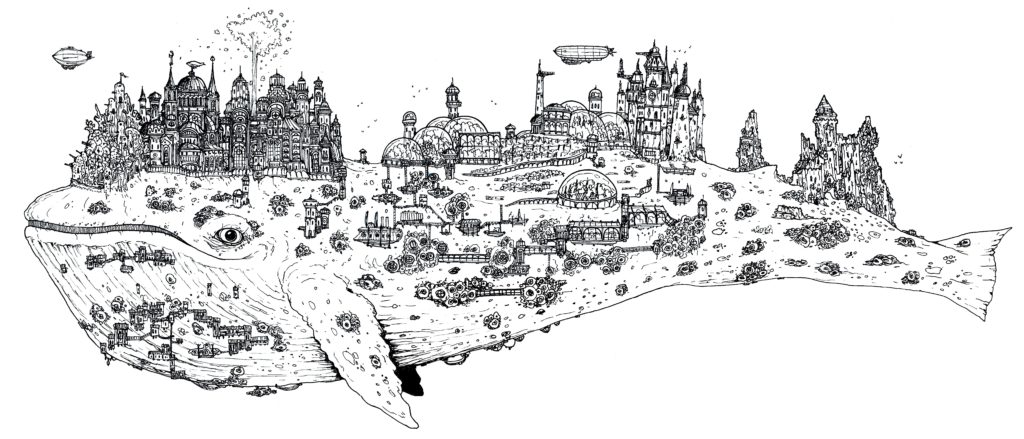 The bizarre mansions of Mawtown dangled from chains suspended from the roof of Genial Jack's massive mouth, glittering like lanterns against the darkness of his gullet. Accessible only via private elevators lowered from the foyers of these luxurious palaces, these mansions were partially sheltered from water by Joe's huge baleen, but like the Outer Town they were built to be watertight, sealed against flooding. Mawtown's real estate was considered especially valuable, and only the richest men, women, and other entities in Jackburg had enough wealth to afford homes in the mouth of the whale.
A tram led from Mawtown down Jack's trachea and into the forestomach. Along the sides of Jack's cheeks were a series of docks, boathouses, and warehouses, the lower half of Mawtown, where submersibles and ships in the vast Jackburg fleet were stored when Jack was on the move. These docks made for a colourful scene. On a wharf near the warehouses, two women with cutlasses were fighting one another before a gathered crowd, busily taking bets, while an official Whaleguard judge carefully adjudicated the legal duel. Meanwhile, several guides advertised their services on a pier where vessels from Hex were docking. These included a calico-furred ratfolk woman, a chitinous karkinoi missing one of his pincers, with a map of the city carved into his carapace, a handsome selkie man with a thickly braided beard and intricate glyph tattoos, and a red-haired human woman with a peg leg and a two-headed parrot on her shoulder. A ratfolk moneychanger exchanged Hexian talents and guineas for the gold dubloons and pieces of eight used by Jackburg.
After swapping their change, the party made for the guides, approaching the crusty karkinoi.
"Ah, you want guide?" the crab-man asked. "Phorcys will guide you! I know every twist and turn, outside and in! Just five dubloons a day."
"Not a bad idea to get a guide," Miri said. "I've heard Inner Jackburg can be confusing."
"You're hired, my good crab," Armand declared.
"So, where should we visit next?" Miri asked, looking around. "Should we go straight to Queen's Corner, or…?"
"Let me try something," Sister said. She reached out a hand and touched the inside of Jack's cheek, then muttered a brief incantation, pointing to each of her companions in turn. Instantly, each felt a tiny flash of pain as gills opened on their necks. "Thanks Jack," Sister said. "Now we can breathe underwater, if we want to explore the Grooves."
"The Grooves, eh?" Garvin said. "I've heard tell some of Jackburg's, ah, less savoury individuals can be found there."
"You've heard right, my friend," Phorcys said. "The Grooves're home for us karkinoi, and other water-dwellers too, but there are some rough types around! A working crab's district, the Grooves. I show you – come, come."
The karkinoi dived, legs wriggling. Armand quckly wove a spell to keep the party's clothes dry, and the group submerged, following Phorcys underwater.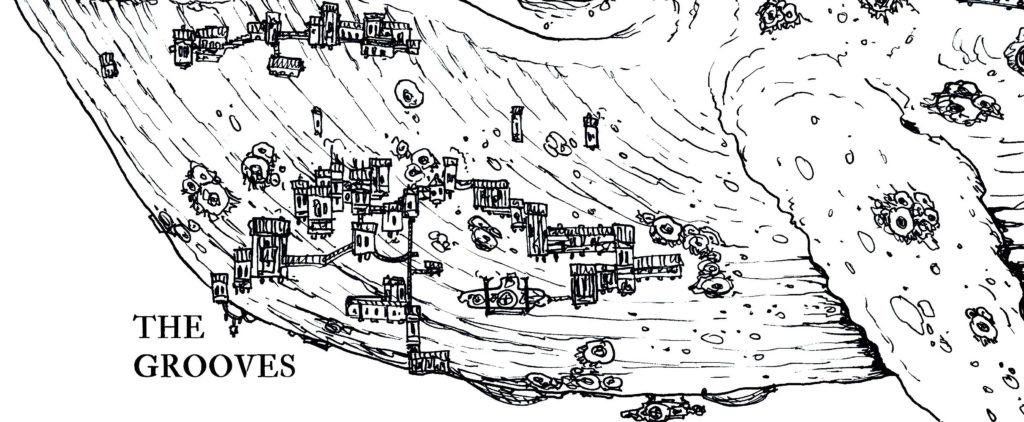 Those of Jackburg who prefered the open sea to the Inner Town but who lacked the funds to dwell in Melonward or Blowhole Row generally opted for the Grooves, a series of narrow folds along Jack's underside. The structures here, unlike the sealed, watertight buildings atop the whale, were open to the sea; only in conditions of war or extreme pressure would the denizens of this district evacuate to a sealed location. Due to its aqueous, almost constantly submerged nature, all of the folk here were of the merfolk races:  karkinoi, polypoids, down-on-their-luck octopoids, and otherwise houseless undines.
Phorcys led the party to an underwater tavern, the Sea Slug, where merfolk drank from specially engineered conch-shells equipped with intricate straws and played games with cards of wood and metal. The party caroused briefly, enjoying the novelty of the underwater setting. Garvin listened in on a few conversations surreptitiously.
"Snag wants that product moved fast," he heard one karkinoi saying to a polypoid – a being like a humanoid coral.
The creature nodded. "We have contacts with this group here called the Crowsbeak Guild. Pay big money for ambergris."
"You'd better move fast. I'm sure the Mischief and the Cuttlethieves are trying to shore up their own bargains."
Intrigued, Garvin made his retreat before he was noticed.
Their exploration of the Grooves completed, the party decided to enter Inner Jackburg. They returned to Mawtown and took the tram down Jack's throat, passing briefly through the forestomach and the district of Flotsamville.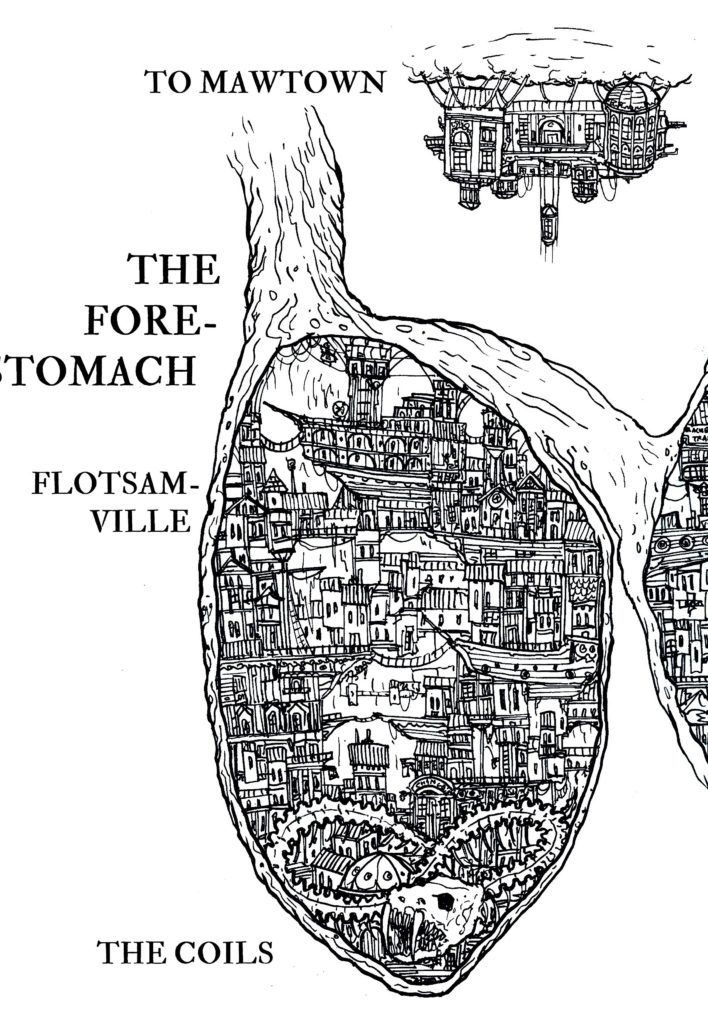 Although not the oldest part of Jackburg – that honour lay with the ancient ruins in Jack's intestines – Flotsamville was the first settlement in the modern iteration of the town, a rickety mass of swaying rope bridges and buildings designed to oscillate gently to the peristaltic pressures of the forestomach. Largely vertical in nature, Flotsamville was formed out of the wreckage of ships, refashioned into homes and shops circling the walls of the forestomach, a criss-crossed web of bridges between, steps and elevators leading up and down. Flags from a thousand countries hung like banners or tapestries from posts, while the figureheads of countless ships decorated every building, worshipped as minor household gods. Still Jackburg's densest residential district, Flotsamville also had numerous fish-markets, along with warehouses full of supplies for long journeys. Down below, gleaming in the dark, the party could see the lights of the Coils, glittering amongst the pale bones of the dead sea serpent that gives that sultry district its name.
"What's down there?" Comet asked Phorcys.
"Oh, those're the Coils," the karkinoi replied. "See, this one time, Jack accidentally swallowed this sea serpent. It was a whole thing. Came thrashing into the forestomach. We had to kill it – huge battle down here, gave Jack terrible indigestion. But we slew the beast. And then, you know. Built a bunch of casinos."
The party resolved to experience these chance-houses at a later time, but for now passed to Bellyborough in the Main Stomach.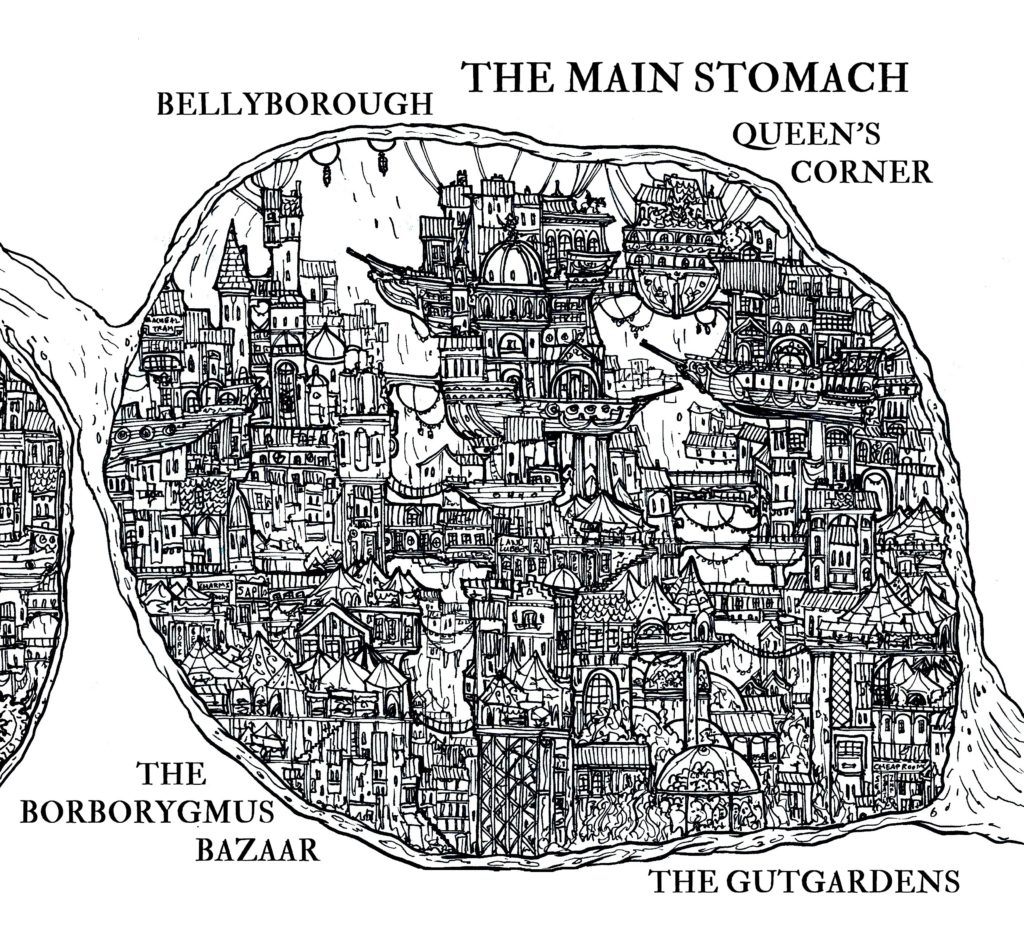 The craftsman's district of Bellyborough included guildhalls, workshops, and factories, furnishing Jackburg with all of the artisan goods it needed. Apart from the smiths of Bezoar Crook and the ship-builders of Barnaclebank in the Outer Town, all of Jackburg's craftsmen congregated here, dedicating streets (horizontal and vertical) to their individual pursuits: brewing, butchering, joining, locksmithing, tailoring, haberdashery,  weaving, ropemaking, tanning, potting,  parchment-making, and every other craft imaginable. While many finished goods were sold in Borborygmus Bazaar, some artisans sold their goods directly to the public.
The party noted a huge crowd filling a cramped square between several large breweries. They appeared to be feasting upon a corpse – that of an urchin-headed humanoid – being served by other urchin-headed humanoids, who doled out pieces of quivering, tender flesh, raw and lightly seasoned with sea salt.
"What in the name of the Magistra?" Garvin asked. Miri watched with curiosity.
"Ah, an urchin funeral," Phorcys explained. "The urchins, see, they don't like to work. Beg for food, for coins. But when you give it to them, Jack is happy. You get a little blessing from the god in exchange. And the urchins, they keep track of who gives. Dunno how – they just know. When one of em dies, everyone who gave money or food gets a piece of the urchin. I ate one once – delicious, the best thing I ever ate. It's an honour to be invited."
Intrigued, the party pressed on, now descending into the sprawling hub of the Inner Town, Borborygmus Bazaar. The market fills the centre of Jack's main stomach, bordering Bellyborough, Queen's Corner, and the Gutgardens. One of the world's most famous marketplaces, it was a colourful confusion of tents, stalls, and market halls, selling everything imaginable – and many things quite beyond imagination. Whirring clockwork devices manufactured by the artificers of Verdigris, spices and hieroglyphic scrolls from New Ulthar, ancient texts scavenged from the library-undercity of Hex, reanimated thralls dredged from the corpse-factories of Erubescence, Contingency Stones extracted from the paradoxical mines of the Entropic Wastes, spellswords forged in the mystic smithies of Folded Realm, masks such as those worn in far-off Xell, baubles of shapeshifting glass from across the Blushing Sea, and thousands of other oddities, curios, artefacts, and wonders – all were for sale in the Bazaar, a treasure-trove of marvels from every corner of the world. Many of these items are illegal in other ports of call: poisons, dangerous magical drugs, forbidden spells, and similar items.
The party made several purchases. Sister bought a Gargoyle Lamp from a clever-faced goblin: when lit and used to illuminate a statue that statue became temporarily lively enough to answer simple questions posed to it about what it may have seen over the years. Armand bought a "Suit for Any Occasion" from a human merchant in colourful silks – a set of animated clothes that sensed the social occasion and polymorphed accordingly, becoming a fine suit or gown, work-clothes, or even full plate armour. The party also found themselves near-victims of a ratfolk pickpocket, who they gently deterred.
After some other brief explorations – a brief peek at the ruins in Bezoar Crook, a stroll through the Gutgardens – the party went to Queen's Corner. Four ships gave Queen's Corner its name: the Queen Raphaella's Vengeance, the Queen of Carnage, the Tenebrous Queen, and the Queen of Lost Souls. These four ships, respectively, had been repurposed as a courthouse, a grand hotel, a theatre, and an auction house and art gallery. Suspended high above the bustle of Borborygmus Bazaar below, the four Queens were some of the oldest and most intact of the many wrecks of Genial Jack, and were a centre of the city's artistic, financial, and legal life. They also frequently drew large crowds, as Queen Raphaella's Vengeance had a duelling piste used to settle many legal disputes according to the libertine laws of Jackburg.
The party made for the Queen of Lost Souls: an opulent craft, once a legendary battleship, its ornate but unloaded cannons carefully polished and kept on display. Up above the ship supported studios for sculpture, painting, and the like; through portholes the party could see artists at work, many of them the sentient coral-folk known as polypoids. Below decks, past guards in the ancient naval uniform of the vessel, the hold had been converted into a vast art gallery and auction house.
Morphic landscapes that twisted and changed, family portraits magically entangled with their subjects to show dynasties shift, painted masks from Xell, living paintings from Tetractys that wave and speak to passersby, pallid bone-statues from Blodvinter, automaton artworks from Verdigris like clockwork gladiators who fight an endless duel on a dais, a Lengian cobweb tapestry, and hundreds of other treasures could be found within the ship – artworks saved from shipwrecks, claimed by Jackburg by the ancient law of salvage.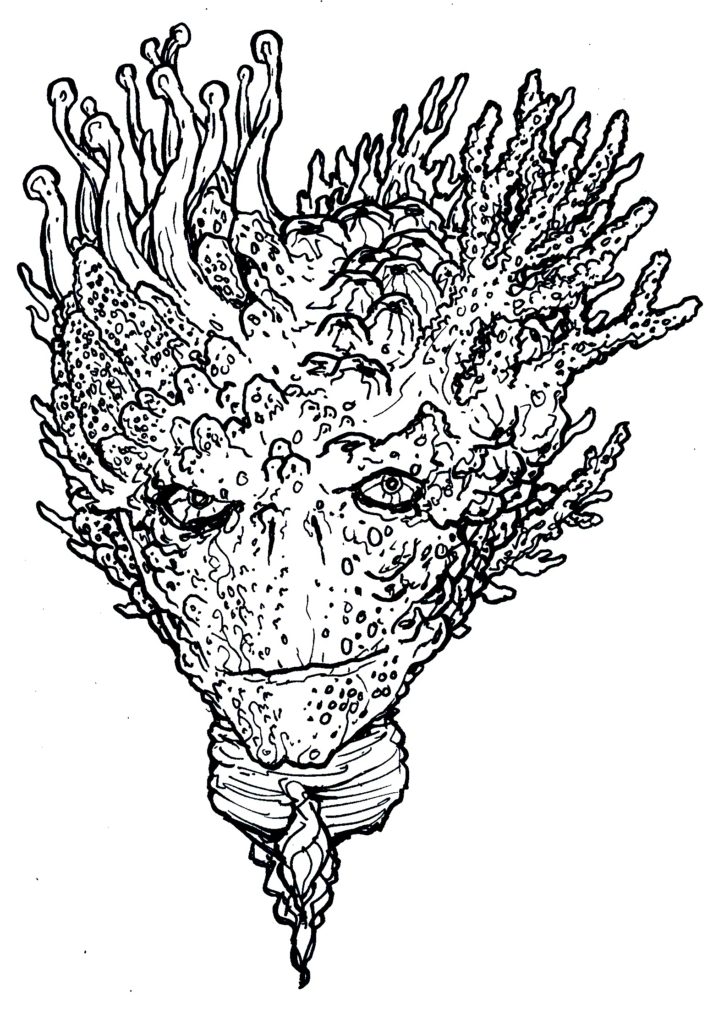 The party spoke to the owner, Captain and Curator Nodus VIII, a polypoid himself – dapper, debonair, and exquisitely mannered, eighth of his line, some fifteen-hundred years old, with the finest taste on the high seas After Sister casually dropped Parthenia Quell's name and they showed the Captain a sample of the goods they intended to auction, he gladly put on an auction for the adventurers in the Auction Hall. This was a glorious hall on the bottom of the boat, where the floor had been partially replaced with panes of reinforced glass, allowing attendants to look down at the vertiginous layers of Jackburg below – the teeming bustle of the Borborygmus Bazaar, and below the glass domes and swaying seaweed forests of the Gutgardens.
A few days later, the party returned to the Auction House, the artefacts they'd looted from Delirium Castle on display. A sizeable crowd had gathered, and more of the Variegated Company were in attendance. They surveyed the crowd before the auction began, eyeing the wealthy individuals who would soon be bidding on the various magical objects they'd decided to part with.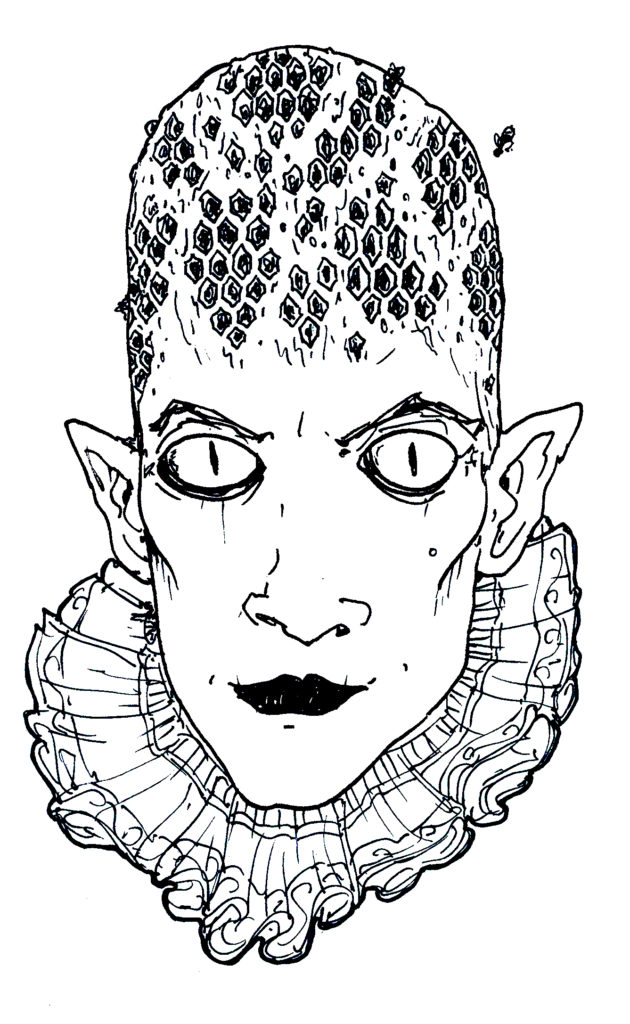 Alabastor and Garvin approach the sinister Duke of Bees: a thin, slender man with skin the colour of pale honey, standing beside a hulking warrior carrying his own head in his hands. The thin man was distinguished by the tiny holes in his bald head, honeycomb-like, from which crawl buzzing bees.
"I wonder how many bee-stings it would take to kill that man over there?" the Duke muttered. "Oh, sorry, hello there. My apologies." He eyed Alabastor carefully, then looked to Garvin. "Impressive selection of items on display here." His voice changed strangely in tone, pitch, and volume, like bees buzzing.
"Thank you. Do you plan to bid on any in particular?"
"There are several that have excited my attention," the Duke replied. "That said… there is another matter I would speak of. It has become known to me that you possess certain talents that may be of use to Her Majesty, Queen Mab," he said. "Would you be interested in some light employment during your time here?"
The two Ravenswing thieves exchanged a swfit hand gesture of agreement.
"Certainly," Alabstor said – conscious that this creature was an emissary of his own secret patron, the Faerie Queen Mab.
"Excellent," the Duke continued, lowering his voice to a whisper and moving to a more secluded corner of the ship, the better to communicarte privately. "Here in Jackburg dwell a lost tribe of giants, the Fomorians, exiled from Faerie many centuries past for high crimes against Her Majesty. Their leader, King Balor, led a rebellion against Queen Mab's rule, and was cast onto this mortal sphere with his misbegotten people as a result of his transgression. When Genial Jack swallowed up the sinking remnants of Hy-Brasil, the island of the Fomorions, he saved them from watery death. Chunks of that broken realm now form the place known as Bezoar Bend, where the giants dwell still.
"Here, then, is your task. Within the caves of the Fomorians, deep in the reaches of the Bezoar, lies the ancient throne-room of Balor, where the giant king still slumbers, waking but rarely. Here, in the throne room, the Queen would ask you to plant… this." He opens a hand. Within it is a black seed. "Simply place it in the earthen floor of the hall. In exchange for this service, one of my bees will lead you to a secret treasure of the Fomorians, which you may claim as reward – and, in addition, I have been authorized to provide you with one hundred Elfmarks of Faerie gold."
"An interesting job," Garvin said. "We will consider it. We may take cabins here on Jack – we hear he is bound for Erubescence, and we have business in the vampire city."
"Of course, of course," the Duke said. "Do be in touch."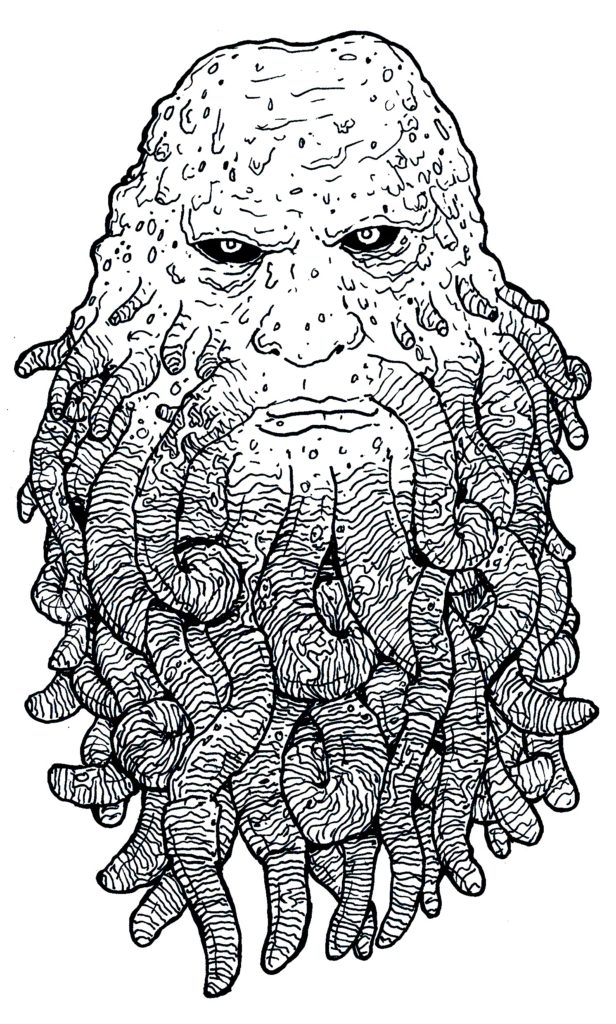 Comet, meanwhile, was conversing with none other than Pieter "Wormbeard" Sluk: a hulking, amorphous creature with a body seemingly made out of semi-solid sludge that squelched through the room, although thankfully he did not leave a trail of slime – the mud seemed to be part of his body. A huge beard of fat, writhing earthworms the size of a forearm wriggled on his massive chin.
"I have heard of you, little one," the mud elemental said, its voice deep and glutinous. "I attended your trial. A gross miscarriage of justice."
"Oh, ah, thank you?" Comet said. "The Harvesters are… well. I don't want to use impolite language in such, ah, fancy company."
The mud elemental laughed. "I have also heard that you and your companions are skilled at the arts of stealth – as these objects clearly attest." Wrombeard waved a gloopy hand. "I wonder if you might have time for a little side-venture, of interest to the Unfettered."
"Uh, possibly," the waspkin said. "What's the job?"
"I know your feelings concerning the Harvesters," he said. "You may be less familiar with the finfolk of Jackburg. They are an ancient and unwholesome people. It is said that Genial Jack snared them in his great jaws to free the world from their depredations, for they were once kidnappers, enslaving those they snatched in their underwater halls. Jack ate up their city of Finfolkaheem, but being a kind and generous beast, offered them a home in his innards. And so they dwell here still, lurking in their eerie stone monoliths, and the shifting maze of a town that sprawls about them. Even the Whaleguard stay out of Finfolkaheem.
"Slavery is illegal here in Jackburg, as in Hex, but the finfolk have found loopholes, just as our own city has. They buy up the indenture contracts of those they come across in Jack's travels, a form of servitude still legal under the city's constitution. They are also known to trade in conjured beings – illegal here in Jackburg, but legal in Hex, as you know."
Wormbeard gurgled. "The Unfettered have learned of an agreement, negotiated in advance of Jack's arrival. They plan to trade the finfolk a large quantity of sap, in exchange for a collection of teeth – seemingly the fangs of some beast. These objects seem innocuous, but in fact, the teeth are carved with sigils trapping jinni within them, obtained from the markets of Marainein, the City of the Wasting God. The Harvesters will use these spirits in their endless pursuit of wealth, putting them to use in the extraction of sap from the remaining Elder Tree.
"The Unfettered cannot stop this exchange ourselves. But, if someone were to steal the teeth from the finfolk before the trade could be made – or, alternatively, to steal them from the Harvesters after the trade – we have ways of freeing the jinni from their dental prisons and getting them to safety. And, of course, we would show our appreciation for any daring soul willing to perform such a rescue."
Comet nodded. "I'll talk to my group. We may be able to help!"
With that, the auction began, and the party began the lucrative but strangely painful process of parting with some of their hard-won treasures. The bids flew fast and high, and soon the party had amassed a fortune – more than enough to construct the vessel they desired.
As the auction wrapped up, Nodus banging the gavel a final time, a muffled grunt esd audible. A guard went flying down the stairs, hitting the floor hard, blood trickling from his temple. Someone screamed, and then dense, dark vapour began rapidly flooding the room: gas like sepia ink.
The party caught brief glimpses of tentacles or beaks; Miri, swearing loudly, whipped out her wands and fired off several magic missiles. There was an inhuman squeal of pain, and something whistled through the darkness: a dart, hitting the trollblood in the neck. Another struck Garvin. Both slumped to the floor, poisoned and unconscious.
Cephalus, meanwhile, tackled one of the shapes, bearing it to the ground.
When the smoke cleared, the items sold at the auction – as well as numerous artworks from the gallery above – were be gone. A hole had been cut in the glass floor, a rope tied up to a beam nearby.
"The Cuttlethieves!" Nodus raged. "Weremollusc burglars! We've been robbed!"